40 SOCIAL MEDIA INFLUENCER MARKETING TERMS YOU NEED TO KNOW
If you're in the influencer realm, it can sometimes feel like you're in the wild west – everything is up for interpretation and sometimes making sense of it all can be a real challenge. The social media influencer marketing space has grown  so much in the past few years that there are now some defined influencer marketing terms that everyone should know to be able to speak the language of influence.
Now that major (and even small) brands are incorporating influencer initiatives into their yearly marketing budgets, things are starting to get a little more serious and the expectations for pitches and working with influencers are higher than ever before. No matter what industry you are in, you have to be well-versed in that industry's terms to be able to understand what everyone is talking about…or you may not be taken as serious as you would like.
At Sidewalker Daily, we help influencers and creators pitch to brands. We also consult with brands on their influencer campagns, so we see brand deals from both sides.
Professionalism in this industry is more than just branding, media kits, case studies, and amazing pitching emails…it's being able to speak the same language as everyone else and show them that this isn't just a hobby…it's your job.
To help you out, we've put together this glossary of important influencer marketing terms that you need to know before negotiating your next partnership deal!
Influencer Marketing Glossary of Terms:
AFFILIATE MARKETING:
We've mentioned affiliate marketing before because it's one of the most popular types of influencer marketing that brands use, and can be a great way for you to earn money on social media…even while you sleep! If you've ever read a blog post and seen links to products or services that were being recommended by the author, those were probably affiliate links. As an affiliate, you promote a brand, product, or service, and then receive a commission based on how many sales you send their way. The transaction is usually tracked using a link that is specific to you, and you'll get a commission when someone clicks the link and purchases the product or service.
AMBASSADOR:
 An ambassador is traditionally a representative or promoter of a specific activity, service, brand or product, and this definition holds true in the influencer market too. A brand will usually compensate an influencer for being an ambassador, promoting the brand, representing them in a positive light, and increasing brand awareness and sales. When you're considering an ambassador position, make sure to define all expectations and compensation. Your role as an ambassador can be more ambiguous than just doing a one-time brand partnership so it's important to keep the logistics (and everything they will require from you) top of mind when negotiating so you can manage expectations.
BOILERPLATE:
In the PR world, a boilerplate is a blurb at the end of a press release that explains the background of the company and how they're related to the press release. A boilerplate is essentially an 'About Us' for the company, and it's an important opportunity for PR professionals to define the key messages of the company they're writing about. If you're an influencer, brands may ask you for a boilerplate – this just means send them a quick about, written in the 3rd person.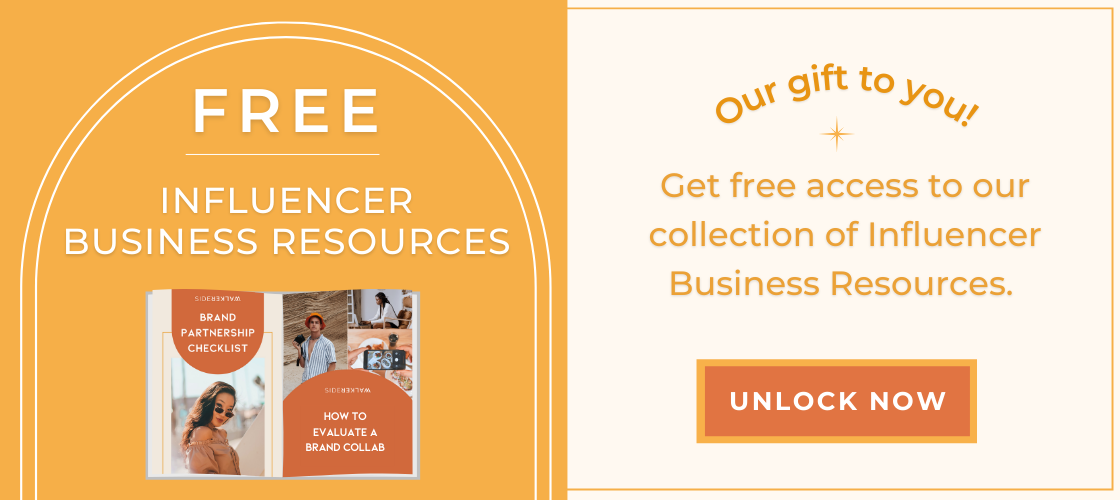 CALL-TO-ACTION (CTA):
Anyone vying for your attention, trying to tell you what to do next, is using a Call To Action or "CTA." CTA's are used in marketing to invoke an immediate and actionable response from the audience. CTA's are used everywhere, from Instagram captions ("click the link in my bio for more!") to emails ("sign up today"). Depending on the type of partnership deals, you may be asked to use a CTA to drive your audience traffic to a certain website or product on behalf of the brand. 
CAMPAIGN:
Campaigns are organized marketing efforts working toward a single goal. For example, a brand may bring you on as a partner for a campaign highlighting their product launch, with the goal being product awareness and sales. There may be multiple influencers working together on one campaign or your role may be to just push out the messaging on your social media influencer platform as part of a larger campaign.
CASE STUDY:
A case study is the research and analysis of an event, project or campaign, in order to draw conclusions from the outcome. A case study can be made really about anything but recently, marketing agencies and social media influencer marketing professionals have been creating case studies on influencer marketing initiatives to quantify their effectiveness and Return On Investment (ROI). It may be a good idea to do a case study on your own influence, to understand its reach, effectiveness and value, especially since brands are asking for case studies more and more when evaluating influencers for brand partnerships. 
CLICK THROUGH RATE (CTR):
A click through rate or CTR is the number of times people click on the link or type of button that will lead them somewhere else on social media or the internet. For example, if you are promoting a product on Instagram and prompt your followers to "click the link in bio," then the average number of times people take that action and click on the link, would be your "CTR." Yes, even "Swipe Ups" on Instagram can count as a measure for a click through rate.
CLIP/CLIPPING:
 A press clip is usually an image copy of news coverage that PR professionals collect to prove their success in getting a story out. In the influencer world, PR or brand representatives may ask you for "clips" which means screenshots or copies of the promotion you did for them on social media or your blog. You can also use clips in your social media reports following any partnerships, if they're applicable to your campaign.
CONTENT CALENDAR:
 Creating a content calendar can be a powerful tool for building your brand voice and keeping tabs on your posts across all channels. A content calendar is a document, excel sheet, phone app, or website that serves as one place where you can plan your social media posts and blog topics ahead of time. If you have to juggle traveling and partnerships, a content calendar is a great way to make sure everything gets posted on time and looks cohesive. Remember, everything you do on social media and your blog reflects your brand so it's better to be organized to make sure everything is perfect…and also to minimize stress. :)
CONVERSION:
A conversion is the point when a site visitor or follower does that thing you're waiting for them to do…whether it's adding themselves to your email list, becoming a paying customer, or clicking that affiliate link. "Conversion" is a common term that brand partners may use when talking about the success of a partnership.
COST PER ACQUISITION (CPA):
Cost per acquisition, or cost per action, is simply the cost of a conversion. So basically if a company is paying you $1,000 to post and promote their brand on Instagram, and their goal is to make sales, then the "CPA" would mean how much did it cost in marketing dollars to get each sale. For example, if they got 100 sales from that one Instagram post, then the CPA would be $10. ($1000/100 = $10). When it comes to CPA, the lower the better (because it means they spent less money getting the acquisition), and figuring out that number can help brands quantify if they're spending their marketing budget the right way, or if there are less expensive (and more effective) ways to get the same results. When you have these types of partnerships that focus on acquisitions, then the brands will probably calculate the CPA for your campaigns based on how much they're paying you and how much business you're bringing in on your side – CPA plays a big role in ROI.
COST PER CLICK (CPC):
More specific than a Cost Per Acquisition, a Cost Per Click is the amount of money that it costs a brand to get someone to click on a link or ad. This is also a pricing model for online advertisers, where the advertiser pays the site each time their ad is clicked on. So for example, if a company puts $1,000 into paying for advertising on Facebook to promote their new website, and they had 5,000 clicks on the advertisement, then the CPC would be $0.20. ($1000/5,000 = $0.20).
COST PER LEAD (CPL):
CPL is the cost of each lead or new potential client. It is a pricing model, where an advertiser pays for the leads that are generated by the advertisement.
COST PER MILLE (CPM):
CPM is also called Cost Per Thousand (CPT), and is the cost that an advertiser pays per thousand of impressions.
COST PER ENGAGEMENT (CPE):
CPE is the cost of an engagement with an ad. This engagement-based pricing means that advertisers pay for each active engagement with their advertisement.
DESTINATION MARKETING ORGANIZATION (DMO):
A destination marketing organization (DMO) is responsible for the promotion and marketing of a destination for leisure and business travel. It's also frequently referred to as a "Convention and Visitors Bureaus" or "CVB" or a tourism board. As a travel influencer you may find yourself working with a DMO and visiting a destination for a press trip. Here at Sidewalker Daily, we work with travel brands and DMOs to facilitate influencer press trips so if you're a travel influencer, sign up to be in our Press Trip Program here.
FTC:
The FTC is the Federal Trade Commission, the arm of the US government in charge of making regulations for influencers. You heard that right, influencer marketing is no longer the lawless wild west! The FTC is now making sure that the consumer (your followers) is safe when it comes to seeing advertising and marketing on social media. Basically you're required to let your audience, followers, fans or community know when you're being paid to post or even when you just have a material connection to the brand or service you're promoting. If you're an influencer or blogger then you definitely should be up to speed on the FTC's disclosure requirements since they have recently been cracking down on influencer marketing posts and campaigns.
KEY PERFORMANCE INDICATOR (KPI):
 A Key Performance Indicator or "KPI" is a business term used by all sectors (and now even the influencer industry) to refer to the measurable indicators you can look at to judge whether the actions or initiatives are helping you reach your overall goals and objectives. So in the influencer world, a KPI could be the number of new email sign ups you got for a brand's email list, or the amount of Instagram followers you got to follow the brand's account. One of the most important things you can do when working with a brand is to understand their KPIs before the partnership begins so you can plan how to best leverage your social media platforms and influence to help them achieve their goals and make the partnership a success.
LETTER OF AGREEMENT:
The letter of agreement between you and your brand partner is a very important step in finalizing your partnership and can sometimes substitute as a contract for the partnership, project or campaign. And you should definitely have a contract or agreement in place before you start doing any work for a brand or client. Not only does it protect you, but it also ensures that everyone is clear on expectations so there are no (or at least limited) misunderstandings along the way. Your goal is to have a successful partnership so you can either get hired for more work or get a great recommendation or testimonial to put in your media kit. And don't forget that everything is negotiable, so you'll want to think about what works best for you when it comes to things like deliverables, due dates and the ownership of your content!
MEDIA KIT:
A media kit is a document that contains all the important information about your blog or brand. It's basically your pitching deck, your brand presentation, and even your creative resume. If you're an influencer or blogger then you are a content creator which means everything you do, including your media kit, should be on brand and professional. Your media kit will include everything about you, your social media channels, your influence, statistics, demographics, partnership offerings, and contact information. Check out our article on how to create a media kit here!
MEMORANDUM OF UNDERSTANDING (MOU):
A Memorandum of Understanding or "MOU" is  a document that is kind of like a contract. It outlines the terms and details of the agreement between you and your partner but is just a little less formal than an official contract or agreement.
PHOTO WAIVER:
A photo waiver, or a photo release form, is a document you must sign that has all the details about ownership of content, usability of photos or video and any releases required for your partner to do X,Y,Z with your images. Since the influencer and blogging world relies heavily on imagery and video content, there needs to be clear expectations about what the brand partner owns and how they can use your photos for promotional purposes. For example, can they use your photos only on social media, any online marketing platforms, print or even billboards? A photo waiver is just the legal document saying that you gave the brand permission for them to do X,Y,Z with your images and video footage.
POWER MIDDLE:
A "power middle" influencer refers to the influencers who have graduated from being a micro-influencer but are not yet considered a social media celebrity. Generally speaking, power middle influencers tend to have better engagement rates than mega influencers and often get more partnerships because of it!
PRESS KIT:
A "press kit" is often used interchangeably with "media kit" in the influencer industry. See above definition of "media kit" for the details.