HOW TO CREATE A SOCIAL MEDIA REPORT FOR BRAND PARTNERSHIPS
Partnerships are one of the most exciting parts of working in the travel blogging and influencer industry. Whether you're an experienced influencer with multiple partnerships, or going on your first press trip, we hate to break it to you but the work doesn't finish once the campaign does… you'll need to create a social media report to provide the client with after it's finished.
That's right, brand clients expect you to provide all of your social media analytics to them after you've completed your agreed upon deliverables. We like to call these partnership recaps "social media reports" because at the end of the day, the brand is technically a client that you are providing a service to, and so you should treat them like one.
Here at Sidewalker Daily, we work on both sides of the influencer marketing equation. On one hand we work with influencers on improving their business and partnership strategy and on the other, we work with brands on their influencer marketing initiatives..aka we know what they want.
So let's go over what to include in a social media report so you can impress your brand partners and clients!
When it comes to providing detailed social media reports with the brands and clients you work with, there are some things you need to know. First off, don't ever leave it up to the person you are working with on the brand side.
Nothing screams "super professional" more than delivering your own social media report to the client. Not only does it help ensure that the results of your campaign are accurately reported, it also makes their life so much easier and they'll most likely walk away from the partnership with a good feeling and open to partnering again with you in the future.
Also, it's important to keep in mind that YOU are the social media expert and you know your influence the best. You also have access to analytics that they can't get their hands on so if you want to show your true value, there's no better way than providing a detailed report to do just that!
Plus, a social media report is really just a more detailed version of a case study, and at the end of the day it's great for you to have all your partnerships turned into case studies – so social media reports are really a win-win!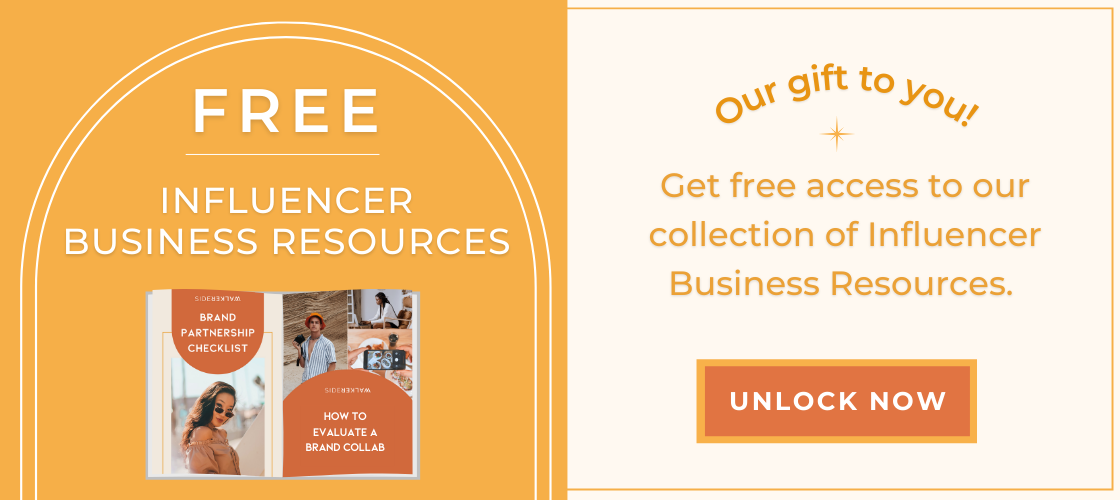 Why is providing social media reports so important?
While some brands are extremely social media savvy, others just don't fully understand social platforms to the core and especially not the analytics that come along with them. Since the space is constantly changing, and a lot of companies are not in "the thick of it," brands struggle to keep up with the latest analytics and tools. This is why knowing how to write a social media report is vital to your success in this industry.
When you think about it, a social media report is really a catch 22 – brands have to show ROI to justify their partnership with you, but some just don't know how. That's why YOU need to know how to prove your value so you can do their job for them and help their influencer initiatives continue in the future. :)
Providing a detailed social media report also allows you to demonstrate the value of your influence to brand clients and you can even include any case studies you create in your media kit to pitch to brands.
Not sure where to start? Just sit tight, we're here to help. Creating a social media report is easier than you might think. We're going over some easy tips and tricks that will help turn you into a social media analytics wizard!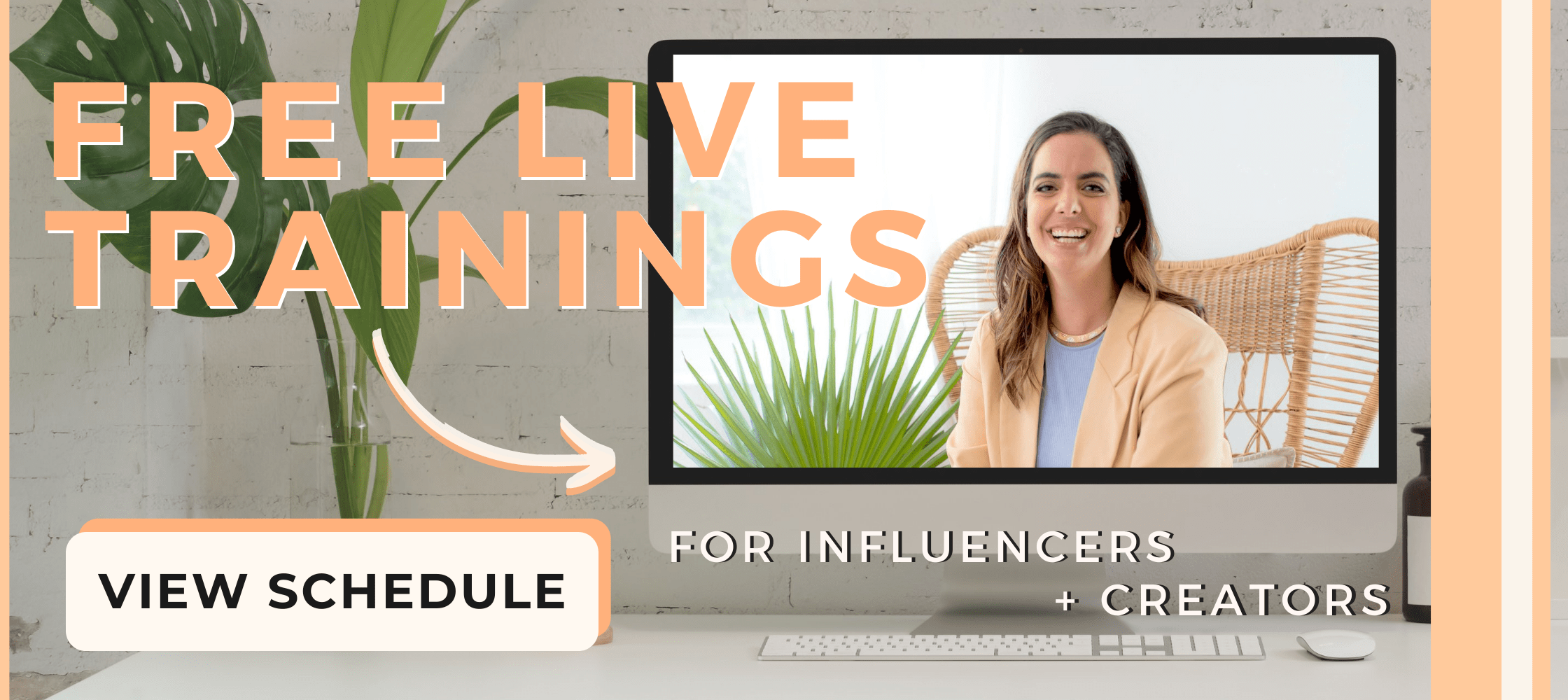 What analytics should you include in a social media report?
At the end of the day, brands care about one thing: return on investment (ROI). Brands need to know that their investment in you is delivering the results they need. Basically, brands want to know if your influence is worth their investment.
So what really is influence anyway? Influence is the ability to get people to take action. Always keep this in mind when creating a social media report and even negotiating the partnership from the get go.
Before starting any project, it is important that both you and the brand know the goal(s) of the campaign and the KPI's (key performance indicators) that they will use to measure the campaign's success. More specifically, what is the desired outcome? For example, more followers, more website visitors, more sales?
Knowing all of this information may seem overwhelming but it will really help you not only determine what analytics to include in your social media report but also help you understand what they'll be looking for at the end of the partnership to prove that working with you was a success (or not).
For example, if a brand asks you to post an Instagram Story of their product with a "swipe up" call to action to their website, you'd need to know what they are really measuring here – is it click throughs to the website, sales, Story views etc.
Once you know that information then you'll know exactly what they will be looking for in your social media report. So let's just say their main KPI was swipe ups to their website (i.e. click throughs), then you will include those analytics front and center. However, just reporting this flat number doesn't fully communicate the value of your influence – we need to drill it down even further and connect this to your ability to influence other people's actions.
So if 15,000 people viewed your story and 500 people swiped up, this is a 33 percent conversion rate. This means that 33 percent of the people who saw your content chose to take action. So basically for that one story you posted, you brought 500 individual people to the brand's website.
And in addition to communicating your influence, make sure to include all of the other accompanying stats in your social media report. For example, you will want to include the number of people that viewed your story too because even though it wasn't the main focus of the campaign, there is value in that brand exposure!
Also, knowing the capabilities of Instagram comes in handy. If you have a swipe up and you also include the brand's Instagram handle in your story, you can report the amount of people you drove to their account. So for example, not only did you drive 500 visitors to their website but 200 people also visited their Instagram profile. The more comprehensive you can be in the reporting of your analytics, the better you will be at demonstrating your success.
Basically don't just give them the bare minimum, you need to OVER DELIVER even when it comes to reporting. Think of every single stat that could be relevant to the partnership and include it in your social media report.
Now you know what numbers and types of analytics you need to include so the next question is…how are you going to present it to the client?
How to write a social media report: what to include and how to present it.
When creating a social media report it is always helpful to think about who might read the report or who it may be sent to. The people reading your report may have a great understanding of social media, or they may have never seen Instagram before (we worked with a client who was in charge of an influencer program who thought he was on Instagram but was actually on InstaPic…woops!). You also don't want to bog down the report with confusing numbers so it's a good idea to keep all the numbers on a spreadsheet and only include the most important ones in your social media report.
START WITH THE NUMBERS: 
Use a spreadsheet to keep track of all of your metrics. Clearly label the sheets and columns so that the client can easily navigate the document. If you include formulas in your spreadsheet, it is a good idea to lock them before sending the final report to the client so they don't accidentally change anything. Also, the spreadsheet should always be sent to the client along with a social media summary report, which would have all your big impressive numbers and analytics as the highlight. This way, if the client wants to look deeper into your numbers, they can or if they don't care they can just look at the top level summary report…up to them.
There are tons of apps out there that can help you track your analytics like Planoly, Preview and UNUM – just take a spin on Google and find the one that works best for you.
INCLUDE ALL LINKS AND CONTENT:
Make sure to include all hyperlinks of all the posts you did as well as any copies of videos.
INCLUDE THE OBJECTIVE:
Include the objective of the campaign or project in the beginning of your report as an introduction, so the brand's team members know exactly what you were there to accomplish. Also make sure to include a list of the agreed upon deliverables and then a list of what you actually delivered. For example, if you were asked to deliver 3 posts, but you ended up delivering 5, you should definitely demonstrate that in the report.
MAKE IT LOOK NICE:
Once you have all of your analytics organized in a spreadsheet, you will want to create a presentation to show the client too. We love creating presentations in Canva because they are visually interesting and there are plenty of templates ready to use that you can easily customize. Plus, once you make one presentation, you can use it as a template for all of your other reports – no need to start from scratch each time.  And if you use a template, don't forget to brand it!
Depending on the scope of your project, your recap may end up being just one page or it may be ten pages. Either way, include clips of your posts when possible and include images and graphics too. No one wants to stare at numbers all day long- make it interesting and customize it to the brand you worked with on the partnership.
PUT THE IMPORTANT STUFF FIRST:
Let's be honest, humans are busy and with a daily dose of information overload, often default to just skimming. When you have 300 plus emails sitting in an inbox, you don't have the time to read everything very carefully. This is why the most important part of your report should be first. A summary paragraph should be one of the first things in your social media report. Also, when emailing your report to the client, you should include a summary of the results in the email body copy for the people who don't open attachments (sadly, there are way too many people like this in the world).
INCLUDE FEEDBACK:
While giving a client a social media analytics report is great, go beyond the numbers. If you enjoyed working with the brand tell them so. Did your audience respond well? If you received awesome comments or feedback from your followers or audience, feel free to add some screenshots for the brand to see too!
The same goes if you have any criticism or suggestions about something that can be improved upon. Be honest with the brand but always phrase it in a constructive way. And if you're going to be the bearer of bad news, providing a potential solution will help your relationship with the brand because it shows you care. For example, if you were working with a hotel and there was essentially no wifi.
Instead of saying:
"The wifi was horrible."
Try this:
"The spotty wifi made it difficult to stay connected with my followers and I wasn't able to respond timely to questions about the resort.  Adding hotspots to rooms when hosting media and influencers would help us stay connected with our followers."
INCLUDE RESHARES:
Were any of your photos or videos reshared by your community or any big feature accounts? If so, also include this information and the associated analytics in your social media report. It's a great way to show your content was well received by the social media world and also show the brand that they got more bang for their buck…and everyone likes that!
For example, if your photo was shared on our Instagram account, @sidewalkerdaily, although you don't have access to our backend analytics, you'll be able to report how many likes and comments the image received.
In some cases, reshares and features happen well after you've already turned in your social media report. If that happens, not to worry, just send a friendly update email to the brand partner to share the good news. It's also a great way to pop in their inbox and help you stay top of mind!
Tools and tips to help you create the best social media report.
USE TOOLS LIKE PLANOLY, PREVIEW AND UNUM TO TRACK ANALYTICS:
All of these Instagram planning apps will not only help you organize your posts, but track analytics and keep track of post performance. They are especially helpful if you operate multiple accounts. Many of their paid options also store analytics so you don't have to worry about Instagram's shelf life.
CREATE PRESENTATIONS WITH CANVA:
Become a graphics wizard with Canva! Canva makes it easy to create visually stimulating and professional presentations. They have tons of templates to choose from and you can always modify them to fit your branding.
SAVE YOUR STORIES:
If Instagram stories are a major part of your campaign or partnership with a brand, be sure to download the images and videos you post so you can include examples in your social media report.
KEEP AN EYE ON THE BRAND'S PAGE:
Watch the performance of the brand's page so you can evaluate your own influence. Jot down the amount of followers and average comments/likes before your partnership goes live. Also monitor the account and jot down numbers during the partnership and the week after as well.
Are you helping them gain followers? Is the engagement on their posts increasing? If you provided the brand with content for them to post make sure you are monitoring its performance too. The brand should also be doing all of this but you don't want to leave it up to them. Take the initiative!
At the end of the day, the social media and influencer world is evolving so quickly that we all have to be one step ahead of the game. It's tough to be both the talent and the expert but at the end of the day, it's all worth it to get to do what you love!