10 EXPERT TIPS TO PITCH AS A MICRO-INFLUENCER
Landing brand partnerships is one way that Influencers, Bloggers and Creators monetize their social influence. If you're looking to pitch as a micro Influencer, the good news is you don't have to have millions of followers to get brand deals anymore. The trend of brands favoring micro Influencers is actually on the rise…so if you're not celebrity status just yet not to worry…we're here to help steer you in the right direction.
Here at Sidewalker Daily we work on both sides of the Influencer industry – we work with our brand clients on all things Influencer marketing and we also coach Influencers to help them land brand deals and partnerships. So basically…we've seen it all.
And while you may be thinking "I don't have the numbers to start landing deals yet," we'll let you in on a little secret…brand partnerships are all about how you position yourself and your pitch. :) So we're going to give you 10 tips for how to pitch as a micro Influencer!
But first…what is a micro-Influencer?
A micro-Influencer is someone that has up to 30,000 followers or fans on a social media platform and has built an authentic connection with their community. Different people in the industry have various qualifications about what makes an influencer "micro" but generally it means they have less than 100,000 followers, they are actively engaged with their community and they have built trust with their fans that causes them to take action. Essentially…they have true influence. 
Micro-influencers have a great reputation in the industry. They've worked hard to build serious trust with their followers and fans and they have a loyal and dedicated community. At the end of the day, brands care about ROI (return on investment) and micro-influencers are sometimes a safer bet to get the results they need to feel like they got their money's worth from the partnership. 
Brands have to justify every dollar they spend on Influencer marketing which means they need analytics, metrics and serious results. They've found that working with multiple micro-Influencers can sometimes be much more cost effective than putting a large budget into one celebrity Influencer.
So if you're looking to pitch, let's talk about ways you can stand out as a micro-Influencer.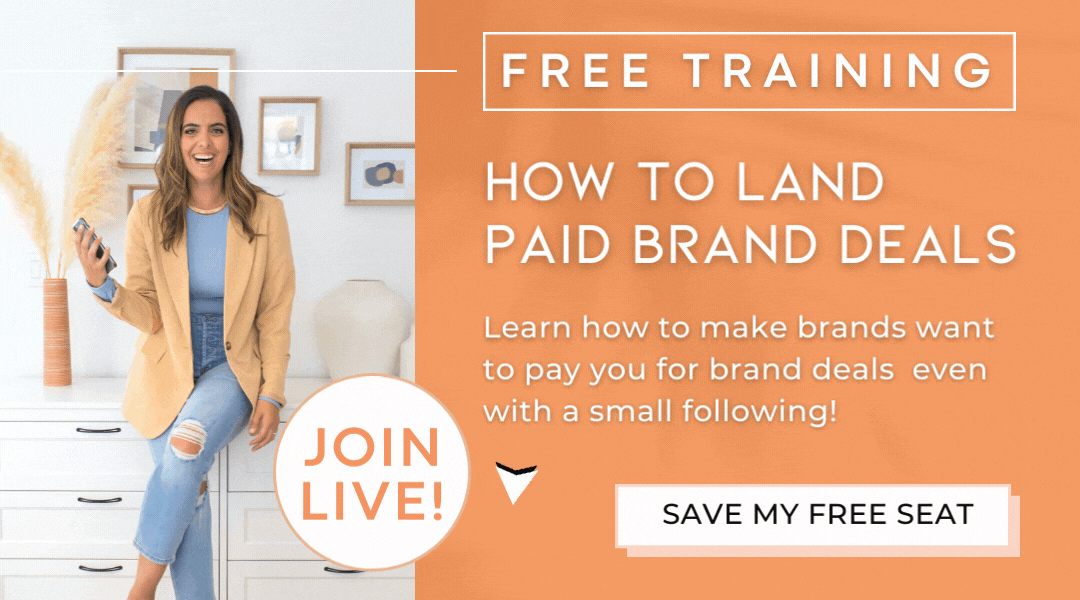 10 tips on how to pitch as a micro-Influencer.
We've put together a list of our top 10 tips to help you position yourself when pitching to brands and land your next partnership as a micro-Influencer.
1. Pick The Right Brand To Approach 
This may sound like a no-brainer but it's more of a science than you think. Consider it like matchmaking – you want to find the best fit for you at this point in your life.
So the company you approach should make sense with your personal brand, be something you're passionate about and maybe even be a product that you already use and love. The idea here is to be so right for the brand that it would be silly for them to pass up the opportunity to work with you.
You should have the same target audience as the brand, have an aesthetic and voice that could be compatible with theirs, and be confident that you can create amazing content for them to use on social media. Basically, this brand should be able to easily visualize your content fitting right in with their brand…essentially you'd be a perfect match. 
Tip: Make sure you're following the brand on social media before reaching out…they will check :)
2. Do Your Homework On the Brand 
Yes, we know that homework is so high school, but at the end of the day you need to read up on the brands you're approaching to know exactly how to position yourself. What is their target demo, where are their customers located, what are their key messages or company's mission?
Once you figure out your similarities or where you can really add value to their brand, don't be afraid to mention that in your pitch. Trust us, sending a pitch tailored to the brand puts you leagues ahead of everyone else sending copy/paste emails (and sometimes even forgetting to switch out the brand name LOL).
In your pitch, tell the team why you love the brand, how you two are similar in your messaging and outlook, what your audience responds to and how it can help the company get the results they are looking for. It will make them confident in working with you because they will know you understand their brand and trust that you will be able to communicate their messaging to your followers and fans in away to get the results they want (and need).
3. Know Your Value 
One of the most important steps in figuring out how to pitch brands as a micro Influencer is knowing (and understanding) your value. Earning money as an Influencer means….you have to have influence. Before you start pitching to brands, it is important that you know your engagement rate, conversion rate, analytics and how much influence you actually have. And if you don't know, you need to test your influence ASAP.
The key is to have all of your stats tracked and recorded so that when brands ask for proof, you've got it on hand. And in reality it's not about how many followers you have…it's about communicating to brands that your followers take action.
It's also important to know exactly who you're 'influencing.' Knowing the demographic of your audience, where they're from, and what they're interested in, can help your case when proving your value. Brands work with Influencers to reach their target demographic so if your audience is 80% female from the ages of 18-35 ,but the brand's target market is men ages 35- 55 then partnering with you probably wouldn't be a good fit for them, right?  
So once you have collected all the information about your "influence" and audience you can definitely use that in your pitch to give the brand confidence in working with you.
And if you don't have tons of followers, likes and comments you can include sentiment in your pitch. What are people saying to you in DM's, emails, and messages? Sometimes your social proof isn't visible for brands to see in just the likes and comments you get…but you know it's there, just behind the scenes.
It's well known that as your social account grows and your followers increase there tends to be an inverse relation in the likes and comments you get so having that social proof will definitely help.
Tip: Save all of the nice emails, DM's and messages you get along the way to make sure you have them ready when you need them in the future.
4. Help Them Help You
If you send a brand a general pitch saying you want to "collaborate," chances are you won't get a response. Once you've done your homework and understand the brand, figure out ways that you would be able to help them achieve their goals…and let them know!
If you just send a general pitch with zero ideas on how you can partner, you're basically expecting them to stop what they are doing, go on your website and social media handles, try to figure out what you're good at and then come up with the idea on ways you can work together. No one has time for that…
So figure out their goals – maybe they need brand awareness, fresh content for their social media or a new campaign video and let them know what you can provide to help them reach their goals. If you make it as easy as possible for them, it'll be hard for them to say "no." 
And at the end of the day, ROI is typically their main indication of success or failure for the partnership (and it's one of the things they'll have to report to their boss or team). So make it clear that you'll be tracking the success of your campaign, and providing them with a social media report after your partnership is completed.
5. Get Creative On What You Offer The Brand
There is no one-size-fits-all approach to pitching and it's always important to play to your strengths so you can really stand out of the influencer crowd. If you're a skilled photographer or videographer, show them your portfolio and offer to partner with them to create content. If you're a caption queen, offer to think of creative campaign copy that they can use beyond your partnership.
Maybe even offer to gather feedback from your specific audience regarding the product or service you're promoting. This is when it's extremely handy to know stats about your audience. If you gather feedback for your partner by testing and polling on Instagram Stories, you will be able to provide them with concrete knowledge that 'this works for X but doesn't work for X'. This knowledge is invaluable, and something they'd be paying the big bucks for this information in focus groups.  (Make sure you actually have people that engage with you before offering this though.)
Brands partnerships are not all, "we'll pay you X to post a photo on your Instagram account." Brands too are starting to understand that influencers are more than just someone with influence – they are amazing content creators, storytellers, videographers – and they are working those skills into partnerships.
Sometimes brands will pay you to post but also purchase a few of the images you shot to use on their social media accounts. The options are endless so always try to come up with creative ways you can work together to help the brand achieve their goals.
6. Make Sure Your Ducks Are In A Row Before You Pitch 
No one wants to enter into a partnership that's more trouble than it's worth. Looking unprofessional is a huge red flag for brands because it makes you look risky to work with. That's why when you're starting to pitch as a micro influencer, it's so important to have consistent and clean branding and messaging across all of your social platforms, website and marketing materials.
Brands only have so much time and manpower, so they're only going to invest if they think it'll be smooth sailing throughout the partnership and feel confident that you'll be able to produce results.
So make sure to audit your Instagram, fix your website, have a professional media kit and case study ready. And even if you're just starting out as a micro-influencer, be sure to do everything that the big bloggers do so you look professional.
At the end of the day, you need to operate like a business….because you are one!
7. Be An Industry Expert
Don't be afraid to show companies that you know what you're talking about and that influencer marketing works! If you're starting to pitch as a micro influencer, using general stats about influencer marketing in your pitch is super helpful, especially for companies that are just starting out in the influencer space.
Setting the scene of why influencer marketing is an efficient approach before launching into why you're the best influencer for the job, will just increase your chances of being able to convince them to work with you. Pitching is sometimes like writing a high school essay – it needs to be backed up by evidence and statistics to prove your point…or in this case, to prove why you're worth it.
And if you're not an industry expert just yet – get to it. Spend some time really diving in and understanding the industry you're working in and any current industry trends …it's expected for any other industry so why not yours?
8. Position Yourself Differently 
How to position yourself as an influencer has a lot to do with your skill set and strengths. If you don't have tons of followers or a high engagement rate just yet, you'll have to get creative in your pitching.
For example, do you take amazing pictures? You can position yourself as a content creator and be able to shoot images for the brand for them to use on their social media or marketing materials.
Do you get tons of Instagram Story views? Offer to do polls for the brand or promote them through a Stories campaign instead of a traditional Instagram sponsored post.
Do you take amazing drone shots and video? Offering shooting a video on property or for the product instead of posting on your Instagram account. You still can post too but your influence will just be the bonus…what they are really paying for is the content.
We get asked how to make it as a micro influencer all the time and the real secret to success is being able to think outside the box and position yourself in a way that makes sense to the brand and ultimately convinces them to use their budget to work with you…instead of someone else. A big factor in making it in this industry is getting creative!
9. If You're Just Starting Out, Get Local
If you're just starting out and haven't done a brand deal yet, you may want to start working with local brands or hotels to get a solid case study first. Consider doing one project you know you can knock out of the park for free because the value of the analytics and proof you'll receive from that partnership will be totally worth it when pitching to other brands in the future. It's something you can put in your media kit to show brands that you have the ability to deliver.
And just because you don't think your town is as exciting as others around the world… it doesn't mean that other people feel the same way. Becoming a local expert and building a solid community of people nearby can be helpful in pitching to destinations that see your city as a "feeder market."
For example, your city may have a direct flight to destination X and that destination wants to target people in your town as potential visitors. If you have the audience they are looking for…voila you may have a better chance of landing the partnership than a bigger Blogger with an audience from another region.
10. Find Companies Already Working With Micro-Influencers
Knowing how to pitch to brands as an Influencer starts with finding a good match. A great place to start is pitching to companies that are already working with micro-influencers.  If they have already invested in working with micro-influencers chances are they believe in the initiative, they have a budget for micro-influencers and would be open with working with you too. We know you're already an amazing internet sleuth so figuring out how to find them won't be an issue.
But honestly there are tons of brands that work with micro influencers…even big companies are pivoting their budget to include different levels of Influencers. There are big names who have partnered with micro-Influencers in the past such as Google, Coca-Cola, Dell, Nike, Subaru, Pottery Barn, Lord & Taylor, Audible, OshKosh, Chrysler, Shutterfly, Home Depot, Stitch Fix, Sperry's, Daniel Wellington, and La Croix (just to name a few!). And if your favorite company hasn't started yet, there's a good chance they will soon!
At the end of the day, you've got to remember that these large companies are just made up of working people driving the brand forward. As an influencer you're a marketing pioneer, using an approach that is proven to work – you just have to position yourself as the obvious choice for their next partnership.
3 Key Ingredients In A Successful Influencer Pitch
So let's do a quick overview of the general components of what you need in your Influencer marketing pitch and Influencer pitch deck or media kit:
Why you'd be the best for the job (don't forget to talk about your amazing audience too).
What you can offer them (and why it would make sense for their brand).
Evidence to back it up (stats, analytics, case studies and more stats).
The bottom line is you need to make it SUPER CLEAR on why working with you is a no-brainer. You have what it takes, you have an audience that would love their product or service, and you have proven results. Sounds like a match made in heaven, right?!
And if you're stressed about talking about compensation don't worry you can leave that for the negotiation phase and send your blogger rates after they've already shown interest…not in your initial pitch.
We all know that sometimes 1-on-1 help is just what you need to figure out how to pitch as a micro influencer, so if you're looking for guidance we can definitely help. Book a coaching call with one of our experts and we'll help you come up with a personalized game plan for landing paid brand deals!