HOW TO NEGOTIATE AS A BLOGGER OR INFLUENCER TO LAND PARTNERSHIPS
Negotiating to get your worth may be one of the most frustrating parts about being a blogger or influencer, but at the end of the day, if you don't stand up for yourself…who will? Since we work with brands on their influencer marketing initiatives, we're going over how to negotiate as a blogger or influencer to land partnerships (and sharing some of the brand perspective while we're at it).
We also coach influencers and creators through working with brands using this insider perspective, so before we get into the good stuff, let's talk about the main ingredient you need in any negotiation….CONFIDENCE. If you're not confident about your work or value when pitching to brands, you need to work on that before you even start. If not, it will be an uphill battle because you need to feel good about what you're selling (you and your skillset!)
Before trying to earn money on social media it's a good idea to make sure your media kit is rock solid and your branding is on point because that's the most sure way to land partnerships and collaborations. Not only will it show the client you're worth it but also gives you the confidence to stand up for yourself when needed. Don't forget to make sure your website is amazing too and you have case studies prepared for your past work so you'll be able to not only prove your value, but show potential partners you're a professional.
These things may seem simple but having your brand assets on point will do amazing things for your confidence. It's kind of like when you go on a date – when you look and feel your best your confidence will be at an all time high versus if you showed up in your pajamas. :) 
So let's go over how to negotiate as a blogger with some essential negotiation tips that every blogger, influencer or content creator should know when pitching to brands.
The Essential Blogger's Guide To Negotiating
We've worked on dozens of projects on both the brand side and influencer side and no matter what side you're on, negotiations are unavoidable so you better get used to them. From payment to deliverables, there is always an agreement that must be reached.
Negotiations can be stressful, especially when you really want to land a deal or partnership. It's overused and cliche but FOMO is real. No one likes to miss out on an opportunity that could benefit them. Knowing how to negotiate as a blogger or influencer is a necessary skill to get business done, land partnerships and build your portfolio.  
We've put together this guide to help you learn to navigate negotiating with brands like a pro. Channel your inner girl (or guy) boss and get ready to land some partnerships!
DON'T BE AFRAID
You need to get it through your mind that negotiating isn't rude. It's very rare that someone (either the brand or you) would give your final offer right off the bat. You should always go a little higher than what you really want to earn so that you have room to negotiate.
That's why it's so important to know your bottom line.
And when you start high, you can make some concessions which will make you appear to seem reasonable and willing to compromise on getting the deal done.
At the end of the day, you're a professional so if they want professional quality work then they are going to have to meet you at least halfway.
DO YOUR RESEARCH 
Knowledge is power! Learning how to negotiate with brands starts with learning as much as you can about the brand. Make sure you've researched the brand and vetted them. The more you know about a brand, the better you can tailor your negotiations.
What assets do they have that you can contribute to or leverage to your advantage? For example, if you notice that a hotel has their own blog on their website, and you're trying to increase your blog traffic, you can offer to do a guest post for their site and link back to your blog. You can use the potentially higher daily traffic on their page to give your SEO position a boost.
If the brand has worked with bloggers and influencers in the past, review the work they've done. This will help you get an idea of the brand's expectations. If they've never worked with a blogger or influencer, know that you'll probably have to hold their hand throughout the process and take charge of the negotiations.
Also if you're pitching to a brand and they've recently done a project very similar to the one you're proposing, you may need to rethink the partnership.
CREATE A CUSTOM RATE SHEET
How you negotiate with brands often starts with what you are offering them. Think about the opportunity and create a custom rate sheet for the brand. The best rate sheets address the specific project and include content packages/bundles rather than a price per post.
Giving the client options on price and the deliverables is always a great starting point in negotiations. Creating content packages specifically for a project allows you to tell the brand how you will address their needs. Content packages also help you spread your content across platforms. Not only does this offer the brand additional value, it allows you to vary the content you create to satisfy you own needs. Providing a rate sheet, allows you steer the negotiations toward your goal.
Hint: The lowest priced package you offer should be slightly above what you're aiming for. Remember to aim high with your ask so you have room to negotiate down and still get what you really want.
PROVE YOUR VALUE 
Before you can prove your value, you need to know your value…makes sense, right?!
Don't underestimate yourself – creating content takes A LOT of time and if a brand doesn't understand that be prepared to break it down for them. We've negotiated on behalf of brands with A list bloggers where even though it was an amazing brand to work with for their resume, they knew their value and since the budget couldn't accommodate their request they walked away… and we respect that. Sometimes it's just not the right fit and that's OK. 
It's important to always have case studies and examples of past work ready to go before you start the negotiation process. Telling brands your value isn't enough…they need to see it for themselves. Experienced bloggers and influencers should have several examples of past work they can show clients. If you can, tailor your case studies and examples to the brand or partnership you are pitching to- for example, if it's a content creation partnership for a tropical location, show them a past case study of something similar versus an app download campaign you participated in.
Basically, some people are not visionary and you need to spell it out for them because leaving them to figure it out on their own could impact the negotiations (in a bad way LOL). 
Learning how to negotiate as a new blogger if you haven't worked with brands before can be hard. This is where your research into the brand can really help – for example, maybe you have influence over a demographic the brand is looking to tap into. Or maybe you see the brand is moving towards video content and you are a videographer by trade.
As a new blogger, think about what skills and value you can can provide brands- photography portfolio, writing samples, video work. All of these can take the place of a case study and help convince a brand to work with you!
COUNTER OFFER AND COMPROMISE
Be prepared for counter offers. Keep in mind that brands' marketing, advertising and sales departments have budgets and are always looking at the bottom line. From our experience, we find that budget is the one thing that stands in the way of partnerships happening.
If you really want to make a partnership with a brand work, be prepared to make a compromise. With paid opportunities this may be lowering your fee or offering more content for your fee. If it's an opportunity on trade, such as a trip with a tourism board, maybe you can compromise on the type of accomodation. Is a 5 star resort necessary or can you survive with 3 star accommodations? Or if a brand is paying for flights, can you fly economy instead of demanding business class?
If you are sensing that the budget on the brand side is an issue, try brainstorming some creative ways to cut costs. If you can offer a compromise that is mutually beneficial, you'll likely land the deal.
STICK TO YOUR GOALS (KNOWING WHEN TO WALK AWAY)
The strongest card you have to play in a negotiation is the ability to walk away. Sometimes the timing is off, other times there may be creative differences- either way, if you find yourself in a negotiation where there is no desirable outcome for you, have the confidence to walk away. There will always be other opportunities that are more worth your time and efforts.
And just because a partnership didn't work out this time doesn't mean it won't lead to another opportunity down the road. Knowing how to negotiate as a blogger or influencer is really knowing how to network.
Make sure that if you do choose to walk away, you do so in a positive way that helps you maintain a relationship with the brand so you can leave the door open for potential opportunities to work with them in the future…when the time is right. 
It's kind of like romance and relationships – at the end of the day if you have to give up too much and it's not going to work for you or make you happy, then it may be best to walk away…there is always another "fish in the sea" or deal out there to be made.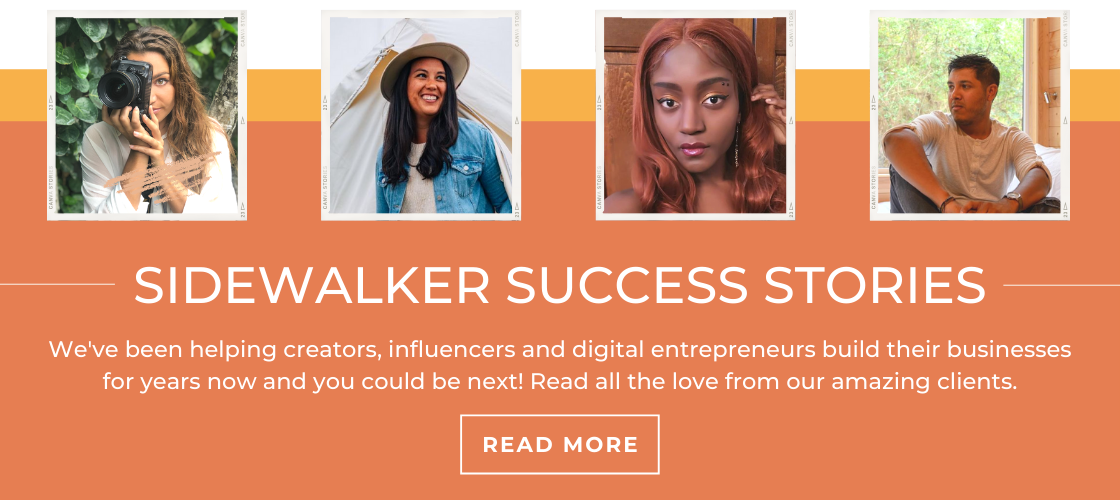 PRACTICE MAKES PERFECT
Learning how to negotiate as a blogger or influencer takes time and is really a skill. Like any skill, it takes practice (and sometimes training) and you always learn from your past mistakes and move on. Think of each negotiation as a chance to fine tune your skills.
Negotiating can be nerve racking but don't let the idea of it scare you off. Remember- it's just a conversation so don't take a negotiation too personally. The brand is only looking out for their best interests just as you're looking out for yours.
Sometimes a partnership just isn't the right fit and that's okay! Use the negotiation process as a learning experience and move onto the next opportunity.
A LITTLE SILENCE CAN GO A LONG WAY 
You know how it feels when you want someone to text you back…and they take forever? It kind of makes you go crazy right…or is it only us..?  LOL. Well the same goes for negotiations. Sometimes silence is an effective negotiation tactic because the other side is wondering…what is going on over there? Are they upset with the offer or are they going to counter or are they just going to walk away altogether?
While we don't suggest playing too hard to get (because it can sometimes backfire), we do suggest knowing when a little silence can be in your favor and help you land the deal.
TREAT EVERYONE WITH RESPECT
No matter if the offer or counteroffer you get is offensive, always treat everyone with respect. It's our motto that no matter what situation you are in, always be respectful…but even more so when you're dealing with a small industry where word travels fast. :)
You never know who knows who so even when "sticking to your guns" be kind and respectful.
And one last thing, business is business. Don't take things too personally; most of the time it's a budget issue and brands are looking to get the most bang for their buck. If they can get what you're offering from someone else for cheaper, why would they choose you? That's why it's important to be niche and make sure you stand out in this industry.
BE A GOOD PERSON AND HAVE INTEGRITY 
We know this seems like a throw away point, but it's really important and one of our core values here at Sidewalker Daily. At the end of the day, all you have is your integrity, so it's important to keep that in tact, no matter what situation you are in, especially in business.
Let's just say you thought the deliverables you agreed to do for the partnership were going to take forever so you quoted a high price…and the brand agreed. But it really ended up taking you half the time you originally thought. Consider reimbursing the brand for some of the fee they paid you. Not only will you look ethical and honest but will help with relationship building so you'll most likely get more work from them in the future (or at least a great testimonial for your media kit)! 
We completely understand that sometimes negotiating isn't as simple as it seems and every situation is different. We know it's helpful to have someone to talk to about your rate sheet, or about what to counter offer, or even to figure out if you're getting taken advantage of by a brand.
Good news is we offer one-on-one coaching where we can help you every step of the way! From the pitching process to negotiating deals, we'll look out for your best interest and make sure you get what you deserve. :)
Learn How To Negotiate As A Blogger To Skyrocket Your Success
We completely understand that sometimes negotiating isn't as simple as it seems and every situation is different. We know it's helpful to have someone to talk to about pitching materials like:
your rate sheet

your media kit

your pitch positioning,

what to counter offer, or

even to figure out if you're getting taken advantage of by a brand.
Good news is we offer one-on-one coaching where we can help you every step of the way! From the pitching process to negotiating deals, we'll look out for your best interest and make sure you get what you deserve. :)
Did you find these tips for how to negotiate as a blogger, influencer, or creator helpful? If so, leave a comment below! We'd love to hear your thoughts.