HOW TO CREATE AN INFLUENCER OR BLOGGER RATE SHEET
So you're a Blogger, Influencer or content Creator and ready to take the next step and start pitching to brands. Before you start, you'll need to get all of your pitching materials together – your media kit, case studies and Blogger rate sheet.  
Creating an Influencer or Blogger rate sheet is simple once you've figured out the key components: 
knowing the value of your work

what services you can offer a brand, and

how much you are going to charge for each service aka your

blogger rates
Gathering this information is an important step in the development of your business and monetizing your blog and social influence.
At Sidewalker Daily we help creators pitch to brands and land paid brand partnerships and we also consult with brands on their Influencer campaigns. We've seen many Blogger, Creator, and Influencer rate sheets over the years, so we know what works and what doesn't. If you're looking to put together your rate sheet or revamp your current one, this post has everything you need to know about creating your rate card!
But First, What Is A Blogger Rate Sheet?
Think of a blogger rate sheet as an ad rate sheet. If a company was charging advertising space on their website, tv channel, or magazine they would have to tell the person looking to advertise how much it would cost for them to do so. This is basically what you are doing for brands, just the outlet is your social media channel and blog and the viewers are your followers and fans.
And if you're a content Creator in addition to being an Influencer, your Blogger rate card is going to be a little more complicated since you have more services to offer than just exposure across your social media channels and website.
The Difference Between A Media Kit And Rate Sheet.
While some people use the terms interchangeably, a media kit and rate sheet are very different documents with totally different functions in the pitching and negotiation process.
Let's go over them:
Media Kit: A media kit in the Blogger/Influencer world is a document that highlights key information and statistics about your blog and brand that a company would be interested in. You provide a media kit to brands you want to work with as a way to introduce yourself and show them why partnering with you would be beneficial to their company and goals/objectives.
Rate Sheet: An Influencer rate sheet is a simple document that is used when selling products or services. It typically includes details about the rate for each product or service you are offering the brand, and even potential packages or bundles.  
It's important to understand that your media kit and rate sheet are typically presented at different times. A media kit is something you would send to a brand first when introducing yourself and pitching the partnership and the rate sheet is something you would send after the brand partner has shown interest in working with you.
What you CAN include in your media kit is an overview of the services you offer to help showcase your value…but remember, just don't put a price tag on them to keep the conversation open. We'll get into more about why this is important next.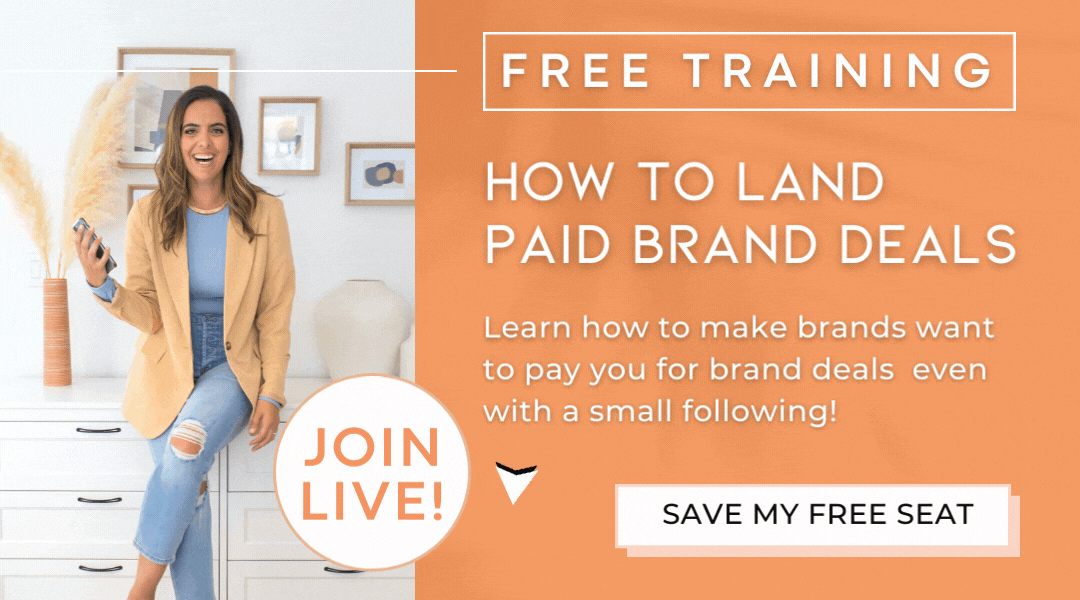 Why Bloggers Need A Separate Media Kit And Rate Sheet.
Now you understand that a rate sheet and media kit are not the same thing but the next question is why is it so important to keep them separate? A media kit is great for pitching to brands and piquing their interest while your blogger rate sheet should be used further into the negotiation process – usually when you're discussing fees and deliverables.
So basically a media kit is WHY the brand should work with you and a rate sheet is HOW MUCH it will cost to work with you.
You should think about it in phases just like you do when considering spending money on a product or service – first off, do you like/want/need it and then the next question is how much is it going to cost?
Essentially, the media kit is a tool to make brands excited about the opportunity of working with you. Think about it, if you include your rates in your media kit and they are not within the budget the brand has for the partnership then they might just pass on working with you altogether. Instead, if you keep your blogger rate sheet separate you can ask for the brand's budget and vision for the partnership then tailor your rate sheet accordingly.
We all know sometimes money can be blinding, even if you are in fact worth it and the best candidate for the job. So yes, some people put their rates in their media kit but it's a good idea to keep them separate because it helps with the negotiation process.
Of course, if you are the type where you don't budge on rates no matter what, feel free to include them in your media kit to cut out any unnecessary back and forth, but if you are open to being flexible with rates then keep your rate sheet separate and do the pitching and negotiation process in phases instead of all at once…it can really help you land more partnerships.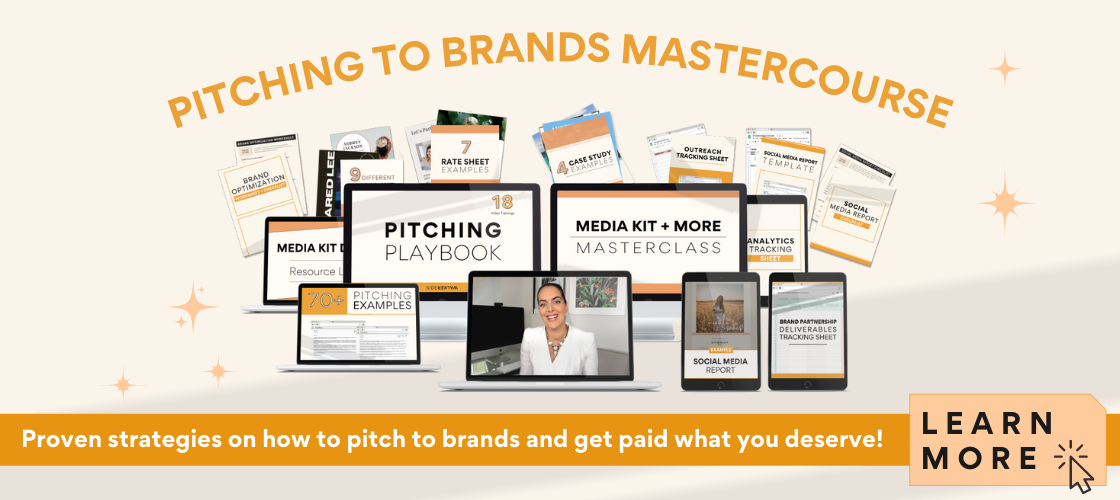 What Should You Include In Your Blogger Rate Sheet?
Every Blogger and Influencer should have a basic rate sheet that covers their basic Blogger prices, such as cost per post i.e. cost of a basic blog post or cost of an Instagram post, etc. But the best Bloggers tailor their rate sheets to the brand's actual needs and the partnership opportunity. What you can do is come up with your standard rates and then offer to create a custom package for the brand based on what they are looking to accomplish for the partnership or campaign.
Let's dive deeper with an analogy to help you understand why being able to create a custom Blogger rate sheet is so important.
Think of a rate sheet as a quote for a brand. A rate sheet should cover every item you are providing the brand and should give them different options to choose from. For example, when you're quoted car insurance, the insurance company will provide you with a quote and then recommended policies. Usually one of these policies covers exactly your minimum needs while the other options are more expensive but provide you with more "bang for your buck" so to speak.
A Blogger rate sheet should be similar in that based on the brand's needs, you should create packages that speak directly to them so you'll up your chances of getting hired and earn more income. You can also combine a variety of your offerings to create appealing options for brands too
For example, if a brand wants you to write a blog post on their product you can offer other packages that include promotion of the blog post on your social media channels. Or you can have distinctions on the type of posts you can create such as a blog post mentioning the brand versus an entire blog post featuring the brand. It always helps to entice the brand to spend more on your work by offering them different options they may have never considered.
And yes, maybe they won't have the budget to add on any additional services but you never know if you don't present the option. You can always have a standard template for your blogger rate sheet that you just modify depending on the partnership.
Building Your Blog's Rate Card – What To Include.
The rate sheet you present to brands can definitely make a difference in whether or not you land a partnership because it clearly presents what you have to offer and how much each service will cost the brand. And since we all know that no Influencer is just a "one trick pony," it's a good idea to include prices for all of your available services like content creation and video…not just your sponsored blog post rates.
So let's go over what to include in your Influencer rate sheet:
Name and Contact Info
Even if your contact information was included in the media kit you already provided the brand, make sure you include it again to make it easier for them to get in touch. Also, since you may be sending the rate sheet separately via email, you never know if they will forward it to someone else on the team and your contact information will get lost in the shuffle. (And if no one can contact you then how will you get the partnership?!).
So make sure to include your:
Name

Website/Social Info

Email Address

Phone Number
Partnership/Collaboration Opportunities
You need to include what services or promotional opportunities you offer on your social channels and website. Make sure to separate each platform and services within each platform to make all of the options that are available super clear to the brand. For example, a sponsored Instagram permanent post may cost more than a sponsored Instagram Story which may have a different value than a blog post. So break up the available opportunities by platform and dive deeper within each platform to create various options. And if you have a killer email list, don't forget to offer an email campaign too since typically brands get excited about emails (because they are usually a safe bet).
In some cases, the brand will already know what they want out of the campaign, for example Instagram permanent posts or Stories, and other times they will have no idea what they need. That's when you'll have to put on your expert hat and make some serious recommendations on what would be the best fit for them to achieve their influencer marketing goals and objectives.
And it's a good idea to include options you think would be a great fit even if they didn't request them right off the bat. For example, if they are only interested in a permanent post on Instagram, include your prices for Stories as well. You never know if they'll end up tacking on a few Stories to the partnership (even though they never anticipated it) because it seemed "worth it"  to spend just a little more.
Pricing
We suggest you do some research on the brand before you put prices on any of your services. For example, if you're pitching to a start up it's unlikely they will have the same influencer budget as a fortune 500 company.
It's a good idea to adjust your pricing depending on the partnership and what they are asking of you. For example, a simple Stories campaign mentioning the brand should not cost the same as a 4 series Instagram post campaign. And maybe they are asking you to go above and beyond what you would normally do during a typical campaign so of course the price would have to reflect the work involved. Pricing is always a touchy subject because normally the response is…it depends.
And since most travel Bloggers are international don't forget to make sure you put the prices in the currency you expect to receive from the brand too! If you need help figuring out pricing for partnerships we can help. We offer 1-on-1 coaching for Bloggers, Influencer and content Creators who are serious about leveraging opportunities into paid partnerships.
Packages/Bundles
Bundling various services and offering a discount is a good way to incentivize a brand to spend more than what they initially intended. Just think of when you buy something and the company offers you a "special offer" where if you spend a little more you'll get exponential more value. Well, brands are run by humans and typically they think the same way as you. :)
Tools To Create Your Blogger Rate Sheet.
When creating your blogger rate sheet, it's important to make it in a format that is easily editable so you can make changes quickly. You should come up with your standard services and pricing, then just tailor the document to the company you are pitching too.
There are tons of free services and inexpensive templates out there to help you out and we're sharing our favorites:
Canva
Canva is our favorite free graphic design tool that makes creating graphics and presentations super easy. There are tons of good looking templates to choose from where you can swap out colors, fonts, add all your info and viola you've got a professional looking blogger rate sheet!
Google Slides
Google slides is user friendly and makes it really simple to create a rate card. You can easily edit any document so you can quickly change your services and pricing depending on what partnership or collaboration you are pitching.
Creative Market
Creative Market offers tons of beautifully designed social media rate card templates for purchase that you can use for your blogger rate sheets. If it's a one time purchase it's not too bad as long as it's in a format you can easily access and edit.