How To Stand Out As A Micro Influencer
The Creator economy is booming and Influencer Marketing is now greater than a 15 billion dollar industry. The influencer industry is continuing to grow which comes with an increasing amount of Influencers and Creators on the scene every day. While there is room for everyone, it's more important than ever to know how to stand out and get noticed as a Micro Influencer to set yourself up for success. 
At Sidewalker Daily, we work with Influencers to help them build their personal brand, land paid brand deals and monetize their Influence. We also work with brands on their Influencer campaigns and social media strategy. This puts us in a really unique position to help the Creators we work with understand what brands are looking for when it comes to selecting Influencers for their campaigns and initiatives. Being a successful creator is so much more than taking pretty pictures and posting Stories, so here are our best tips for how to stand out as a micro Influencer.
Treat Yourself Like A Business
If you're serious about working as an Influencer—especially a full time content Creator—you have to start treating yourself like a business. When we get asked how to work with brands as Micro Influencer, this is usually our very first tip.
So how do you start treating yourself like a business? Start by looking at everything forward-facing, or the first things people see when they land on your social media accounts or website. Whether you're on TikTok, YouTube, Instagram, or any other platform, you have to optimize your page so anyone landing on it knows exactly what you're all about. From your name and account handle, to your profile photo and your bio text, it all needs to be optimized to help you stand out as a Micro Influencer.
We've seen Micro Influencers who are trying to grow their business but have no bio at all or just a few words that seem like they were from the early days when they used Instagram to share their life with just their friends and family. If you want to work with brands, you need to have a bio that immediately lets them know what type of content it is that you create and your niche. The same goes for growing your audience. It's hard to attract new followers if a quick glance at your page doesn't give them enough information to make the decision to follow you. Many Influencers even choose to put a label on their page saying that they're an Influencer, Creator, or Blogger (Instagram has formal labels for this).
Here are a few specific things we would recommend that you do:
Choose a name and a handle that look professional. Numbers and symbols can look less formal and sometimes spammy.
Upload a profile photo that showcases who you are—a great headshot goes a long way!
Be strategic and intentional with your Instagram bio highlights. If they're random or old, they're not going to help you stand out or draw in your ideal followers. Keep them updated and think about them as a way for followers to "navigate" what they are looking for as well learn more about who you are.
Use design tools like Canva to make the elements on your social media profiles. From Instagram highlights to YouTube Channel banners, professional looking graphics immediately elevate your online presence.
Use an email address at your domain instead of a regular Gmail address. This feels more credible and shows that you're serious about your work as a Creator. 
Treating yourself like a business goes beyond making your profiles look pretty, of course, but these small changes all together make a world of difference with how you're perceived by others. If a brand has to pick between someone with a bio that not only looks good but also highlights what type of Influencer they are, and someone else who has a page with random or missing information, they're going to get in touch with the first person almost every single time.
Perception is everything on social media, and that's why a big part of standing out as a Micro Influencer is showing your audience that you treat yourself professionally. Start to strategically think about your social media bios using the best Instagram bio tips to make sure you're positioning yourself as a Micro Influencer who means business!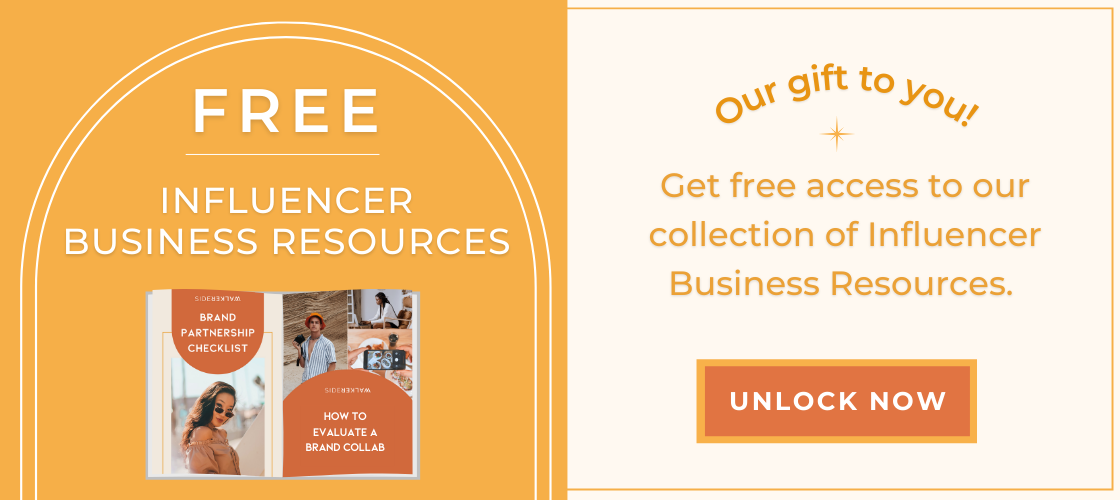 Be Consistent With Your Branding
Building a brand certainly comes with treating yourself as a professional, but this tip for how to stand out as a Micro Influencer deserves an entire section of its own. That's how important it is to figure out your branding as an Influencer and Creator and then stick to it across all aspects of your business. Here at Sidewalker Daily we help Influencers and Creators develop their branding, design their Media Kits and even develop their Creator websites. The most successful creators commit to their brand early on and  this helps them have a clear path forward. 
When you're creating pitching tools like Media Kits and case studies, it's important that you also use your brand fonts and colors so everything in your business looks cohesive. Consistency in branding across your materials makes you look polished and professional. We see Media Kits all the time at Sidewalker Daily when we work with brands on their Influencer campaigns. So we know what brands like to see, and we can tell you that it makes a huge difference in your ability to stand out as a Micro Influencer when you have a good looking Media Kit. 
Our Pitching To Brands Mastercourse teaches Influencers and Creators how to make the type of Media Kits that brands are impressed by, truly helping them stand out from the crowd.
When it comes to branding, everything translates across all aspects of your business, such as your business cards (yes, Influencers can have business cards!), Social Media, Case Studies and Website. Networking as a Creator is important, and you don't want to miss any opportunity to stand out in this space. Let everyone know that you're a professional content Creator, wow them with the content you create, and keep them engaged with a professional brand that reflects who you are as a business owner. 
Stand Out As A Micro Influencer When Pitching To Brands 
We talk about pitching to brands a lot because we know that it is something that many Micro Influencers struggle with finding success doing. We understand how hard it is to put yourself out there and ask a brand to consider working with you when you feel like your numbers are still growing and you're not where you want to be just yet in your Creator journey! But at the end of the day, if you want to work with brands, you have to be comfortable with pitching. It's so important for your growth as a Creator and monetizing your work.
If we could focus on any part of an Influencer's journey, it would be pitching and learning how to work with brands. Good pitching skills are essential to anyone's growth as an Influencer and that's why we created our Pitching to Brands Mastercourse. In this course we walk Creators through how to pitch to brands, create a Media Kit and land paid brand deals even as a Micro Influencers. In fact, some Micro Influencers who have taken our course are  already making 5 figure incomes with less than 10,000 followers. 
If you want to monetize your business, you need to learn how to pitch yourself in emails, on calls, and in person. Having this skillset is one of our favorite tips on how to stand out as a micro Influencer when it comes to working with brands. Knowing how to pitch the right way can lead to some really great things for your business (and bank account)!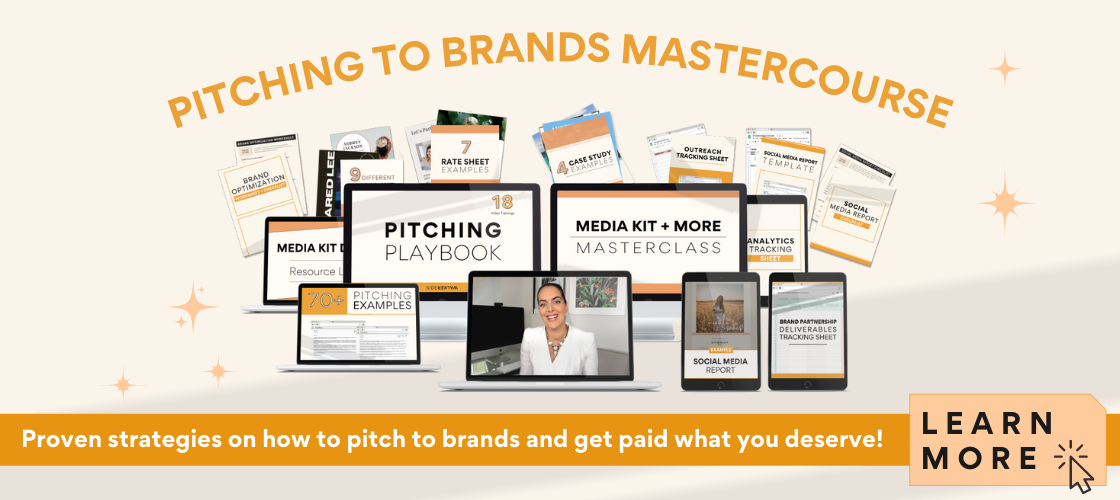 Get Creative In Your Content Strategy
There are tons of people producing content each and every day on YouTube, Instagram and other popular platforms. One of the best ways to stand out in this sea of content is by building a targeted content strategy. Push yourself to be creative by putting yourself out there and leading with your own unique voice.
One of the things that we talk about in our Inner Circle Membership Community of Creators is trying new things and being okay if they don't work out as expected. It's a good thing if you're going to fail at something to fail fast because it's the best way to learn what works and what doesn't and move forward without wasting too much time. So try new things even if it feels scary at first. You never know what is going to take off!
One of the best pieces of advice we can give you when it comes to learning how to stand out as a micro Influencer is to just be yourself! As cliche as that sounds, it's true. No one else in the world can be you; this is the one thing that can truly set you apart from other Creators. Many Influencers fall into the trap of trying to recreate content because they see that it's working for others. While there's some benefit to keeping up with trends, you're not going to stand out if you look exactly the same as everyone else!
That's why we think it's important to be okay with trying new ideas. Even if they don't work out initially because you'll be able to continue to refine your content strategy and create content that adds value to your audience's lives. Here's some ways to do that:
Make things personal by being yourself—your audience will be able to connect with you and will want to be engaged with your content.
Use storytelling to grow your relationship with your audience and create genuine connection
Be authentic to your true self and lead with your own voice. This helps people get to know you and build the "Know, Like, Trust" that is an essential component to your success as a Micro Influencer. 
We talk a lot about the importance of finding a niche. Niching down can sound like you're restricting yourself, but it actually helps you stand out. If you know who you are, people are going to want to follow you and brands are going to want to work with you. And it's all because they know what to expect from you! Brands like working with Creators who know exactly who their audience is and how to inspire them to take action. So get creative, develop that audience that brands are looking for, and don't forget to be yourself!
Tips On How To Stand Out As A Micro Influencer
The quickly growing Influencer industry has blossomed into a space for so many different types of Creators. All of that opportunity is amazing, but now is the time to start thinking about how you and your content can stand out in the crowd. So to quickly recap, here are our expert tips on how to stand out as a micro Influencer:
1) Treat yourself like a business, because you are one! Set up anything that gives people an impression of you to look clean, professional, and show off who you are.
2) Develop a brand and stick to it. This helps people remember you and also attracts your ideal audience.
3) Stand out as a micro Influencer by putting yourself out there with pitches that WOW brands.
4) Work on your content strategy so that you can attract the right audience and let potential brands and followers know exactly who you are. Don't be afraid to get creative because even if you fail, everything is a lesson!
If you're ready to start pitching to brands, but don't know where to start,  we offer private coaching sessions with Creators to get them ready for working with brands. You can book a session with one of our professional Creator coaches here.
And if you're already ready to start pitching and also want to learn how to create a Media Kit that will impress brands then enroll in our Pitching To Brands Mastercourse to get started!
If you found this article helpful, we'd love to hear from you, so let us know in the comments below.