When thinking of the different types of Influencer collaborations, working together with other Influencers might not be the first thing that comes to mind. However, knowing how to collaborate with other like-minded Creators is an integral part of finding success as an Influencer. At Sidewalker Daily, we work with Influencers to help them build their business, but we started off in this industry helping brands hire Influencers for their campaigns. Because of this, we can tell you that many Influencers and Creators took their businesses to the next level by working together! 
We want to help you find success too, so in this article we're talking about the importance of networking through Influencer collaborations. Using human connection to grow your influence can be a gamechanger – social media is about connection with others after all! Trust us when we say, you want to have true friends in this space- people that have your back and even who will recommend you for brand campaigns if the opportunity comes up. So let's look at some of the benefits of collaborating together and also some ways you can reach out to get some creative collaborations started with other influencers.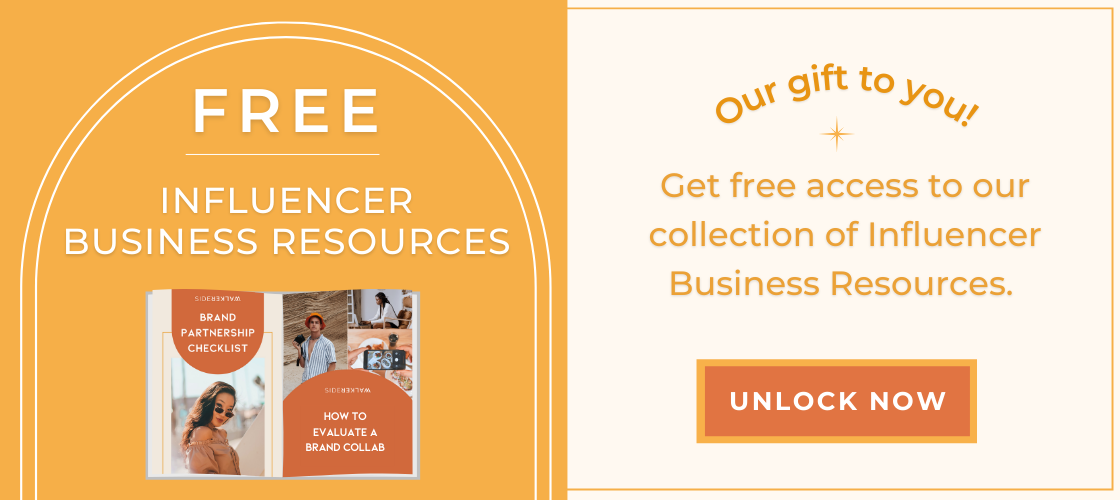 Why You Should Collaborate With Other Influencers
Before we get into how to collaborate with Influencers, it's important you know why doing so is beneficial to your business. The meaning of "Influencer collaboration" is the promotion of something on one's social media accounts for another, so why can't that something be each other's influence? Working with other creators in your industry or niche on collaborations is a great way to build a support system and grow your following. Having true friends is going to set you apart in this space, and we're covering a few reasons why. 
1) More Brand Partnerships
Like we mentioned earlier, Sidewalker Daily not only works with Influencers, but we also work on the brand side of things as well running Influencer Marketing campaigns. There have been so many times when after we've found an amazing Influencer for the job that we ask them if they have any recommendations for other Influencers who also may be a good fit for the campaign or project. If they have someone else in their niche that they can bring to the table when brands are looking for other Creators to join in, it becomes a win-win for the brand and for the Creator being recommended. 
As a brand, it's much easier to trust a word of mouth referral from someone who you have a working relationship with and trust than to keep hunting for another match on your own. Not only does it offer someone trustworthy and capable, it makes less work for the brand too. Think about it from your perspective as an Influencer: having friends in the industry can really elevate your chances of potentially working with more brands and landing paid brand partnerships! The more genuine connections you have with other Influencers, the more likely you are to have your name thrown into the conversation if a brand asks someone for a recommendation.
As the old saying goes, you want friends that bring up your name in a room full of opportunities. You need to network with other Influencers and Creators to make that happen!
2) Borrowing Their Audience
Collaborating with Influencers like yourself is a great way to grow your own following. If this person is in your niche and promotes you on their social media account then you're exposed to their entire audience which is full of people interested in the type of content you create too! And, if their audience trusts them and loves what they put out there, then this makes it extremely likely that some of their followers will check out your account and even convert into followers which in turn will help you grow. 
This actually goes for both of you which is why it's a win-win when you collaborate with other Influencers and Creators because you both have different audiences to expose each other to. Make sure you mention this benefit of the opportunity when you're pitching or discussing a potential collaboration with another Influencer. Together, you guys can create something great and support each other's businesses at the same time!
How To Pitch Yourself To Another Influencer
Collaborating with other Influencers and Creators is an amazing way to find success in this industry, but in order to make that happen you have to find others who want to work with you as well. Don't worry, we've got the tips to help you find other like-minded people to work with and advice for how to reach out to them too. 
Think about pitching to another Influencer in the same way you'd think about pitching to brands. Essentially, you have to explain to them what it is that you bring to the table and what value you have that they can benefit from. If you're messaging someone and simply saying, "hey I want to collaborate with you," that really doesn't tell them much of anything. Get them excited by coming to them with a specific idea of what you could do together. If your pitch does its job and draws them in, the next thing they're going to do is check out your profile. So make sure you have a clear bio that shows what you're all about!
But who exactly should you send these pitches to? Well, it doesn't have to be as complicated as it might seem! We all have digital friends on social media – the people we don't know in person but we interact with by liking and commenting on their posts and even chatting via direct message. This is a perfect place to start and these people are already right in front of you. If you already have an established relationship with these social media friends, it increases the odds that they'll want to work with you. It's also much easier asking someone for something who knows you or even knows of you, then reaching out to someone totally random on the internet. 
That being said, if you know someone who knows the Influencer you want to work with, maybe you can get an introduction. This is still better than reaching out to someone you've never interacted with before. Leverage an existing relationship with the mutual friend or follower of someone you want to reach out to and see what happens. Sometimes the best collaborations come together with people who are already right in your network. Of course, if you don't have any mutual connections, don't be afraid to reach out directly and shoot your shot. While we like to start with warm leads, we also see success with cold leads if the pitch or request is done right!
Another thing we want to point out is take notice of who is following you, commenting on your posts and watching your videos and Stories! There are people there who might want to collaborate with you, you just won't know until you look!
Our final piece of advice for collaborating with influencers is to reach out to people who are in a similar position as you. If you're just starting out, going to someone who has hundreds of thousands of followers might not be the best option just yet. If you're trying to do something as equals, look for someone who is in a similar follower range and niche as you. This way it feels collaborative for everyone. We do have an exception to this however, and it's all based around what idea you're pitching, which we'll get into next.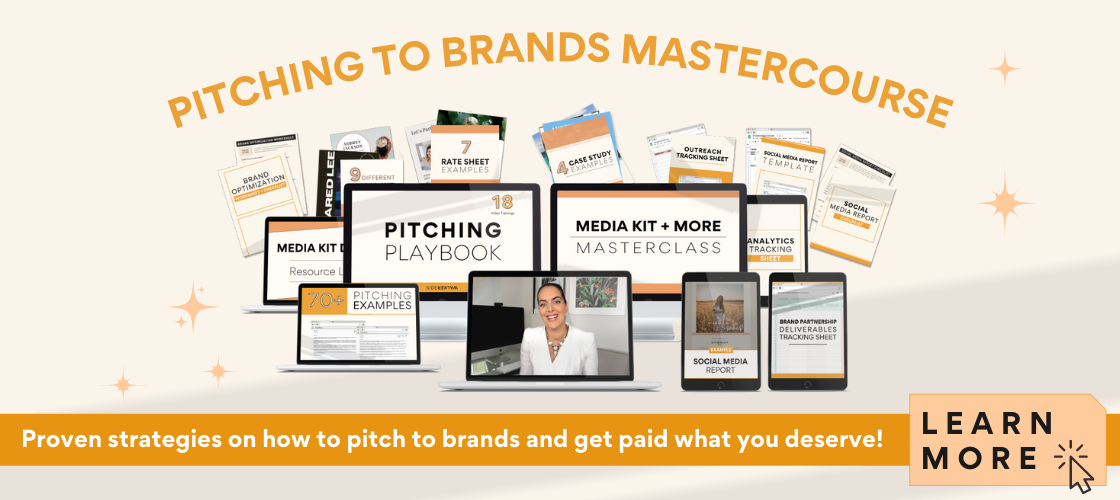 As you're considering how to pitch to another Influencer or Creator, remember there is not just one way – it really depends on what you're looking for, your relationship and what you can offer the other influencers in return. While there are so many ways to work with other Creators and Influencers, we're covering some ideas to get you started. 
Examples Of Collaborating With Other Influencers
Inverview-Style
One way to collaborate with other Influencers is to incorporate an interview or guest speaker role into your pitch. These are the types of collaborations where you might consider reaching out to that Influencer with TONS of followers that you want to work with because their involvement is like being a special guest.
You can pitch to them an idea for a blog or IGTV interview, or maybe ask them to send you some quotes for content you're creating that is in their niche. This gives them a chance to share their expertise and get eyeballs on their page. Like we talked about in the previous section, you want to have a concept ready when you pitch to someone and an interview-style pitch is a good way to open the door and start the conversation.
Bring Another Influencer Into A Pitch
You're serious about your business as an Influencer, so you're pitching to brands to get paid deals. Invite a fellow Influencer along for the ride! If the circumstances are right, reach out to an Influencer you want to collaborate with and ask them if they're interested in joining your pitch to a brand. You can tell them you're doing a collaborative pitch and thought that they would be a great fit.
Let them in on your vision and if your interests are aligned, they might want to join you! How is this actually beneficial for you? Well, as far as Influencer collaborations go, this is a unqiue pitch idea that a brand might be really interested in and excited that they'll reach more than one audience or benefit from different skillsets.
For example, if you have strong photography skills and you're pitching to a hotel for a sponsored stay, it might be great to pitch with another influencer who has a broader reach than you to give the brand more incentive to say yes. While all types of pitching is an art and not a science, pitching with another influencer when you are starting out or you are lacking in one area, could give you a better chance to land the deal.
Hosting Events
You can ask in your pitch if the other Influencer wants to organize an event together- a meet up with followers, panel on a certain topic or even a non-profit fundraiser could be awesome to do with someone else too. This is especially great for working with Influencers that are local to your area because being from the same city gives you something in common. You can work together to plan an event, support a local charity or anything else that resonates with your similar goals.
In person events aren't the only way to go either! You can even pitch the idea of co-hosting a virtual event with another Influencer. This signals to them that you're trying to create a business opportunity and they might be interested in exploring the idea further.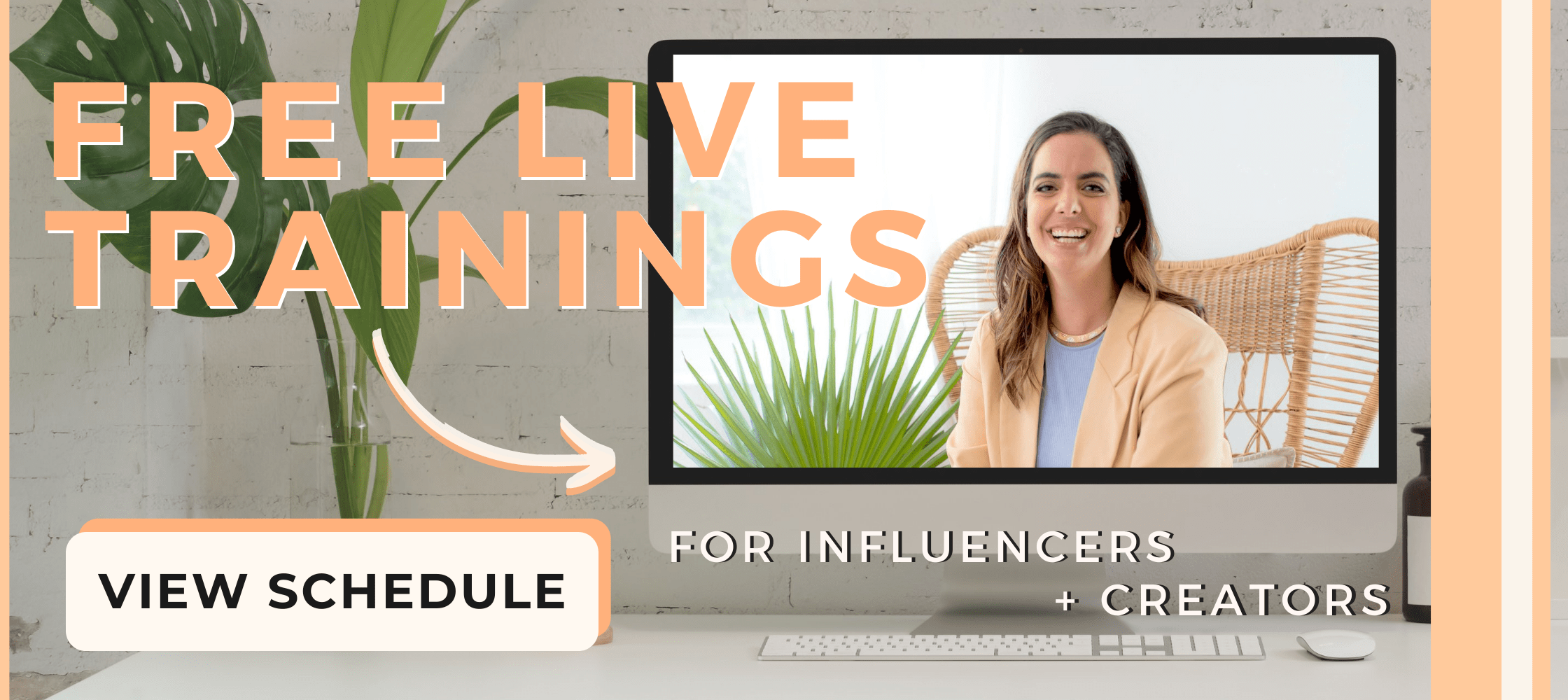 Influencer Collaborations Are A Must!
The Influencer and Creator world can be daunting and we don't suggest trying to go through it alone! Working with other Influencers and Creators is a great way to feel connected in this industry, foster more friendships, and grow your audience. With more people in your network, you can hopefully get access to more opportunities, learn from each other and grow your influence. Our Inner Circle Creator Community at Sidewalker Daily is perfect for anyone looking to meet other like-minded Creators and Influencers from around the globe! You can learn more about Inner Circle here. 
Let's go over a quick recap of our ideas for Influencer collaborations with other Creators and why they are important to your success in this industry:
1) Collaborations and Influencer partnerships are all about creating content and posting about something else on behalf of someone else. This doesn't have to be only with brands! Partnering up and using each other's influence is a great way to build relationships and help each other grow.
2) Influencer Collaborations with other Influencers can help you get more brand partnerships.
3) You can borrow each other's audiences to reach more people when working with other Creators.
4) Think about pitching to another Influencer the same way you would think about pitching to a brand. Who would you work well with and how can you help each other?
5) Some examples of types of Influencer collaborations with other Creators are 
– Inverview-Style: Ask to interview another Influencer on your blog, YouTube, Podcast and Social Media. 
-Do something together, like host an IG Live or promote each other on Stories. 
-Bring another Influencer into your pitch with a brand to create a unique pitch idea.
-Host an in-person or virtual event together, such as a meet up, charity fundraiser or a panel on a specific topic.
Connecting people is what we do at Sidewalker Daily, so if you're looking for a network of other like-minded Creators we have the resources to help you grow and meet others like you! We also offer private coaching services with experts so if you need help figuring out how to grow your influence or make more money as a Creator you can book a session with one of our experts to get a tailored gameplan and advice specific to you! You can book a session here. 
If you found this article helpful, we'd love to hear from you, so let us know in the comments below.