WORK WITH BRANDS: THE ULTIMATE CHECKLIST TO PREPARE YOUR PITCH
Partnerships. The pot of gold at the end of the rainbow. The ultimate way to monetize your influence, make real money, and have the opportunity to represent a brand that resonates with your own. Landing a brand partnership can strengthen your personal brand and launch your career as an influencer into it's next phase. Are you ready to work with brands?
At Sidewalker Daily we help influencers and creators monetize their influence and work with brands. Because we also consult with brands on their influencer campaigns, we know what brands are looking for and use this insider perspective to coach our creators. So what do you need to make pitching possible?
Before walking into that meeting or answering the phone call, it's imperative that you have all of your ducks in a row. After all, you are your own personal brand and business! You've got to act like one too. This article will dive into all the things you'll need to prepare before you work with brands.
7 THINGS TO DO BEFORE PITCHING TO WORK WITH BRANDS.
When pitching potential partnerships to brand clients, it's very important to be prepared. Think of this as a job interview, if you don't know how to answer every question they throw at you, or you don't know about the latest product, you're going to look like you don't care all that much.
First things first, you need to research. This research comes in two parts- research of the brand itself, and research of their past projects with other influencers.
STEP ONE:

Research The Brand. 

The number one question we receive when coaching our blogger students is always, "How to work with brands as a blogger." We always like to start with researching the brand as step one.

Truthfully, partnerships are most valuable for all parties when you actually believe in the brand and use them independent of the possible partnership. If you authentically resonate with the brand voice, aesthetic, mission, and values, you'll already be a step above the rest when it comes to your pitch.

Some things to consider when researching the brand is to find out:
Company mission statement and values.
Their key messages. These are the core messages they want their target audience to hear and remember.
A rundown on all of the products or services they offer.
The specific products or services that your audience would be interested in learning about or purchasing.
Recent news about the brand, including any recent changes for the business.
 All of their social handles to get a good feel for their activity level, their community, their aesthetic and reach (and make sure you follow them too!)
Their ideal customer- who they're trying to speak to and who they haven't reached yet.
Armed with this information, you can move forward with a better idea of where your audience overlaps with the brand's and how you can provide value in the partnership. You can also start thinking about creative ways to integrate your content with theirs or introduce something they've never done before. It's always great when chatting on the phone or in person to show that you've done your research – nothing like being prepared to impress a future client!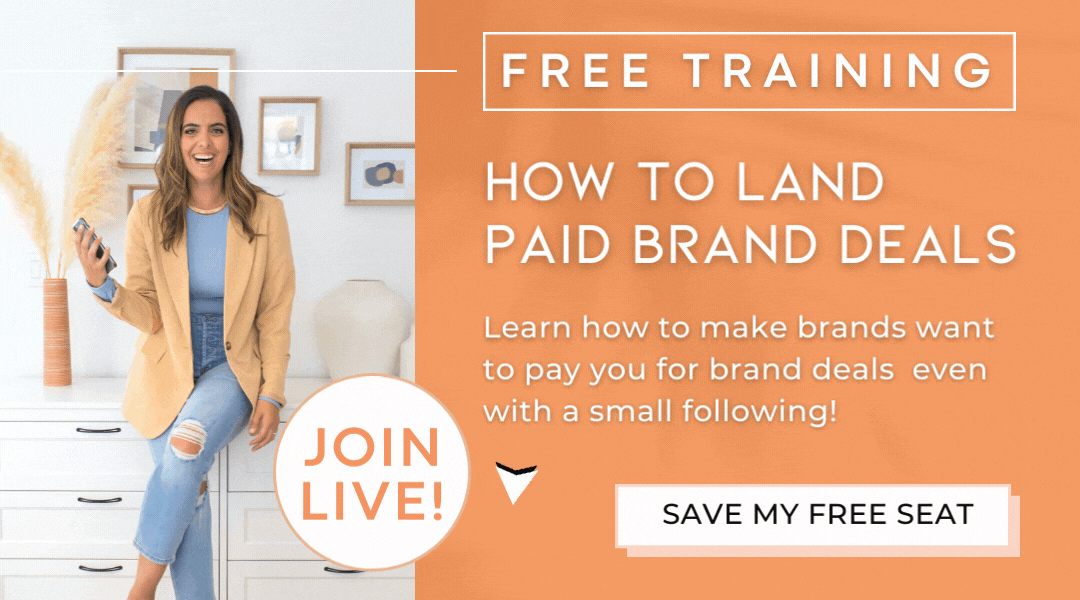 STEP TWO:
 Research Their Past Influencer Projects. 
This step is important for a few reasons. You want to know how to differentiate yourself from past projects, and understand the brand's exposure to the world of influencer marketing. This one is a little trickier, because brands aren't necessarily going to broadcast the fact that they're using influencer marketing. You probably won't find a list of past people they've partnered with, so you'll have to do some sleuthing and put your detective hat on… which we know you won't have a problem with that!
The first thing we recommend is to search 'X brand influencer campaign', or any other variation of this search, because many times third party sites will aggregate this information for you.
Depending on the size of the brand, it can be beneficial to look through their official Instagram tag. You can sift through what you find and see if any of the posts also include an #ad #sponsored or #partner hashtag. Sometimes influencers or partners they work with will be some of the first search results to pop up.
You'll also want to look through the brand's Instagram to see if they've reshared any influencer content. If you see they have, then BINGO, you can find an example of people they've worked with in the past and see the type of creators they tend to partner with.
Lastly, an option would be to go to your favorite influencers to see if they've recently posted about their partnerships. Searching for specific brand collaboration examples is a great way to know who's doing what in the industry. It's good to keep tabs on the partnerships of the big names in the influencer community. For instance, if you follow Lauren Bullen (Gypsea_lust), you'll know that she has partnered with Beats by Dre, Tiffany & Co., and Chloé.
While she is considered a celebrity influencer, the same idea applies to micro influencers. If you see that someone with around the same following as you is currently posting and including clues in hashtags (#partner #ad) then you'll know that the brand works with influencers with a smaller following. If you want to work with brands, you want to make sure you're ahead of the curve by knowing all of this information. We're definitely of the mindset that it's better to know too much…than too little. :)
Keep in mind that knowing the brand's past partnerships will be vital as you go forward with your pitch. Once you have this information, you can also being thinking about how your audience overlaps with the other influencers they've worked with – and how it differs – as well as how the brand has changed since the last partnership and what new products they may want to highlight going forward. When connecting with brands for sponsored posts, you'll want to ensure that they actually work influencers and bloggers, before wasting your time.
S

TEP THREE:

Design A Media kit.

If you want to collaborate with brands, then you'll definitely need a media kit. A media kit is basically your blogger, influencer or creator resume. It communicates what you're about and everything you've done in the past, and it's a big piece of the puzzle when it comes to convincing the potential partner to work with you. When pitching via email it makes the most sense to include your more relevant and basic stats in your email copy, and then include your long media kit as an attachment.

So what should you include? Here's a short list: (1) about you and your blog, (2) stats and demographics, (3) services you offer,  (4) examples of your work (case study and testimonials included!), and (5) your contact info. There's debate as to whether rates should be included- we recognize that a brand partnership is always a negotiation, so we don't think it's wise to include your rates in your media kit.

Being the first party to suggest a price can sometimes put you at a disadvantage…and you want all of the leveraging power possible. Something else to note is that your media kit is completely separate from your rate sheet, but more on that later.

For a more in-depth view of Media Kits and what exactly to include, check out our article here.
STEP FOUR

: Prepare A Case Study. 

Having a Case Study on hand is never a bad idea. A case study is basically a piece of evidence that backs up your past work and references. Better yet, have a case study for each type of business you pitch to! If you're speaking with a hotel, have a hotel case study handy…if interfacing with a tourism board, show your experience with tourism boards.

Your case study is where you'll get down and dirty with the numbers, and we all know that quantitative data matters more now than ever before. It's important to remember that every person you speak with on the brand side is also responsible for their ROI. Meaning, you've got to be really clear on your value because they'll do the math once it's all done, and their name is attached to that number.

So what should you include in your case study? Here are some things to consider: (1) the date of your past campaign, (2) the name and logo of your brand partner, (3) the objectives of your partnership, (4) your deliverables, (5) the quantitative and qualitative results, and (6) a testimonial from your partner.

Sometimes your case study will go in your media kit, other times it won't. The inclusion of your case study in your media kit is something you should determine based on your specific partnership goals…it shouldn't always be sent by default.

We often suggest that you include one page in your media that is a case study overview, and then have a separate case study presentation that is way more detailed and has the full scope of the partnership. Working with brands is an art, and a case study is a great way to set your business apart!

For a more detailed look at the ins and outs of case studies, check out our article here.
STEP FIVE:

 Draft Your Pitching Emails.

Now you've done your research and prepared your materials, and are ready to reach out to brands for collaborations. First things first, you'll need to know how to write a brand collaboration email that works. 

Starting with who to send your email pitch to at the company. The right way to contact brands for collaborations is making sure that you are pitching to the person in charge of influencer marketing or partnerships. You may have to search a bit for the correct email address, but the hunt will be worth it…a great pitch means nothing if it falls on deaf ears.

There are a few avenues to search for the right email address. Before searching, it may be beneficial to know the name of the person managing influencer relations, marketing or PR for the company, brand or destination. Oftentimes, you can find this information on the company LinkedIn by searching various keywords like 'influencer', 'partnership', 'collaboration' and 'brand.' If you do that, you'll probably find the team members you're looking for.

Once you have a good idea of who's on the team, the first place to look for email addresses is on the brand's website. Many times, if the brand is fairly large, they'll have a press section. They'll have a press contact there, or they'll list a recent press release which should include a team member's email address.

If you can't find an applicable email address anywhere on the website, the next best option would be to ask. Calling the main phone line and asking for the proper contact can get you far- not many people nowadays will pick up a phone and ask for what they want. If you don't want to call, ask for the contact via twitter or email, or send your pitch via the general company contact email. If you send a great pitch through there's a good chance it will be forwarded to right person…or at least we'll cross our fingers it does!

We've also used the site Rocket Reach in the past, where you copy and paste someone's LinkedIn URL and it will give you a few email options for this person. Rocket Reach has a paid and free component, and has helped us in the past get the exact email of the person we were looking for.

Content is next. Try to keep the email copy relevant and to the point – no one wants to read an extraneous email. Tell the contact why you're interested (you've been using the product for x years, you're the biggest fan because y), tell them about the demographics of your audience, why your audience would be interested in their products or services, and a quick overview of your stats (think monthly views or users, engagement rate on all relevant channels, and your follower growth rate).

Put yourself in the brand representative's shoes- what would you want to hear if you were on the other end of the partnership pitch? If you've worked on other partnerships in the past, don't forget to mention them and their success too!
STEP SIX:

 Create Your Rate Sheet. 

Your first question may be, what's the difference between a media kit and rate sheet? A rate sheet is much more specific and technical than a media kit, and only really addresses your prices. If someone is looking at your rate sheet it's assumed that they are interested in working with you, know what you're about, what your value add is, and how you plan to move forward in the partnership. Basically, a rate sheet is what you're gonna charge them to get all of this done.

Depending on what you offer, your rate sheet may be extremely simple or very complicated. So what to include? Every blogger, influencer, or creator should have a standard rate sheet (even if only to remember their prices), but based on the partnership objectives, you should tailor your rate sheet to the brand's needs.

You can mention all services you offer and then create custom package options for the brand based on their objectives. This can be done after you begin the negotiation process, but it's a good idea to have a template ready to save you time.

Something to note (as we mentioned above), is that the discussion of rates may come up at different times during the pitching process, not necessarily at the start. So you wouldn't send your rate sheet in your introductory pitching email…you'd wait to mention prices until they ask or display interest in working with you. Being hasty in sending your rate sheet too early is NOT a good idea.

We like to think of your rate sheet more along the lines of brand proposals, so each one is custom to client you are pitching to and what they are looking to achieve from the partnership. Doing so will make you look ahead of the game, and show that you really understand your value, their goals and why they are interested in partnering with you.

For more on creating a rate sheet, head over to our article here.
STEP SEVEN:

Brush Up On Your Negotiation Skills. 

Before you start pitching to brands as an influencer, blogger or creator you have to brush up on your negotiation skills. The most important factor in the negotiation process is CONFIDENCE and knowing your worth! If you're confident in yourself, they'll be confident in you too. :)

The first step is knowing what you want. Going into the pitch you should know exactly what you want the partnership to look like, even if you don't ask for it off the bat. You should also keep your broader brand goals in mind when considering each partnership…ask yourself if the work is moving you in the direction you want to go for your business.

Something you should ask for right when negotiation begins is their budget. If you mention your rates first you may lose negotiating power. Try your best to find out their range or budget first so you can craft something around that.

Don't forget to prepare! Everything we mentioned above will be imperative when it comes to negotiating. You'll want to use the information you gathered about their audience, your demographics, your value, and your unique point of view in the negotiation process. Having a media kit, rate sheet, and case study ready before starting the negotiation process is also very important. Why? Because they clearly outline your value and what you're asking of the potential brand partner.

As always, be prepared to counter offer and compromise. It's very unlikely that you'll arrive at the perfect number or deal right away. Remember that compromising and asking for what you want is not rude, it's business. But above all else, don't forget to always be professional, respectful and kind!

And if the brand does not have a budget but is offering you something YOU think is of value to you or your brand, it's OK to say yes. For example, there are tons of creative ways to leverage a free travel opportunity into other ways to earn money from the trip. So always put your thinking cap on for every opportunity that comes your way and keep your end game in sight.

For more negotiation tips, take an in-depth look at our article here.
LANDING BRAND PARTNERSHIPS TAKES SOME UPFRONT WORK…BUT IT WILL BE ALL WORTH IT!
If you're looking to work with brands then we recommend doing all of these things before you begin the pitching process. Remember, they won't all come into play at the same time but you never know when you'll need something during the process so it's a good idea to be prepared!
You don't want to reveal your cards all at once, so you wouldn't send all of this info in your initial email. However, having it all on hand for when the brand asks is ideal and will make you look super prepared and professional. Plus, knowing what your ideal partnership looks like before you even start pitching is the best way to make it happen… and be happy with the results.
We know that gathering all this information and creating these materials takes A LOT of upfront work but consider the time an investment in yourself. Being a blogger, creator or influencer takes hard work, determination and a little hustling but there are tons of different opportunities in the travel space to make money….you just have to find the right fit for you!
Learn How To Pitch Yourself To Brands
We hope that after reading this article you feel more confident about pitching yourself to brands! As a recap of what you need to know if you want to work with brands:
1) Research the brands you want to work with first.
2) Look at their past influencer projects.
3) Design a good looking media kit that shows your value. (We can help!)
4) Prepare case studies as extra material to support your work with brands. 
5) Learn how to write a good pitch email and make sure the right person receives it.
6) Create a rate sheet.
7) Before you start pitching to brands, work on your negotiation skills.
Ready to work with brands? Trust us when we say that these 7 steps are the key to succesffuly pitching to brands and landing paid brand deals. 
And if you need help with any part of this – no matter if you're a seasoned influencer or just starting out – we're here to help! When you book a one-on-one call with one of our experts, we'll come up with a personalized plan for monetizing your influence and growing your business!
Did you find this article helpful? If so, leave a comment below. We'd love to hear from you!