CREATIVE WAYS TO MAKE MONEY ON SOCIAL MEDIA
You've done it – put in all that work to create amazing content, figure out your vibe, grow your audience, and have a social presence that you're finally happy with. Now what? You deserve something more for all that hard work than just personal satisfaction, right? We get asked all the time "how to make money on social media" because in the end, being an Influencer is a business. Yes, tons of likes and comments are good for your ego….but those don't pay the bills.
Here at Sidewalker Daily we work with Bloggers, Influencers, and Creators to grow their businesses. We also consult with brands on Influencer campaigns, so the strategy we focus on most is pitching and landing brand collaborations. However, we are always impressed with all of the innovative ways Creators use social media to make money. From selling services to even travel-based side hustles, there are many creative ways that you can leverage your accounts so you can start making money from social media too!
How To Make Money On Social Media
We totally get that sometimes being a travel Blogger and Influencer is tough when it comes to getting paid – yes, you are often offered amazing free trips and hotel stays around the world but those airline miles and passport stamps don't cover your expenses. Until you make it to the big leagues you're going to have to get creative on how to monetize your influence while jumping from city to city.
No matter which niche you're in as an Influencer or Creator, free products and complimentary opportunities aren't going to pay the bills. Here are a few ideas on how to make money on social media:
1. Pitch Shooting Campaigns or Lookbooks While On Press Trips.
Let's face it, we're all content junkies. It seems we consume more content daily than water (don't tell our doctor lol). What that means is all of the content we consume on the regular needs to be created by someone! Traditionally, brands and companies allocate a budget to do photoshoots and/or videoshoots throughout the year. But production costs can get crazy expensive after you pay for the location, photographer, videographer, models, stylist, hair, makeup, etc.
We see companies more and more skipping traditional shoots and turning to Influencers that align with their brand image and aesthetic to help create content for their marketing materials, social media posts, and even online ads. If you're traveling on a press trip to an exotic location, why not pitch to travel brands the idea of shooting some fresh content while you're there? Even if you're not headed to an exotic destination, everyone needs new imagery and content.
If it's a brand or company that aligns with your image, they will save a lot on production fees, time and energy and can allocate some of the money they would spend on content creation to compensate you for your time instead!
Just FYI, if you are going to shoot content for other brands and companies make sure you respect the client who is hosting you on the press trip (i.e. footing the bill for your flights, accommodations etc.) so you don't ruin any professional relationships along the way.
Another option is pitching your services as a photographer on a press trip. You can talk to the person organizing the trip about doing a full on photoshoot and potentially hiring you as the photographer. The other press trip attendees can stand in as models (as long as they sign a photo waiver of course). Lots of times on influencer press trips, they'll hire a photographer to come along – why not it be you?
4. Be a Social Media Consultant and Work for (not with) Brands.
You can harness the skills you've gained while growing your community and audience by helping brands and companies do the same! To you, everything Influencer marketing and social media makes total sense but to others it can be as if you're speaking a foreign language.
It seems that everyone wants to expand their influence right now, get more followers, up their engagement and make their business profitable online. If you've done that for yourself, then why not do it for someone else?!
Consider becoming a social media consultant and selling your time to help companies create a strong social presence. The great thing about being a consultant is that you work for yourself and most of the work can be done remotely. Since wifi is available almost everywhere, you can spend your days exploring the city and your evenings coming up with social strategy for brands around the world!  
5. Leverage Your Influence With Affiliate Marketing.
Affiliate marketing is another popular way to make money using social media. Although originally used primarily on blogs, you can use affiliate marketing via Instagram and social as well. Basically what happens with affiliate marketing is you post a link when and a follower or reader clicks on the link and buys the product, you'll get a commission for the sale.
Every affiliate program is a little different, so you'll have to get the specifics from your partner, but becoming an affiliate works a lot like finding someone to pay you for a sponsored post (and it still needs to be disclosed like one).
A good (and popular) example of affiliate marketing on Instagram is LIKEtoKNOW.it. Here's how LIKEtoKNOW.it works on the customer end. When a customer signs up for LIKEtoKNOW.it, they can like a photo and will receive an email in about 5 minutes with product links in their inbox. Alternatively, the consumer can download the LIKEtoKNOW.it app, which connects to the screenshot album in photos. Once the user takes a screenshot of the thing they'd like to shop they get a notification from the app that it's ready to shop.
On the Influencer end, you receive a commission every time a piece is purchased using your link. So, if you've got a strong follower or fan base of people who already love your style and always take your recommendations, then you could use this service as a way to make money on social media, using photos you would've posted anyways (which is definitely a plus)! As you can see, affiliate marketing is an easy way to monetize your influence stat.
6. Sell A Service.
Do people always compliment you on your photo editing skills, way you frame a photo or are obsessed with your clothes and accessories? Consider leveraging your skills and providing what you're good at as a service to others who need the extra help. Let's go over some ideas:
Photo Editing: Are you an expert at taking mediocre pictures and making them super Insta-worthy? You can leverage your photo editing skills and sell this service to companies that need their photos to be retouched or edited.
Video Editing: Do you know how to take raw footage and turn it into a video that everyone is dying to share? Consider pitching your video editing service to clients looking to create video content for their company or brand.
Graphic Design: Are you good at creating the cutest story graphics or Insta promotional posts? Consider pitching your graphic design services to companies who need that extra creative touch.
Creative Direction: Does everyone freak out over your amazing style and photos you snap? Consider pitching yourself as a creative director and organizing anything from video shoots, photoshoots or even events for a brand or company.
Basically, your social accounts are a great way to advertise your services both by showing examples of your work and letting your followers know what you're up to. Trust us, word of mouth travels fast!
On top of being an Influencer, you can leverage your skill set to create a profitable business for yourself using all the work you've put into your social media accounts this far.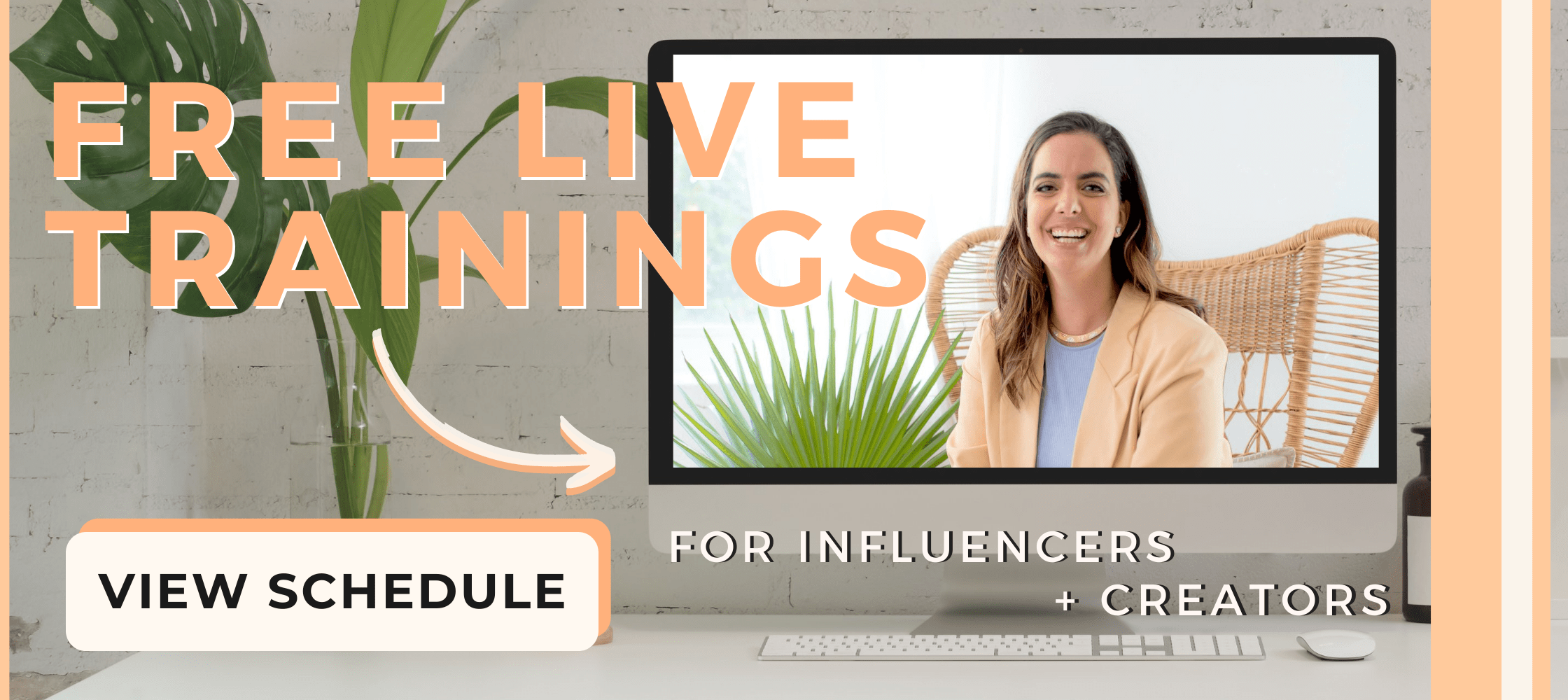 7. Create and Sell a Product. 
If you have a knack for design or feel like there is a need in the marketplace for something your followers would love, then consider coming up with a product to sell through your social accounts. This may require some upfront costs or you can always collaborate with an existing brand to come up with a product that's designed by you! Whether it's a piece of jewelry, luggage, summer dress – the possibilities are endless.
And if you have a strong social influence, then you already have the potential customer base to purchase the product (which is every company's dream)! Word to the wise – if you are going to collaborate with a brand to create a special product to sell, make sure you test your influence first. Which is one of our biggest tips for Nano Influencers, by the way.
The last thing you want to do is get a brand super excited to work with you and sell only 1 item. Yes, this can happen even if you do have a strong social influence but if you understand the ins and outs of your following from the get go, you'll know how to market the product right to hedge your bets on making some sales. :)
Another option is if your community really enjoys the way you edit your photos, you can always sell Lightroom Presets. A cool thing about digital products like Lightroom Presets is they require limited upfront costs to create and launch and you won't have any inventory to store which is always a win!
8. Start a Blog to Make Money From Website Traffic and Ads.
So this one would take a bit more effort than some of the other options, but doing so will increase your opportunities to make money on social media in the long run. The thing is if you have a blog, you can implement any of the above options on your social media accounts as well as on your blog. You could be writing sponsored blog posts, and posting sponsored Instagram photos at the same time! 
If you've built up a large following and audience you can make money through social media by driving traffic to your blog and website from your social accounts. If you have a following on many accounts (Instagram, Facebook, Twitter etc.), consider creating unique trackable links for each account to put in the account bio. This will help you track which accounts your website and blog traffic are coming from. 
You can also promote your blog posts on your social accounts to encourage people to click over to read them on your website. Then, once they get an idea of the information you're offering on your blog, they will most likely recall it in the future. So next time they are looking for a restaurant guide to Thailand, they'll remember to go to your website first.
When you're working on driving traffic from your social accounts to your blog or website, try posting different captions to see what makes people actually click on website link. We love testing because a lot of times you'll be surprised what your followers and fans are actually excited about (because often it's not what you would have bet money on).
A blog will also allow you to have a platform and audience to do pretty much whatever you want, including marketing your own products and services in the future. It's also ALL YOURS. Remember when all those Vine stars built up so much fame and then they shut the Vine platform down? No one could have ever guessed… so it's always a good idea to have a little corner of the internet to call your own (and where you're in complete control) even if you are a social media superstar.
9.  Get Your Side Hustle On. 
If you're already traveling the world for press trips, content creation projects, partnerships or just for fun, there are other ways to make money on social media to cover some of your expenses.
You can always use social media to make money indirectly from your travels. Here are some examples of ways to leverage your jetsetter lifestyle:
If you have a home base, consider listing your place on a vacation rental website while you travel. 
If you have great social media aesthetic then you probably have amazing home decor too! Vacation rental sites such as AirBNB are a great way to make money while you're traveling. It does take a bit of an initial investment of time to make sure your house is ready for guests (or you can just put all of your clutter into a closet and lock it), but if you live in the right place it will be worth the work.
Cute vacation rentals in large cities rival the prices of hotels in the area, so you'll basically be getting paid to travel. If you're worried about who will check people in and out while you're on the road, you can always ask a family member or friend or hire someone to manage the property while you're gone.
Consider teaching a language course or one-on-one tutoring.
We find that tons of travel bloggers and influencers speak more than one language. As the world gets more global, everyone is looking to up their language skills, especially English. There are website such as italki.com that allow you to offer your language skills to people around the world looking to practice or learn even just the basics. You can Skype with your students and even make some new friends around the world while you're at it!
Use Grabr while you travel.
If you've lived abroad or traveled for long periods of time you totally understand what it's like to miss things from your home country. Grabr.io (not .com) is an online marketplace where people can list what they would like from another city or country and if someone is coming their way, they will pay them to pick it up and bring it over. So basically by using Grabr you'll get paid to deliver someone else's international purchases for them, and so they pay you instead of having to pay hefty shipping prices- but not in a sketchy way.
What's cool about Grabr is it not only cuts the costs of international shipping but also annoying customs procedures (and things getting lost or broken in transit too). You can search on Grabr to find any pending requests that may be on your next flight route so you can make some extra cash.
We know you're asking yourself, "but really, how much money can you make on social media?" 
Whether you want to be a full-time content Creator or Influencer or simply make extra money on social media, there's plenty of ideas out there for you to try! While there is no exact formula, you can always come up with a budget that you have to meet monthly or quarterly to sustain your lifestyle – then get creative using a mix of the above ideas to make it work. As you can see, depending on how you've positioned your online brand, there are quite a few options! 
In summary, here's a list of the creative ideas you can try if you want to make money on social media:
1. Pitch shooting campaigns or look books when you're on trips as a travel blogger.
2. Sell your photos or videos.
3. Pitch to brands and secure paid partnerships.
4. Be a social media consultant.
5. Join affiliate marketing programs.
6. Sell a service.
7. Create and sell a product.
8. Start a blog.
9. Discover side hustles that are good for Bloggers, Influencers, and Creators!
We get that it's tough – especially when you're just starting as a Blogger or Influencer – but the good news is there are creative ways to make money on social media behind the scenes too. Even if you're not ready to start leveraging your social accounts right this second, it's a good idea to figure out what you could do in the future so you can start working towards that goal in the meantime. And of course, don't forget to track your income along the way so when it comes time to file your taxes you'll have everything ready to go!
If this post inspired you but you're feeling a little uneasy about letting go and finally monetizing off social media, book a call with one of our experts! Sometimes you just need to talk it through and we're here to help you start working with brands and grow your business as a creative. 
Did you find this article helpful? Let us know in the comments below!