How To Get Paid Brand Deals in 2022
Influencer marketing has been steadily growing over the years, but we've started to see an even greater reliance on this powerful industry in terms of how businesses use it to reach clients and customers online. If you're an Influencer or Creator looking to know how to get paid brand deals in 2022, then the time is now to learn the right way to pitch to brands and position yourself to earn money working with brands. 
At Sidewalker Daily, we work on both sides of the influencer marketing equation. We love helping Creators and Influencers learn the essential growth strategies for building their business, and we also work with brands to get the most out of their Influencer campaigns. In this post, we're revealing some of our most helpful tips on how to get paid brand deals in 2022. Now is the time to start figuring out where you fit into this space as a Creator and pitching your ideas, so let's get to work on landing you those paid partnerships!
You Need To Actually Pitch Your Ideas
It's easy to think that a lot of Influencers and Creators you see working with brands on Instagram are doing it because the brand reached out to them first – especially when they have hundreds of thousands of followers and get a lot of social media attention! While it may be the case sometimes, there's actually a lot of pitching involved when you want to work with brands as an Influencer or Creator no matter your size following. And we don't mean throwing together an email or two each week— we mean having a thorough plan and system in place to actively be pitching to brands and making connections with companies you want to work with. 
How do you build a pitching strategy and plan of action? While there is a lot that goes into it, start by thinking about things like:
How many times each week am I going to send a pitch?
What is my follow-up strategy?
What are the exciting angles I can use in my pitches?
How can I adjust my pitching plan; what's been working and what hasn't?
If you're going to spend time pitching to brands, you need to get it right. You can't copy and paste the same template to 100 brands and hope something comes out of it. That's not the way it works! You need to get really creative in your pitches to show brands your value and why they'd want to work with you over somebody else.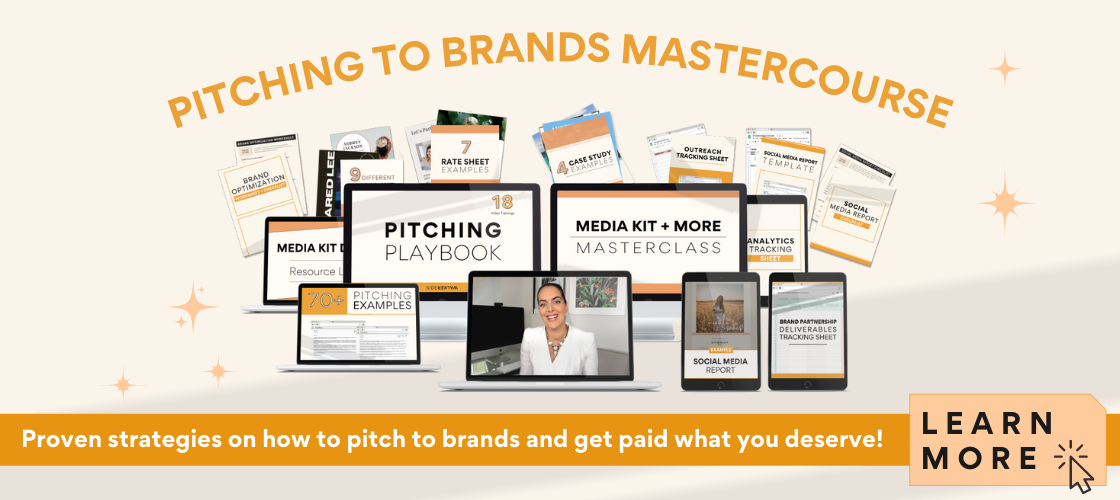 Take Time To Convert Unpaid Offers Into Paid Partnerships
While actively pitching to brands is the key to your success, sometimes brands do reach out to you first. This is great news as it typically means your Instagram bio stands out or the quality of your content is something they love or there is something else you did that is attracting potential brand partners to reach out to you. One of our favorite tips on how to get paid brand deals for beginners is to take time to convert the brands that reach out to you with unpaid opportunities into paid sponsorships. Even if it seems like money is not an option, take a second to think about your response to brands when they reach out to you. If you're too excited, accidentally miss something, or don't ask the right questions to find out more information, you could be leaving money on the table.
We work with some Creators who ask us how to get paid brand deals with a small following. What we've seen time and time again in this industry is that many Creators are shutting down brands the second they say that they don't have a budget for Influencer partnerships at that time. We understand more than anybody the importance of getting paid for your work, but we don't think that you should close the door on every opportunity that comes knocking. There's always the chance to convert the brand into a larger partnership as you nurture the relationship, so learning how to negotiate as a blogger, Influencer or Creator is a fundamental component of getting paid by brands.
If a brand is coming to you, they've probably already vetted you and are interested in working with you. That's an amazing position to be in since you don't have to do much convincing. You just need to figure out what it is that they need— pitch them a concept or a vision, get them on a call, and see if the gifting opportunity can turn into a paid deal. 
Put some effort into your responses to brands, no matter what idea they come to you with first. You never know what could happen down the line! As always, if you do have to decline an opportunity, always be polite and treat the brand with respect to keep the door open to future opportunities if budget does open up.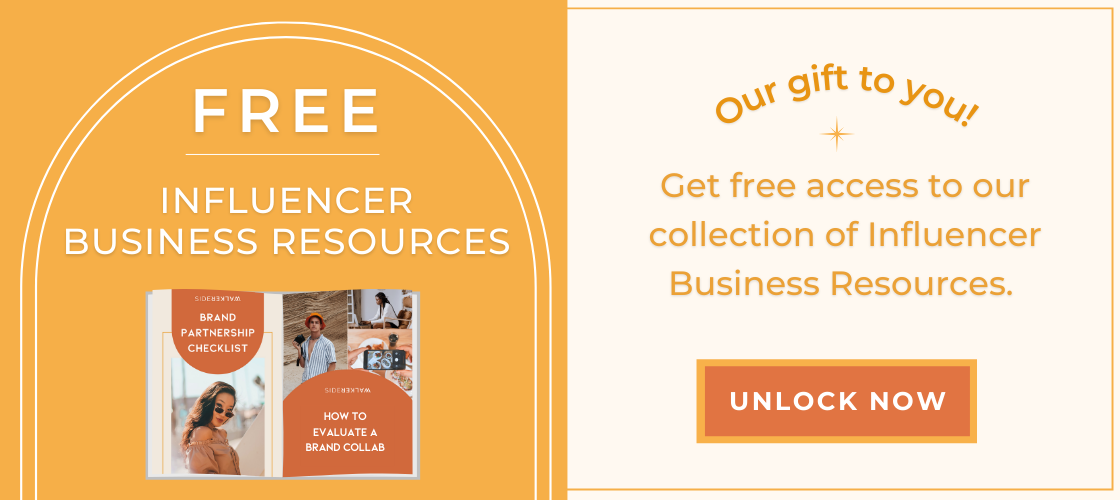 Start Small And Then Scale
If you want to work with brands, you have to understand and accept that most of the time you can't immediately expect a $20,000 partnership the first time you work with a company. Starting small and then scaling is something that a lot of the brands we work with want to do with Influencers and Creators. 
At Sidewalker Daily, we work with Creators of all sizes, including those with millions of followers. Their typical rate for working with brands is high, but even they have to learn that when it comes to working with brands they might have to start with a smaller partnership than they would like to.
Even global brands that we work with who have large Creator budgets typically are still often interested in starting with a small activation to see how it goes before they decide to put more budget behind a certain Influencer or Creator. After all, they're putting a lot of money and effort into Influencer partnerships, so it's important for them from a business perspective to test out working with the Creator to make sure they'll have positive results and be able to show ROI, before committing to allocating a larger budget to that Creator.  
Starting small has its benefits from the Influencer perspective as well. You don't want to pitch to a brand that you'll do 20 posts for them, just to find out that they're difficult to work with. If you offer the world and then face creative differences or simply deal with bad communication, it could create much more work for you than it's worth. 
So when we say "start small," this could be starting with a few posts or pieces of content and going from there. As you become a full time Content Creator (if that's your goal), you'll continue to grow your skills and then can scale up how you work with brands and how much you charge for your brand partnerships.
Pitch Ideas That Are Outside Of The Box
It's no secret that the influencer marketing industry has really taken off and the good news is it's only going to continue to grow! While there's a space for everybody, the increase in people interested in being Influencers and Creators naturally means that there are going to be more people pitching to brands. Brands get tons of pitches to their emails every week, and it's more important than ever that your pitches stand out.
When you're pitching to brands, make sure you come to them with a proposal that sounds (and is) well-researched and professional. Figure out what it is that the brand needs and let them know that you're the right Creator to make it happen. And for thinking out of the box, really look at your unique skills and see how you can leverage that into getting paid partnerships.
For example, we recently worked with a Creator who is really good at making AR filters and we decided to use this in one of her pitches. The brand liked the idea, and now she's doing a paid partnership with them using her unique set of skills! What is something that you can pitch to a brand that's a little bit different? Thinking outside of the box will help you get brands excited about the idea of working with you and can help you stand out from the crowd.
Come Prepared With The Right Creator Materials
Treating yourself like a business by putting together the right kind of materials is probably the number one thing you can do to start getting paid brand deals (or larger partnerships if you're already working with brands). No matter what goals you have, this is the best tip for how to be an Influencer because it shows that you mean business. Not just to those looking in on your journey, but for you as well. If you start taking yourself seriously, others will too. It will show in the quality of the work that you do and it will help you start landing more paid partnerships.
As an Influencer or Creator it is so important to have a well-designed Media Kit, case studies that showcase the results you're able to drive, and the ability to put together strong proposals. Media kits and case studies are great for getting you in the door, but the key to bringing a deal home—especially deals that are 4 figures or more—is having a good proposal.
In our Pitching To Brands Mastercourse, you learn how to create pitching materials to stand out from the crowd. We walk you through our step-by-step process on how to create a professional Media Kit, Case Study, Proposal, Portfolio, Rate Sheet, Moodboard and even show you real life examples so you know exactly what to use when pitching to brands. 
Having good client relations is an essential part of getting paid as an Influencer. If a brand wants a proposal, you have to be able to put together a pitch that communicates your value, your offer and truly outlines what you can do for the brand in a clear, concise manner. If you really want to know how to get brand deals in 2022, it's by standing out. Amazing pitching materials can help you do just that. If you don't have time to create your Media Kit or graphic design is not your strong suit, the Sidewalker Daily Design Studio can help you out and design all of your branding, Media Kits and even website if you need support on those business assets.  
Diversify Your Offers To Brands
If you're ever having a difficult time convincing a brand to pay you for a partnership, one of the extra steps you can take to try to push them over the edge is expanding your product offering. Maybe the brand doesn't think it's worthwhile to pay for your post on just Instagram, but throwing in a TikTok or a YouTube video on top of it can convince them that they're getting enough bang for their buck.
Sometimes this doesn't even have to involve that much more work for you as a Creator. If you've already filmed the content or taken photos, is there a way for you to repurpose that content onto your other platforms? Obviously you'll have to adjust somewhat, but it doesn't have to be hours of extra production. 
There's a little bit of a balance here. When you're asking yourself what type of content to create on social media as a Creator, you don't want to spread yourself too thin. We always recommend focusing on your growth strategy so that you're putting the right amount of effort into a platform. That being said, it is still important to have a few different channels. This way you can offer your services across a few different platforms when working with brands, which could mean the difference between them just wanting to send you some free products and actually paying you for your content.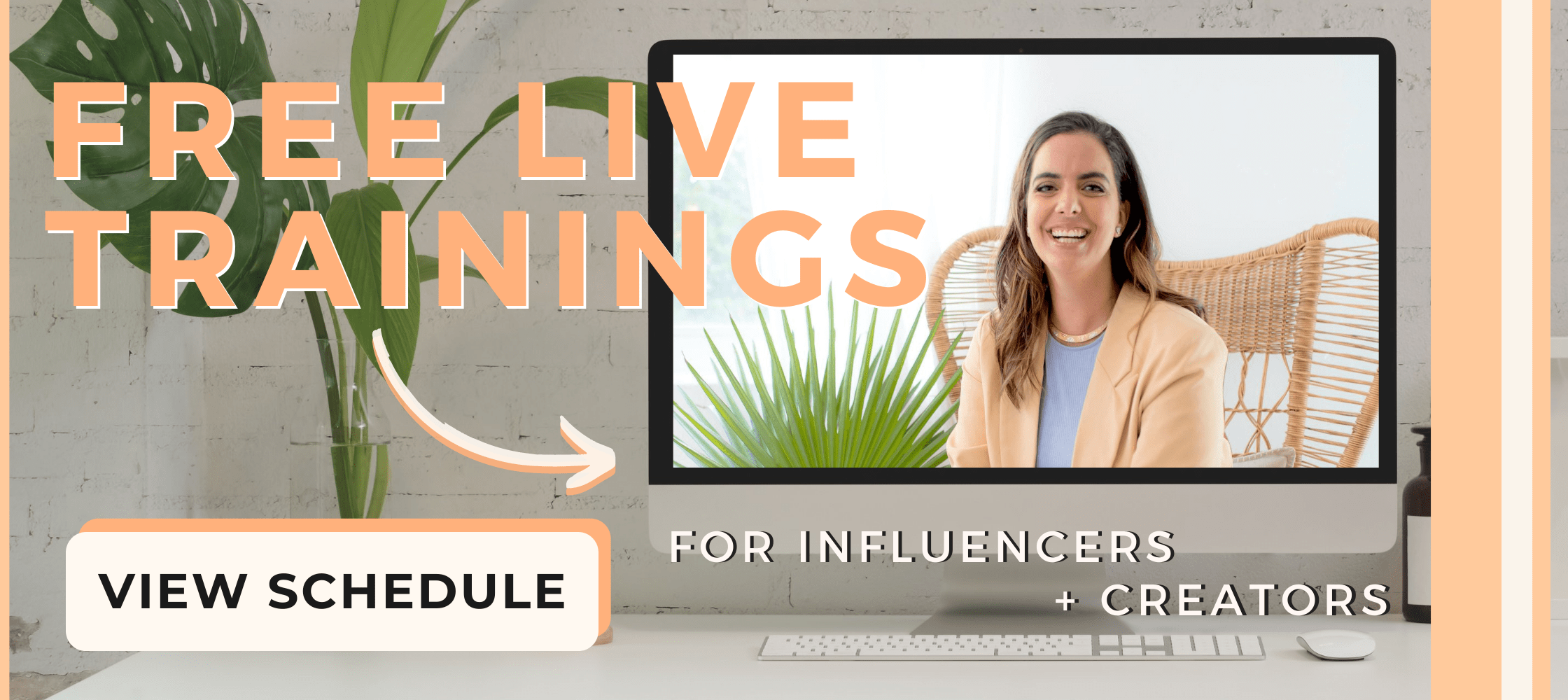 Focus on Startups or Local Brands
One of the tips for getting paid brand deals that we can't stress enough is starting local. This is an especially great strategy for Nano Influencers and Micro Influencers or those who are beginners. Brands that are local or maybe just starting out aren't going to have the budget to work with Influencers who have a million followers. And in reality, an Influencer who has a ton of followers doesn't matter to a local brand unless that Influencer has an audience in their specific region. A Creator with a much smaller following would actually be a better choice for a local brand if the majority of the people in that Creator's audience live there. 
This all comes back to the power of the pitch. Micro Influencers hold a lot of power because they tend to have extremely niche followings that are very engaged with the content that the Creator puts out. If you are a micro Influencer, you might be the perfect fit for a local brand that just doesn't know you exist yet. Pitch yourself to them and lead with your common ground of being from the same place and then seal the deal by showing the brand that you have an audience that would love to learn about them too!
How To Get Brand Deals In 2022: Building Your Strategy
As a quick recap, here our our best pieces of advice for how to get brand deals in 2022:
1) If you want to work with brands, you have to know how to pitch. Start putting yourself out there!
2) Take time to convert brands who reach out to you into paid partnerships. You never know what could happen down the line if you nurture your relationship and don't say "no" right away to their gifted collab offer.
3) Understand that even big Influencers have to start small and then scale when it comes to certain partnerships. Some partnerships take time to grow into higher paid deals.
4) Get creative with your pitches by thinking outside of the box.
5) Develop business materials that make you look professional, including a Media Kit, and let brands know what you have to offer.
6) Diversify your product offering so the perceived value of what you can do for brands is bigger.
7) Start local by working with brands in your region and niche because they're more willing to pay for specific audiences and you'll have a better chance of landing the deal versus only going after collabs with large or global companies.
So, how to get paid brand deals in 2022? You need to know how to pitch properly and position yourself in a way that the brand you are pitching to will be excited about to land the deal. Sometimes all it takes to finally get the ball rolling on working with brands is talking through your ideas with a professional. If you need help on your pitching strategy, you can book a private one on one coaching session with one of our expert Influencer coaches who can help you develop a game plan specific to your strengths as an influencer or Creator! We can help you every step of figuring out how to work with brands even as a micro influencer and are excited for you to start landing paid brand deals!
If you found this article helpful, we'd love to hear your thoughts below.