If you're an Influencer or Content Creator, you probably got started in the field by creating content as a hobby or doing it as part-time work. There normally comes a time when you question how to be a content creator full time and potentially make it your main job. The great news is that yes, it is possible and this article is going to give you some great insights and tips to transition into a full time Content Creator.
At Sidewalker Daily, we help Influencers and Creators build their business, work with brands and monetize their influence. We've worked with thousands of Creators and seen firsthand how to be a successful content Creator full time. Whether you have been creating short form videos, taking photos, shooting videos, or even writing articles, you've been investing in building your skills and portfolio to help you take the next step. Let's get you prepared to go full time!
Build Your Content Creator Business Profile
First and foremost, if you want content Creation to be your full time job, you have to understand the importance of being a professional and thinking of yourself as a business. Look at where you are now and ask yourself what needs to happen to turn your part time role into a full time business. If you're a business, you're going to have to know exactly what you offer, you're going to need to have clients, and you're going to have to know how to land deals. 
We recommend starting with a strong portfolio—whether you're a writer, photographer, or videographer, you need something to show people what you do and the quality of your work. And as pretty as it might be, your Instagram feed does not count as a portfolio. It can be a good representation of your work, but not everything makes it there and a potential client isn't going to get the full picture of your skills by scrolling through your Instagram or TikTok feed.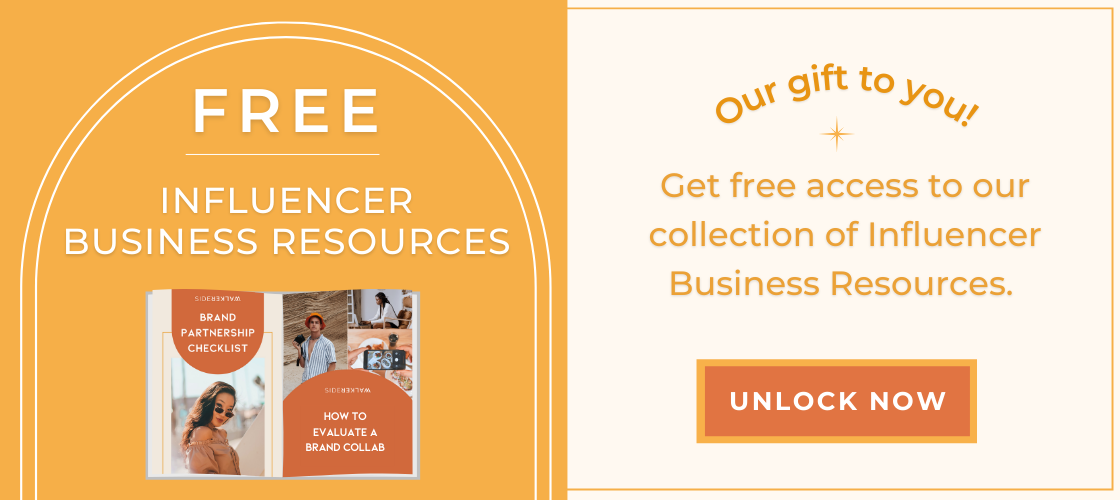 You Have To Pitch Your Work
If you've been around Sidewalker Daily at all, you know that we are all about pitching your work to land paid deals and earn income in your business. Our most popular course—the Pitching To Brands Mastercourse—has helped hundreds of Influencers and Creators land more paid brand deals by actively sending pitches to brands instead of waiting for them to reach out to you. Pitching is important no matter what size Creator you are, but if you want to transition into being a full time Content Creator, it's an absolute must. You can't wait for opportunities to come to you and you have to be proactive if you're serious about success! 
It's not to say that you'll never have incoming requests, but getting your name out there is the best way to get work especially when you're just starting out. And what's going to help you reel in those clients? Your portfolio that we talked about in the first tip!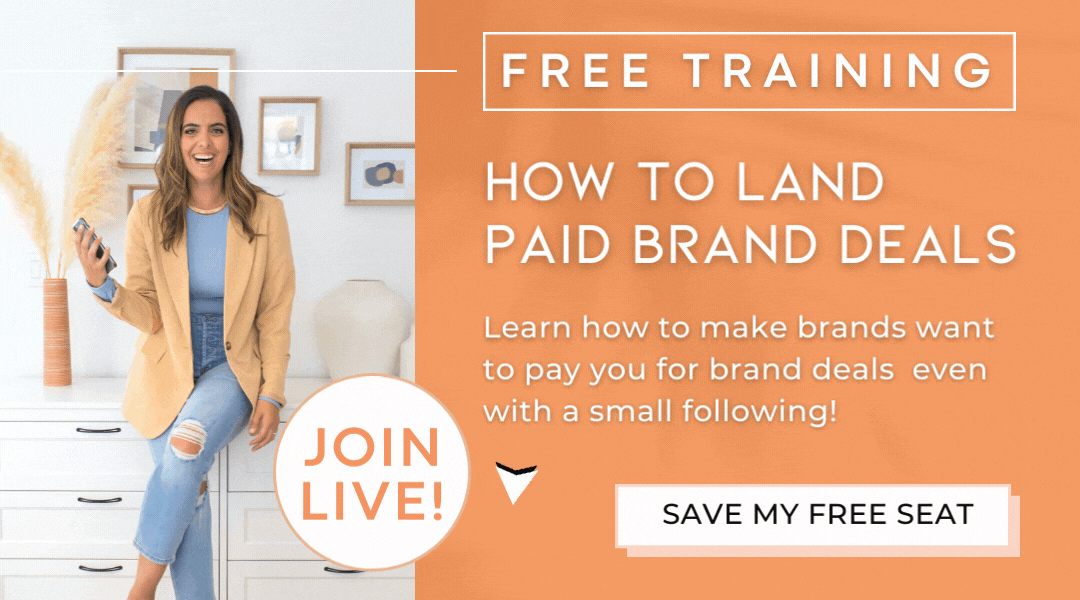 Pitching Yourself As A Content Creator…Instead Of An Influencer
The terms Influencer and Content Creator get used interchangeably quite often and a lot of times people are technically considered both, but as you transition into doing this full time, we think that it's important to understand the Content Creator job description and how this differs from being an Influencer. 
Brands need content—and they need a lot of it – social media, short form video, photos for emails, websites, marketing campaigns and the list goes on. So they typically have budgets for production (producing the content they need), which will go towards creating content themselves in-house or contracting that work out to someone else. This is where you come in as a Content Creator, and offer your services creating anything from Instagram Reels to newsletter copy. The brand needs this stuff anyways, but if you pitched yourself to them as an "Influencer," they might be telling you no for reasons unrelated to their need for content. Maybe they don't think that you have the right audience or that your engagement numbers aren't quite what they're looking for. 
Consider this in your pitch and ask the brand what they need in terms of content creation right now and see how it matches your capabilities and services. Essentially it comes down to all about how you frame your pitch. If you're not fully in the space where your own personal platform can give them extreme value, you want your pitch to really let them know that you can create content for their platforms and you can support them in multiple ways.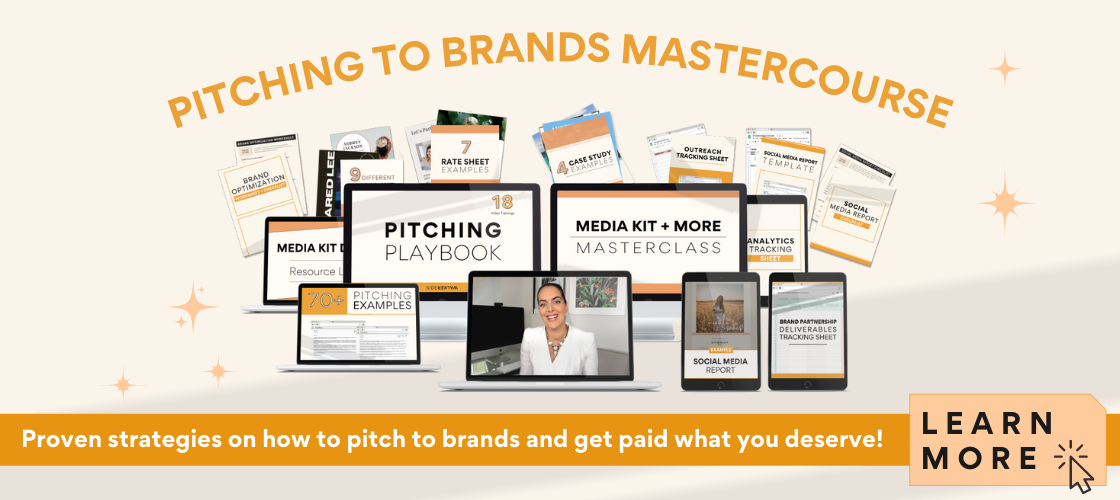 You Should Aim For Monthly Gigs
The ability to work with a bunch of different clients and operate as your own business, on your own time, is amazing but really the key to making content creation a full time job is securing gigs that are recurring so you can count on a monthly recurring payment. One-off content jobs are great, but if you really want to scale and comfortably make a full time income with your content creation, you're going to want some sort of stability with your income. 
So when you're pitching to brands, position your offer as a recurring situation—even if it's a period of just three months—so that once you secure the deal you know that you have work (and will be earning income) for the next few months. Pitching to brands the right way can take time but landing long-term gigs can cut out some of this extra work— since you'll only have to pitch once!
As you start to grow and add on more clients, you'll be able to start pitching large content plans to multiple clients. A handful of long-term content plans can be a lot more efficient than tons of one-time gigs. Even if you start with a one-time gig, we want you to get in this headspace so that down the line you can turn the gig into a continuous long-term partnership.
Network With Other Creators
Most of us have thought about the value of networking at some point, but we don't always realize just how important it truly is when building a business. Networking as a Content Creator can mean a couple of different things, including networking with other Creators and even PR representatives and brands. 
Growing your network of Creators is a huge part of becoming a successful full time content Creator. We're not just saying it—we've seen it pay off time and time again. For example, we recently worked with a brand who wanted a specific Content Creator for their campaign. Unfortunately, she was unavailable to take on the partnership, but she recommended someone else in her network for the job instead.
Firstly, this was so helpful for the brand and saved them a lot of time looking for someone else. And secondly, this Creator gave someone else a paid gig! If they didn't have that friendship or business connection, the Creator who ended up getting the job wouldn't have likely even heard about the opportunity.
Here at Sidewalker Daily, we have an exclusive Creator community called the Inner Circle for Influencers or Creators who have taken our Pitching To Brands Mastercourse and the connections that have been built there have been instrumental for so many because they get advice or support from others who are going through the same things they are. Simply surrounding yourself with good energy and support from other creative entrepreneurs can make all the difference as you grow your business.
Be Open-Minded About The Clients You Work With
We know you have a vision for who you want to work with as a Creator. We all have dream clients! And while we're all for dreaming big and building your business to meet your goals, you can't skip over the huge potential of smaller, local clients if you want to be full time, especially at the beginning.
This is one of our best tips for how to become a content Creator. We've found that pitching to smaller or local businesses works really well for those who are just starting out or who are micro influencers who focus on content creation while building their audience. Smaller businesses need content too, and if you're really great at what you do these can turn into steady partnerships. 
You need to make money month to month, so you have to change your perspective on the types of clients that you're going after to make sure that you're getting enough of them to meet your monthly goal. And remember, working with local brands—or even someone you have a connection to, like your friend's parent's company—doesn't mean that you'll never reach your dream clients. If anything, you'll be getting paid to learn and build your portfolio. 
Then, you'll have plenty of portfolio material to use in your pitch to larger brands later on and you'll likely be able to charge more since you've mastered your skillset.
Invest In Yourself And Your Business
On the outside looking in, content creation can seem like someone's just "taking pictures" and "having fun." But in reality, you really have to know your stuff (and keep learning your stuff) to make this a full time thing. If you want to know how to be a content Creator on Instagram, you need to be up to date on industry trends, like how to film Instagram Reels and make short-form video content that attracts eyes. The most successful people in every industry invest in themselves and their business to reach their goals. Whether it's courses, coaching, learning, their time – investing is key to see the results in your business you are aiming for. 
If your focus is learning how to be a content Creator on TikTok, you better know how to edit videos on the app and what works and what doesn't when it comes to strategy. There's so many different types of content you can be creating; develop the right skills to be amazing at your craft so brands will be confident and excited to work with you. 
Not only does this make you a valuable candidate that a brand now has as a resource, it also helps you keep up with other Creators in the industry. If you can't do what the brand needs, they'll find someone else to do it instead.
Get into a "CEO mindset" and invest in yourself by taking the time to learn what you need to know to be a great Content Creator. Maybe this means taking a course, which costs money but benefits you in the long run because you have skills that make you valuable to brands. We've worked with Creators who became experts in a platform, like TikTok, and pitched themselves to the brand as someone who can build their presence on the app from scratch. Brands can jump at the chance to get help in an area they know nothing about—and the Creators secured a long-term deal.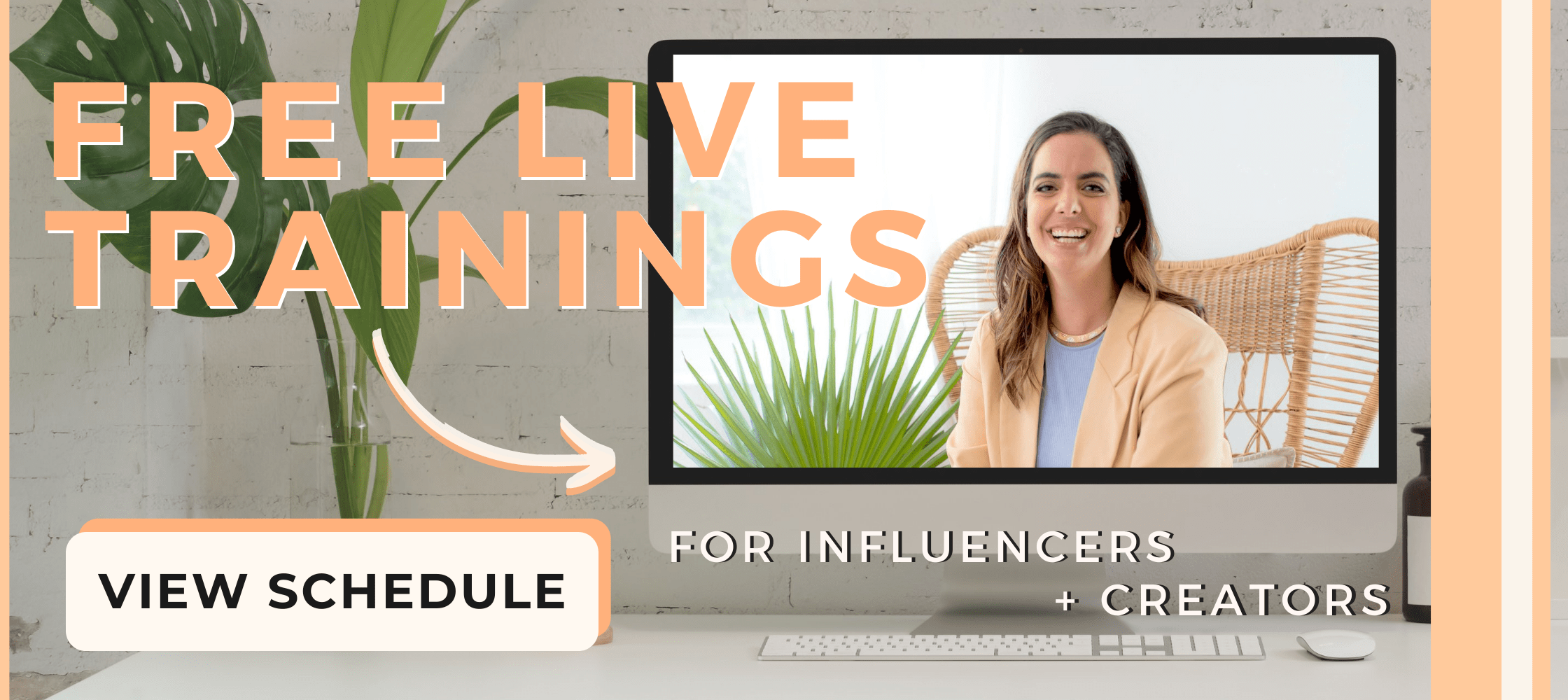 Push Yourself Creatively
Don't be afraid to push yourself creatively! Of course, brands have guidelines and expectations, but you are the creative one that they hired to bring it to life. Brands want to access your creativity and skills because they can't do it themselves. One of the best tips for how to become a content Creator on social media is letting yourself explore creatively and create both on-trend content and content that stands out. 
Brands need fun and exciting ideas to grow, so come to the table prepared with fresh ideas. Taking risks in your creative content creation can pay off a lot, and brands will be dying to work with you!
Transitioning Into Full Time Content Creation
Are you ready to take your content Creation side gig to the next level? We always keep it real with you here at Sidewalker Daily and yes, it's going to be a lot of hard work, but we hope these tips for how to be a content Creator full time get you started in the right direction. As a quick recap, here's what we talked about:
Build up your portfolio so you have something to show brands that showcases your amazing work and proves that you are a professional.
Don't sit around and wait for opportunities to come to you—pitch yourself to brands!
Position yourself as a Content Creator instead of an Influencer because all brands need content to post, they just might not think your audience matches their needs.
Network with other Creators to open the door to other opportunities, get support, and get recommendations.
Be open-minded about your clients; your dream gig might happen someday, but don't skip over opportunities that will make money for now so you can stay full time.
Make sure you are a valuable resource by educating yourself on your industry and staying up to date on trends. Make yourself indispensable!
Push yourself creatively to wow brands and build a portfolio of amazing work. 
Still feeling a little uneasy about transitioning into being a full time content Creator? Book a call with one of our expert Creator coaches and we'd love to help you come up with a strategy and gameplan to scale your business and help you learn how to land more paid deals and clients. 
If you're not quite ready to take this step, we'd love to see you at one of our free trainings so you can learn some of our top strategies for pitching to brands. Did you find this article helpful? Leave a comment below–we'd love to hear from you!