As an Influencer, finally securing an awaited sponsorship—or even hearing from a brand that wants to work with you—is really exciting! However even though you've successfully secured an Instagram sponsorship, your work is far from over. As a business owner (and you are a business owner), the way you operate from this point forward is extremely important. Not just for you, the Creator, but for the brand as well. You both want the partnership to run smoothly and be a success!
At Sidewalker Daily, we work with brands on their influencer marketing campaigns and we also work with Influencers to help them land paid brand deals, monetize their influence, and build a successful Creator business. With our work on both sides of the influencer equation, we've been there for each step of the way as brands and Influencers work together through sponsorships. So if you're wondering what exactly you should do next after a brand says yes to your partnership request then we have the answers you need to set you up for success! 
7 Tips For Successful Instagram Sponsorships As A Creator
There's a lot that goes into an Instagram sponsorship, from coming up with ideas and executing them, to communicating with the brand and even reviewing contract terms.  It can be overwhelming! In this post, we're going to guide you through the process to make sure you don't leave anything out and make the best impression that you can. We've even compiled all of this together into a free checklist you can download to stay organized throughout your next sponsored Instagram post or campaign.
Let's take a look at our 7 tips for successful Instagram sponsorships as a creator and what you should be doing during each of phase of a sponsorship.
1) Review The Contract And Understand The Deliverables
Once you land a paid sponsorship on Instagram, you shouldn't just dive right into the content creation! Take some time to thoroughly review the contract and the expectations before you create. Making sure you have a clear picture of the expected deliverables and timeline could save you a ton of headaches in the long run.  Even when you're still in the negotiation process, you should be asking questions. Some things to ask and review are:
Goals: What are the brand's goals with this collaboration?
Deliverables: What exactly is it that you need to complete for this campaign?
Timing: When does the brand want these posts to go live on Instagram?
Brand Rules: Are there any brand rules to know about?
Creative Brief: Is there a creative brief? What has worked in the past? What are the campaign guidelines?
Before you do anything, you need to review and understand the Influencer contract and deliverables. It is important that everyone is on the same page before you start creating content to streamline the process and make sure you don't have to re-do any deliverables in the future due to a miscommunication between you and the brand.
2) Confirm The Content Concept
Remember when you're working with a brand that they are your client and it's okay to ask them for some creative direction! After all, your goal is to make them happy and successfully execute their vision. The very last thing you want to do is work hard creating a ton of content just to find out it wasn't what they were looking for— or worse, directly goes against something they stated in the contract, creative brief or the initial plan. You want to create the best content for them as possible to show that you are a professional and to ensure they feel the Instagram sponsorship was a success.
What you need to understand is that not all brands are going to have a creative brief. Some might not have any idea what direction they want to take. This is where you come in as the creative and talented Influencer that you are and give some creative guidance. Maybe you make them a moodboard or present a few concepts to outline what you want the sponsorship to look like. It's better to be clear from the beginning before you get started actually creating the content. Ask for guidance and if they give you complete creative control then you're in luck!
3) Make Sure You're Set With Timing
The look of your Instagram content is important of course, but timing matters too. Don't forget that some brands are very particular about when they want you to post, so make sure you have the date and time correct. This slips through the cracks of Instagram Influencer sponsorships all the time from Creators who are not organized. We suggest you note all your deadlines and posting dates down in your calendar and also add the day before a post is due to your schedule to avoid any mishaps. 
Delivering things on time is what makes a partnership a good one. A brand might have many Influencers working with them at any given time—that's a lot for them to keep up with! And with campaign timelines following promotions or other time sensitive events, your timing is important. You do not want to have to re-post anything or be late so make sure you are set with timing when you are locking in your instagram sponsorships. 
4) Let The Brand Know You Posted
Giving the brand a heads up that you're going to be posting (whether they have a specific time or not) keeps them in the loop. Many Instagram sponsorships are really important to a brand's marketing strategy, so they'll be eager to see your work and follow its progress once it's live. It's also a good idea idea to ask the brand if they'd like to see your content before you post it. Brand review requirements could also be in the Instagram sponsorship email or contract and are definitely not something you want to miss.
It's a best practice to always refer to your contract throughout the sponsorship process. Even though you reviewed the guidelines thoroughly before you started, it's smart to refer back to them so that you don't forget any of the essentials.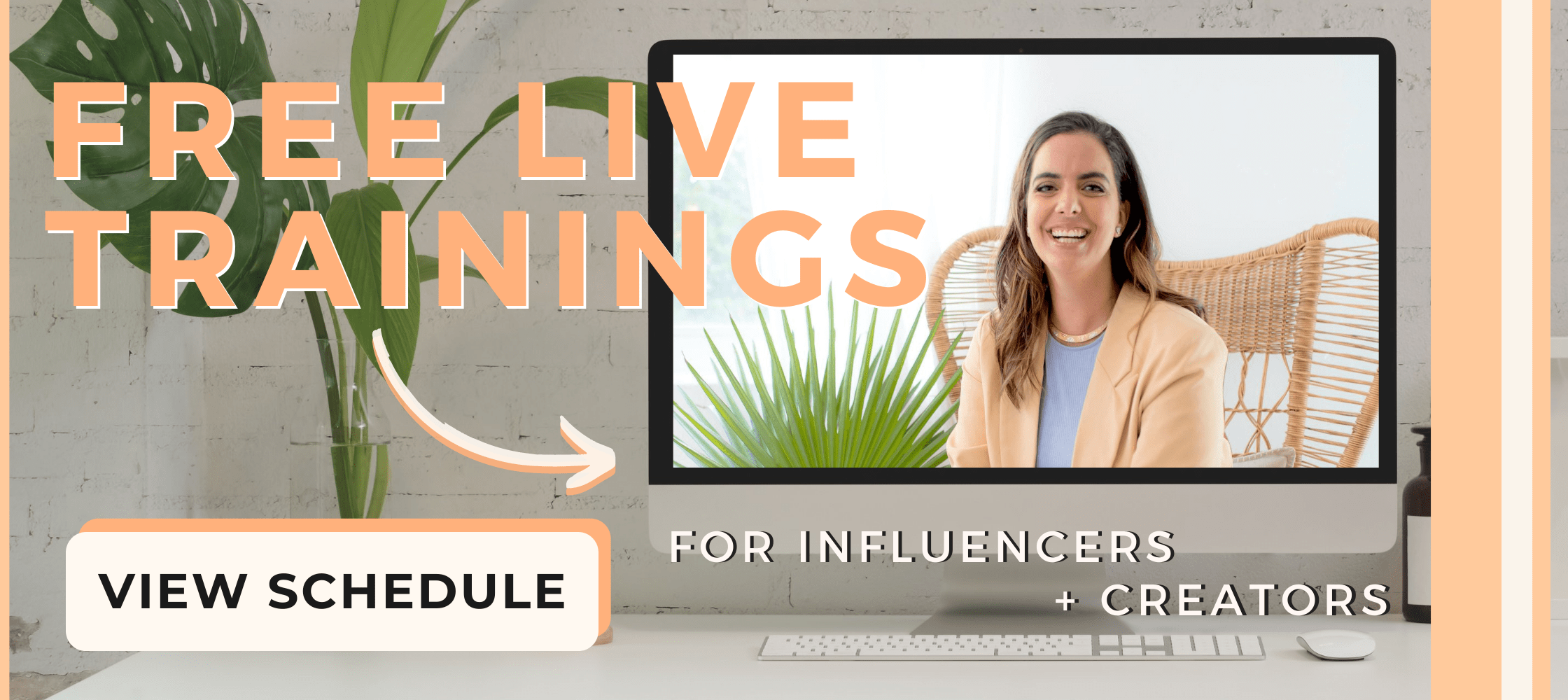 5) Be Present When You Post
If you're getting Instagram sponsorships, chances are you have good engagement on your Instagram and great content too. But you know how the algorithm works and engagement is everything! Get in there and engage with your audience at least 15 minutes before the post actually goes live. This way you're setting up your post to get visibility and likes. No one wants their sponsored content to go live on IG and "flop."
Do what you can to help your post succeed by engaging before you post…and afterwards too. We suggest carving out at least 15 minutes before and after you post so you can engage with the comments as they come in. Not only does this help from an algorithm perspective, it also shows the brand that you're actively participating in the post and helping it have greater impact. 
We hope that this goes without saying, but we have to remind you just to be sure – double check your work! Just run over the entirety of your post one last time before you click publish. Are the links, hashtags, and tags right? Whatever that contract says the post needs, the post needs. Read the contract and make sure you checked off everything on the list.
6) Send The Brand Analytics and Do Any Reporting Requirements
Once your content is posted and live on your Instagram account, you can breathe a sigh of relief. But while the bulk of the work may be over, we highly recommend you follow up on your post and keep track of how it performs. While your content may look great, the truth of the matter is that brands who do Influencer sponsorships want to know the results and see ROI. Depending on your relationship with the brand, they might even want to be let into the backend through a performance tracking platform.
While analytics don't always tell the full story, stats that can't be seen on the front end, such as impressions and saves, show brands how far your post reached and how well it resonated with those that saw it.  These types of analytics help them measure the success of their campaign and see your hard work pay off. 
Tracking analytics is also good for you! Collect your results with screenshots or an excel sheet so that you have access to these statistics to include in your pitching materials such as your media kit. If the Influencer partnership went really well, you can even make a Case Study.  
Other than likes and saves, brands like to see:
A cumulative sum of each post's likes/saves/impressions 
Positive comments, like "just did this thanks to you!" or "trying this out next week."
Not only does keeping track of these results help you with future Instagram sponsorships, it also can help you convert the current one into a long term relationship. Showing off your results to a brand let's them know you take your work seriously and that you would be a good fit to work with them again in the future.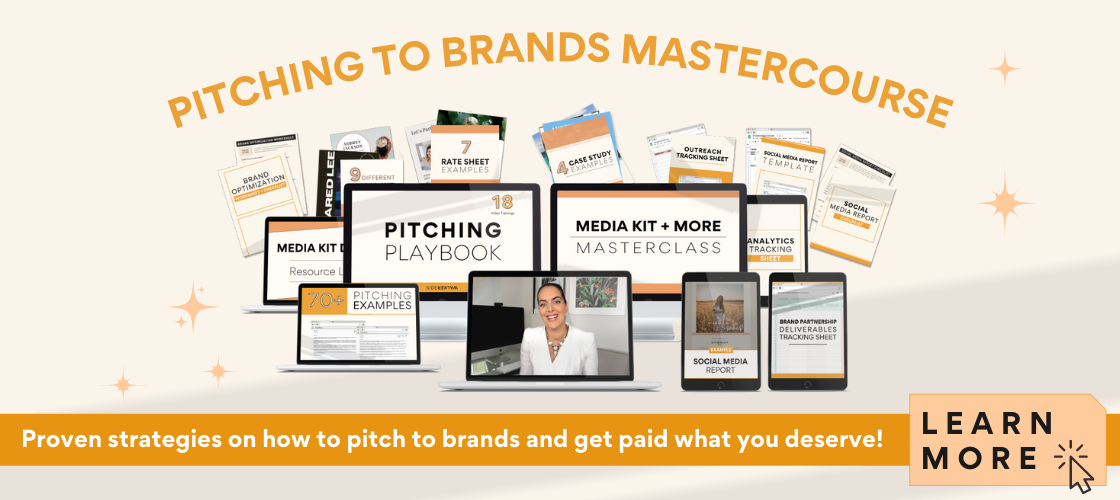 7) Thank The Brand And Pitch A New Concept
The last tip that we're going to leave you with is this: go above and beyond in your Instagram sponsorships. We always suggest that you overdeliver, and even if you have to calculate this into your pricing at the beginning of the negotiation because you know you're going to go above and beyond for the brand, it's something to consider. A brand getting something extra makes them feel good about the sponsorship and helps solidify that you were the right Influencer or Creator for the partnership.
For example, maybe you always make Instagram stories for most things you post about. Even if that wasn't in your agreement with the brand, if you posted about them on Stories, then send the Story analytics to them so they see that they received extra promotion from working with you that you did not charge them for. 
Lastly, be a human and say thank you! Always let the brand know that you were grateful for the opportunity to work with them, and mention anything that you personally enjoyed. If you felt a true connection to the brand and their goals, let them know! Then, pitch a new concept for future collaborations and keep the relationship going.
Tips To Have Successful Instagram Sponsorships Every Time
To recap, these are our 7 best tips for having successful Instagram sponsorships:
1. Review the contract and understand the deliverables before you start creating content.
2. Ask for creative direction, confirm the concept with the brand, and communicate your ideas before you start creating so everyone is on the same page.
3. Make sure you know what days and times you need to post since some campaigns are very timely and revolve around strict deadlines.
4. Give the brand a heads up that you're going to be posting or send them a notification after you do.
5. Don't just post and forget about it! Keep engaging with your audience to create excitement around the post and content you created as part of your Instagram sponsorship.
6. Follow up with the brand after the campaign ends with any analytics they requested- and more if you have something impressive to share!
7. Thank the brand for the working with you on the Instagram sponsorship and pitch a new idea.
If you follow these steps, brands are sure to love working with you! Remember, you are a business and it's so important that you put your best foot forward throughout the entirety of the sponsorship. If you're still feeling a little unsure about getting Instagram sponsorships and making sure they go well, book a one-on-one coaching call with one of our expert Influencer coaches who will be able to answer your questions and help you every step of the way!
Did you find this post helpful? We'd love to hear your thoughts. Comment below!