Understanding The Different Types Of Brand Partnerships
The Influencer marketing industry has come a long way from where it started and there are now different types of brand partnerships you should know about as an Influencer or Creator. Brands in all niches are looking to work with Influencers and Creators to help them reach their online marketing and social media goals so this is a perfect time to learn how to pitch to brands and land paid brand deals. 
At Sidewalker Daily, we help Creators and Influencers grow their businesses and work with brands. We also have been consulting with brands on their Influencer marketing campaigns for years. So when it comes to the different types of brand partnerships, we've really been here through it all. 
One of our main goals is to help Creators and Influencers be the best business partners for their brand clients so they can earn more income and expand their brand partnership portfolio. As a Creator building out your business strategy, it's important to know the types of brand partnerships that you can pitch to brands so we're covering some of the most important types in this article so you're set up for success and you can land more brand deals!
1) Brand Partnerships: The Paid Sponsored Post
The first type of brand partnership that probably comes to mind is a paid sponsored post. A sponsored post is when a brand pays an Influencer or Creator to create content to post on their own social media or online accounts. 
We see this on Instagram, YouTube, TikTok, Pinterest…basically anywhere that a Creator has influence over an audience or community. The Influencer is paid to showcase the brand's key messages—maybe reviewing the product or talking about their experience with it—through a dedicated piece of content which is created for the Influencer's audience, not the brand's audience. 
When the Influencer pitches themselves to the brand in this situation, they're leading with their influence. They're saying, "hey I have an audience that is similar to your target audience and I believe that your product will really resonate with them."
The brand might agree to this partnership to meet a number of different goals, from increasing brand awareness to generating new sales. 
Within the paid sponsored post realm, there are several ways to go about it. So what does a paid sponsorship brand partnership look like?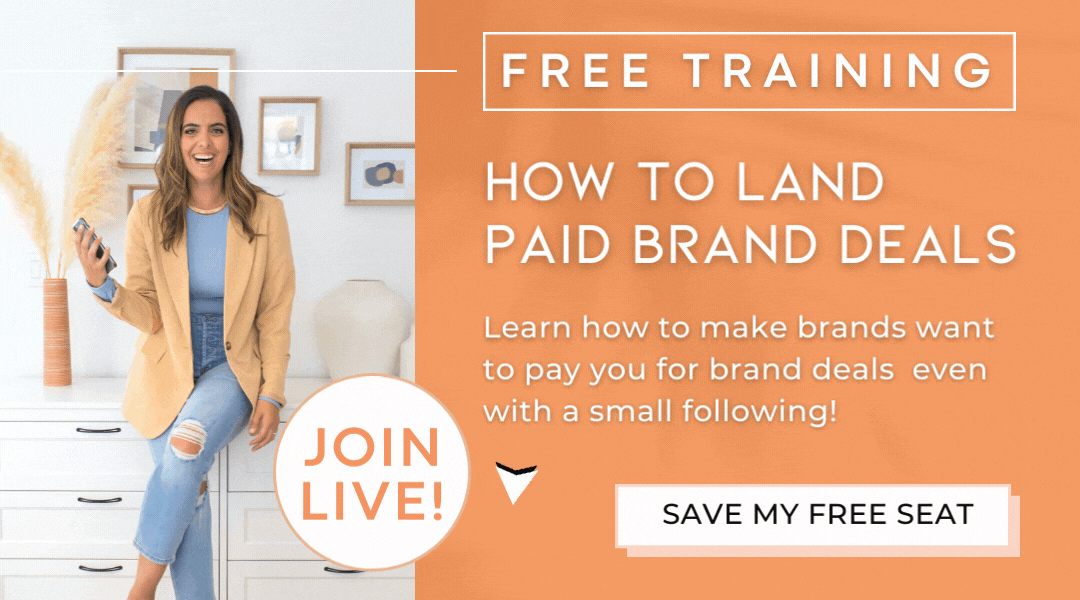 Dedicated vs Integrated Sponsored Posts 
An Influencer or Creator might team up with a brand who is looking to access their audience. In general, there's two ways to go about it:
A dedicated post: the Influencer talks about or showcases the product or service as the main focus. The purpose of the post is to talk about the brand or product and get across the main messages the brand wants to share.
An integrated post: the Influencer talks about the product in one of their videos for a short snippet of time integrating it within a seemingly normal piece of content. It's not the focus but it is highlighted in the content to add more information or value then if the Influencer was speaking about the product or service organically. 
For example in YouTube brand partnerships, you'll often see YouTubers placing links below the video so the audience can check out the brand that they talk about. Sometimes they'll even have a discount code to share.
When you first think about Influencer marketing, these types of brand partnerships are probably what is top of mind. Whether the post is extremely organic or a little bit more focused on the product it is up to the brand and the Creator as they figure out the brand partnership fee and negotiate the contract.
2) Other Paid Sponsored Partnerships
Sponsored brand partnerships have certainly expanded beyond the posts we just covered. On Instagram and TikTok especially, Creators and Influencers have gotten more and more creative with how they share products with their followers.
We also see paid sponsored posts within:
Instagram Lives
Instagram Stories
Instagram Guides
TikTok Stories
TikTok Lives
…and more!
An Instagram or TikTok Influencer can use all of these avenues when they're negotiating with a brand. If they have a Media Kit (and they should!), they might list out the different ways to work with them so that brands can see the possibilities.
Presenting a bunch of brand partnership ideas to a brand in your pitch shows that you know what you're doing and that you're prepared to help them be their best! There is definitely a right way to present your ideas which we cover in-depth in our Pitching To Brands Mastercourse. We also provide a step-by-step guide within our Pitching To Brands Mastercourse on how to create a Media Kit that will impress brands and help you land more paid brand deals. 
3) The Content Creation Brand Partnership
We've covered the ways brands are working with Creators in an Influence capacity where the brand wants to access to the Creator's audience, and therefore pays the Influencer to post about the brand's product or service on their own social media platforms.
Content creation focused brand partnerships are a different type of brand partnership where a Creator solely pitches their skills as a content content creator to the brand and does not focus on their social media numbers. Essentially they're saying that they can help the brand elevate their content by creating it for them.
In this scenario, the brand will agree to a certain set of deliverables—the Creator then creates the content based on mutually agreed guidelines and delivers them to the brand so that the brand can post them on their own social media channels. We consider this the great way to land more brand partnerships as an Influencer or a Creator since the focus is not on your following or numbers, but on your skillset. 
Also, this strategy can help you land more deals because brands may not always have a budget for Influencer marketing, but they very likely have a production budget or general marketing budget. 
Someone has to create content for their social media channels, and hiring it out to Creators is a really great way for them to get what they need instead of having to spend the time and resources in-house to create the content. 
The great news is when you're pitching to brands you can pitch both influence and content creation if you feel you can add value to the brand in both ways. Many Influencers are great at creating stunning content, and many content Creators have influence over their followings. 
Therefore, these two types of brand partnerships do not have to be mutually exclusive, but as an Influencer or Creator it is very important to know the difference.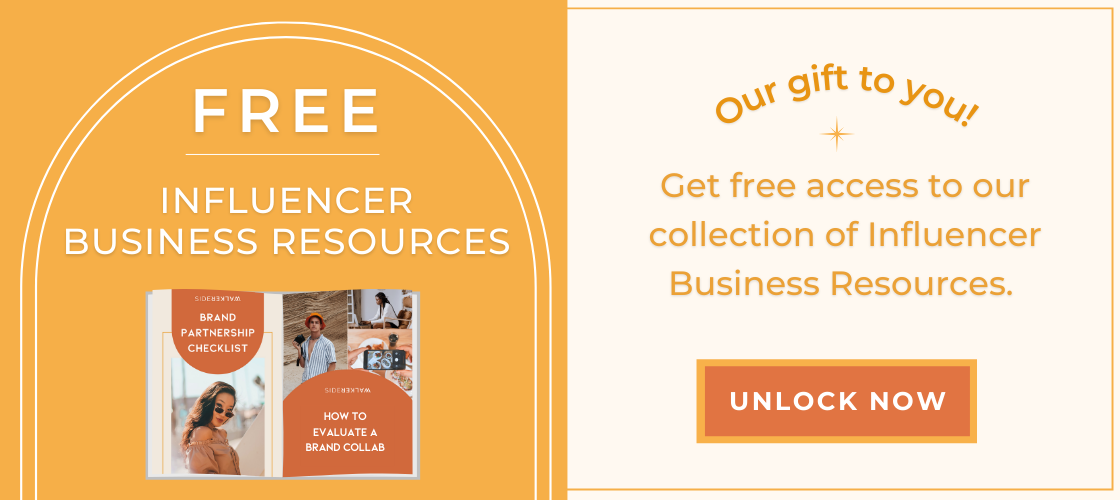 4) Brand Collaborations (And When Working For Free Is Ok)
Brand collaborations can be a sensitive topic in the Influencer and Creator world. The term "collaboration" typically refers to a brand partnership in which there is a "trade" of products or services, instead of financial compensation for the work performed by the Influencer or Creator.
Of course, this can be a little difficult for Creators and Influencers, since they wouldn't be making any money from the partnership. For starters, Creators have bills to pay too! But even if the Creator did have another source of income for paying their bills, in these situations they would still be doing work for free and that doesn't sit right with most people. 
So what do brands offer instead for these types of brand partnerships?
Free product
Discounted products
Free trips (for travel Influencers)
Exposure (by being reposted on the brand's own channels)
So…the golden question: When is it okay to do free brand collaborations as an Influencer or Creator?
There are some situations where brand collaborations do make sense. We typically tell our Creators that it all comes down to whatever is fair from a value exchange perspective or if you can leverage the partnership in the future to earn income. We cover this in-depth in our Pitching To Brands Mastercourse and go over ways to pivot and also ways to leverage brand collabs to make more money in your business as an Influencer or Creator. 
We've worked with Influencers at the highest level who are doing free collaborations because it made send for them and their personal brand or goals. For example if they want the all-expense paid trip or whatever the brand is offering them of value they may say "yes" to a brand collaboration. We've even seen Influencers have their home redecorated in exchange for social promotion!
If you're wondering when to say no to a brand partnership that's unpaid, take these things into consideration:
Whether or not the value exchange is fair
The number of deliverables the brand is asking for
The production value of the requested deliverables
Brand collaboration offers are one of the reasons it's really important to know how to test your influence. Not all brands are going to be able to figure out the true value of your influence just by a quick look at your social media accounts. It's your job to communicate that value, just like any other business owner or service provider does when they are entering into a client relationship. 
One of the best ways to communicate your influence to a brand is by putting together a media kit and an Influencer case study that demonstrates your value. If you make a good case for yourself, the brand might be more open to a paid partnership either now or in the future.
While some will argue that accepting free collaborations hurts everyone in the Influencer market, there's also something to be said about those who are just starting out. If you're just starting out and don't necessarily have an influence that a brand can justify paying you for, it might make sense to do free collaborations to build up your portfolio and grow your following.
Brands are business too, and they have to consider the ROI of working with you. Both parties should do what they can to make this type of brand partnership a fair trade and consider the factors we discussed above. 
5) The Ambassador Role
The next most common type of brand partnership that you'll see is the ambassador role. This is a long-term partnership between an Influencer or Creator and a brand. 
While the other brand partnerships we discussed are typically one and done (although we recommend returning to previous brand partners for future campaigns), the ambassador role is an ongoing relationship. It may require several posts over time as a way to truly reach an audience as it's consistent messaging about a product or service. In marketing, it's a general rule of thumb that it takes a person multiple times seeing a message to take action so this is a great way to work with a brand to help them with their goals and also get consistent work as a Creator. 
Examples of brand partnerships like this usually involve the Influencer working out an agreement where the Influencer is paid a monthly retainer in exchange for a certain number of posts about the brand or deliverables.
Many times you'll see Influencers and Creators with discount codes or affiliate links in these types of partnerships. This means that the brand is encouraging the Creator to continuously talk about the product; when one of their followers makes a purchase, the Creator receives a small commission. This also helps the brand track the conversions of a partnership which is something you can use as a Creator to up your rate in the future if you have the results to back you up. 
What are the pros to an ambassador brand partnership?
While the Influencer does legally have to disclose the partnership, continuous use of a product in organic content comes off as very authentic and can promote more sales and positive brand awareness.
The Influencer is increasing their income as a Creator because they have a continuous income stream throughout the duration of the partnership.
The Influencer can sometimes be like "the face of the brand," and the brand has access to the authentic and trusting relationship that the Influencer has with their audience.
While ambassador roles may look different from partnership to partnership, a long-term mutually beneficial relationship to both brand and Influencer makes this type of brand partnership really awesome!
6) Affiliate Marketing
As we touched on above, affiliate marketing pairs up really well with ambassador-style brand partnerships. With affiliate marketing, the brand provides the Influencer with unique links to their products to promote on their social media, website, email list and more!
Every time someone purchases using that link, the:
Creator keeps a portion of the sale
Brand can physically keep track of the return on investment of the partnership
Because the links are unique to each Influencer (typically), the brand is able to see how well the partnership is working. The Influencer can use this knowledge to improve their strategy as well when renegotiating their contract with the brand or even when pitching to other brands!
Because the Influencer is usually not paid directly for promoting the product or service (although they might be in some cases), this type of brand partnership isn't always the most lucrative. The eligible commissions on sales are typically very small, and the Influencer or Creator might need to talk about the product a lot in order to get eyes on their links and drive sales.
However, there are plenty of affiliate marketing platforms out there, and not all of them actually require a direct relationship with a brand partner. Within third party affiliate platforms, Influencers can generate links to share products with their followers and generate income from any sales they make.
A good rule of thumb in marketing is that the average consumer has to see a product several times before they go and make a purchase. So when it comes to paid sponsored posts as brand partnerships, a one-time post might not generate that many sales for a brand.
If the Influencer is very high profile, it just might. But either way, affiliate marketing and other continuous relationships often have a better chance of converting. The return commission might be small, but it can certainly add up!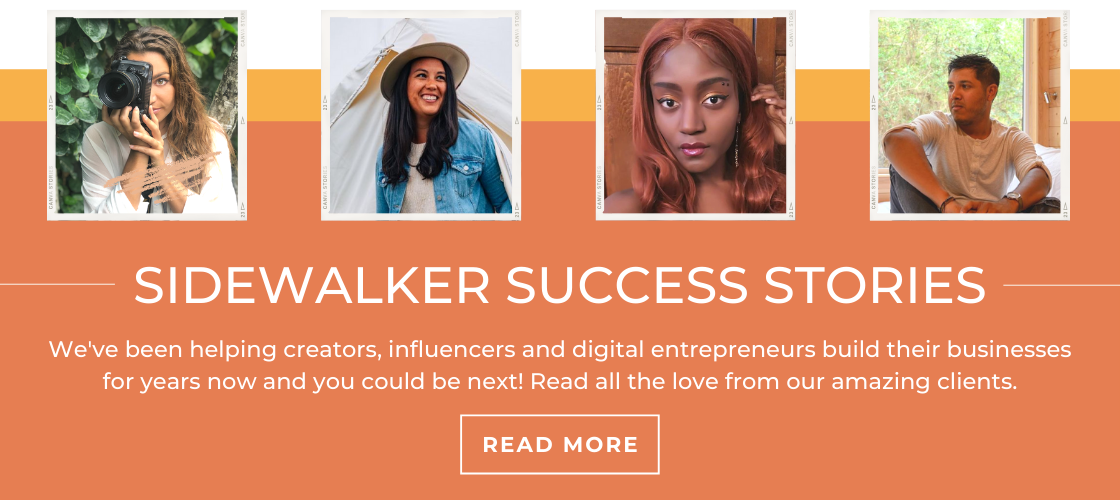 7) Live Events
Influencers and Creators might team up with brands for live or virtual events. This might be in an ambassador-style relationship, where the Influencer is one of the faces of the brand. 
We see these events in many forms. Here are some examples:
A new restaurant 
Building hype around a brand launch
Meet and greets to showcase products and try samples
While this might not be one of the most popular types of brand partnerships, we definitely see quite a few brands inviting Influencers and Creators to "influencer events" where the Influencer shares the day, trip or experience on their social media, maybe through Instagram Stories or posts following the event.
The brand typically has a cool setup showcasing their products, and the Influencers are able to create content and spread the word about the brand, product or service.
8) Talent Brand Partnerships
Influencers and Creators also partner with brands as talent. By talent, we're referring to jobs such as modeling, where the Influencer goes to a photoshoot for a brand or even acts as on-camera talent in a video for the brand. 
This can be a professional photoshoot put on by the brand, but it can also be entirely done by the Creators. This is yet another perk of Influencer marketing—brands no longer have to put on their own photoshoots or video shoots every time to get this type of marketing content for their brand.
With the right Creator, they can get content styled, shot, edited, and delivered to them. And typically the costs are lower than hiring out the project to an agency or doing it in-house. 
9) Giveaways
Giveaways are a popular type of brand partnership, in which the Influencer and the brand team up to give away a product or services to a winner. 
Brands can host their own giveaways, but sometimes working with an Influencer can have a better result. Or, with the brand and Influencer combined, the reach of the giveaway increases.
You've probably come across a few giveaways while scrolling on Instagram yourself. We've also seen giveaways hosted in other capacities where an Influencer or Creator has a really engaged audience. For example, we've seen giveaways on Facebook groups and email lists with high engagement.
Giveaways work best in really niche situations, so these types of strategic partnerships may go over really well when done right. 
The giveaway may or may not be a paid partnership but if you do decide to collaborate with a brand for a giveaway you need to make sure it makes sense for you and your business goals since there is work involved to participate and you need to make sure it's worth it for you.
Ready To Start Pitching To Brands?
There are so many ways for Creators and Influencers to work with brands and types of brand partnerships available to use when pitching to brands. We covered some of the main partnerships you should know about but there are many other ways to work with brands.  As you build out your pitching strategy, we encourage you to get creative with different types of strategic partnerships and really show brands what you can do for them.
As a recap, the types of brand partnerships that you need to know about are:
1) Paid sponsored posts, such as an integrated YouTube video or a product review Instagram Reel.
2) Other types of sponsored content on social media, such as an Instagram Story or TikTok Live. 
3) Content creation, where the Creator or Influencer makes content for the brand's own use online or on social media. 
4) Brand collaborations in which the work is exchanged for something other than money such as products or services. 
5) Ambassador-style brand partnerships that are continuous relationships between brands and Influencers for a longer period of time. 
6) Affiliate marketing, directly through a brand or using a third-party tool to track sales and receive a commission from the sales you generate with your audience. 
7) Live events hosted by brands and Influencers.
8) Talent-based partnerships, such as modeling gigs or video creation. 
9) Giveaways to promote products and brand awareness online or throughout social media. 
If you're still feeling like you don't know what to do next when it comes to pitching brand partnerships or coming up with brand partnership ideas, that's what we're here for! Book a one-on-one coaching call with one of our industry experts and we'll come up with a personalized game plan just for you to help you reach your goals. Soon, you'll be working with brands and getting paid to do what you love!
Did you find this article helpful? We'd love to hear from you in the comments below.