For Influencers and Creators, a Media Kit is a powerful tool for landing paid brand partnerships and earning money for their business. A Media Kit is not just a highlight reel— it's a visual resume and a strategic way to show off some of your skills as a Creator, while also letting brands know who you are and how strong of an Influence you have. At Sidewalker Daily, we work with Influencers to build their businesses, design their media kits and land brand partnerships. We also consult with brands on their Influencer campaigns and strategy so through our work in the influencer industry, we've seen too many Media Kits to count!
We've recently noticed a lot of misinformation going around on social media and online about what should go into a Media Kit and how to use one. As Media Kit experts, we're here to debunk those myths and give you the right tips for how to make a Media Kit that will help you grow your business and land more paid brand partnerships! In this article, we're also sharing with you some of the things we know that brands look for in Media Kits and also setting the record straight on some of the major myths about media kits that we've come across so you'll finally know the truth once and for all!
5 Media Kit Myths Debunked
It's time to finally know the truth about major Media Kit myths so you can set yourself up for success as an Influencer or Creator! The Influencer industry is constantly changing, and there are new ideas and theories being spread about what to do to get ahead. How do you separate fact from fiction? As experts on both sides of the Influencer industry, we're sharing some tips about what to include in a media kit and how to use one. Whether you're starting yours from scratch right now or looking to level up so you can get more brand deals, you're going to want to read these common myths about media kits and what we have to say about them!
Myth #1: You Don't Need A Media Kit
A huge question that comes up in the Influencer industry: "Do I even need a media kit?" The answer is a resounding YES, and anyone telling you otherwise doesn't know the true value of having a well-done media kit. If you're trying to get paid, or want to be a full-time Content Creator, you need to have a media kit. In fact, having a good looking media kit is a critical asset for getting paid brand deals.
Sometimes a media kit can be the difference between  a brand choosing an Influencer for a partnership and deciding not to work with them at all. It can be that powerful! When you have a media kit that wows the brand and makes them want to learn more, you:
Present yourself as someone who is serious about what they do and a true professional
Show your unique value and Influence by sharing metrics about your audience and community
Open up the door for higher paid brand partnerships
When you pitch to a brands you want to put your best foot forward and simply sending a basic pitch email isn't enough. A well-done media kit is a visual resume that puts some proof behind what you're telling the brand about yourself and makes them excited about working with you. Even if you have millions of followers, a media kit could be the difference between a $20,000 deal and a $50,000 deal. If you're just starting out and are serious about becoming an Influencer, you need to take advantage of this important pitching asset for your business.
Myth #2: Your Media Kit Should Only Be Two Pages
The truth is, your media kit needs to be as long as you need your media kit to be. What we mean by that is that you don't need to squeeze everything about yourself into two pages if you have more that you want or need to share with the brand! If you have a story to tell, or tons of press features to share, or examples of the services you offer, don't minimize it or leave anything out just to try and keep your media kit to a two page limit.
So when it comes to how to make a media kit, how do you know what's right? To be honest, everyone's media kit will look differently—depending on which platform is your specialty, how long you've been working in the industry, your unique experience, and a variety of other factors. Everyone's journey is different, and creating your media kit doesn't need to fit into a one-size-fits-all approach. In our Pitching To Brands Mastercourse, we have an entire section devoted to creating Media Kits and even provide media kit examples of real creators from different niches and at different levels. 
Our golden rule at Sidewalker Daily is to use the space that you need to tell the story that you need to tell. From working on the brand side of things, we know that a visually appealing media kit is the way to go, no matter the length. Brands respond really well to media kits that capture the right amount of information and are easy to digest. If that requires more space, so be it!
That being said, we do often recommend that you have more than one media kit based on how you're pitching. Maybe you need one for sending in emails and another one for in-person conversations. When we design media kits for our Influencer and Creator clients, sometimes we'll create a bigger, more robust design to be used for pitching via email, and make a two pager for conference or in-person meetings.
Myth #3: Only Send A Media Kit When You're Asked For It
A media kit is a pitching asset; it's supposed to get brands interested in working with you (or if they're already interested, helping you seal the deal). If you wait for a brand to ask you for it, you're either delaying the process of securing a brand deal or missing your opportunity to pique their interest at all. It's okay to attach your Media Kit in a pitch email so the brand can learn more about you, your audience and what you can do for them. 
When we work with brands at Sidewalker Daily, we see how impressed they are with media kits and how influential they can be in the decision making process. So take our word for it and don't be afraid to provide your Media Kit to the brand without them asking so you can really wow them and land the deal!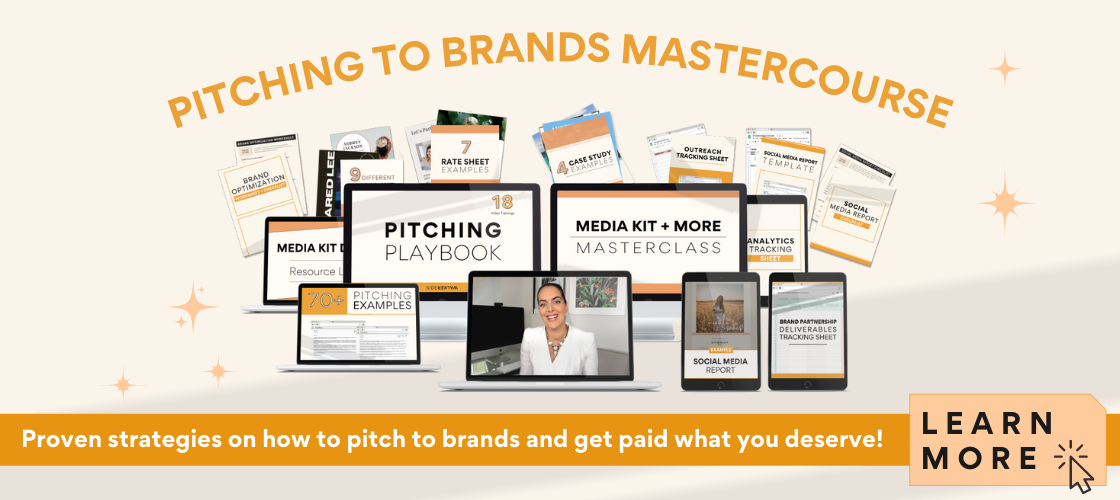 Myth #4: You Should Put Your Media Kit On Your Website
We recommend not including your media kit on your website for a variety of reasons. If you're a Creator and you have a website, sometimes a really strong Work With Me page is all that you need. Your media kit can instead work as a lead generation tool— basically you can ask brands to submit their information in exchange for your media kit. You can easily set up a form on your website for anyone interested in learning more about you and getting your media kit to fill out. After you hear from a brand through this form, follow up with a killer pitch email that includes your media kit.
Another reason you might not want to have your media kit available on your website is simply because you don't know who will come across it! There's usually some pretty personal information on it, so unless you want all of your information to be in the public domain for anyone to see, we suggest keeping it off your website. Also, your media kit should always be up to date so having your media kit on your website would require you to update it often so you always have the most relevant information for brand partners. 
Based on all of this, we suggest keeping your media kit off of your public website and knowing how to use it to your advantage when trying to land paid brand deals. 
Myth #5: Making Your Media Kit Is Just A One-Time Thing
This myth couldn't be further from the truth! Your media kit is a living, breathable document that you should be updating constantly. You want to update it with your:
Most current metrics and recent results
Latest partnerships or collaborations
New case studies 
Recent testimonials from brands 
And so much more!
Did you create a new profile that you now offer content creation for? Did you complete an amazing collab with a brand that was wildly successful? Add these things when they happen!
You need to be thinking critically about your media kit – it's not a set it and forget it document! Next time you think about what to include in a media kit, really dig deep about the things that sell you as a professional Influencer or Creator. This document has the power to get you a lot of new paid work, so you want to make sure that it is always up to date and showing you in the best light. You are a business owner, and your media kit should reflect that you take your business seriously!
How To Make A Media Kit
In this post we shared some of the myths going around about media kits but if you're interested in learning how to make a media kit, we have a design studio that offers custom Media Kit design for influencers and Creators which you can learn more about here. We also have an entire course about Media Kits that walks you through how to make one yourself and shows you tons of examples of real Media Kits for you to reference. So if you're confident in design and want to make it yourself, you can learn more about our Pitching To Brands Mastercourse and Media Kit and More Masterclass here.
As a quick recap, here are the media kit myths we covered in this article and what you need to know about each one:
Myth 1: You don't need to have a media kit. This couldn't be further from the truth! A media kit helps you stand out from the crowd as a Creator and you should definitely have one to help you land paid brand deals.
Myth 2: Your media kit should only be two pages. This is not true. Your media kit should be however many pages you need to share your story and your experience (within reason of course)!
Myth 3: Only send your media kit when you're asked for it. This isn't the best idea! If you always wait for a brand to ask for one,  you may miss the opportunity to wow them right away.
Myth 4:  Put your media kit on your website. This isn't the best way to present your media kit. Instead of making it readily available, use it as a lead generation tool for brands who request it. 
Myth 5: Making your media kit is a one time thing. This isn't true at all! It is a living, breathing document and there are always updates to include in your media kit.
If you're in the process of building your media kit or trying to take your Influencer business to the next level, we really hope that these tips helped! We've helped thousands of Creators make amazing media kits that impress brands, and we'd love to help with your media kit design too through the Sidewalker Design Studio. If you need help with coming up with your strategy and want a tailored game plan to reach your goals, you can book a coaching session with one of our professional influencer or creator coaches here.
If you enjoyed this article, we would love to hear what you think in the comments below!