How To Become An Influencer
The life of a social media influencer may look glamorous but there is so much more on how to become an influencer than meets the eye. On social media, you see influencers traveling, getting tons of free products from brands, and working on their own schedule but you should know that being an Influencer is also a lot of hard work. It's their business and successful influencers treat it like a business and not a hobby. If you're willing to put in the work and learn how to become an Influencer, we have the strategies and advice to help you get there!
At Sidewalker Daily we work with Influencers at all levels to help them increase their engagement and following, land paid brand deals and grow their business. We also consult on the brand side of things so have unique insights to share with our Influencer and Creator clients to help them become successful at doing what they love.
If you're ready to become an Influencer, follow these 7 steps to set yourself up for success.
1) Decide What Platform You Want To Use
While Instagram may be first platform that comes to mind, it's not the only one where influencers are finding success. TikTok is growing rapidly as an Influencer-driven social media platform, and both YouTube and Twitter also have Influencers with different skill sets. Which platform you pick as your main one depends on your talents and the type of content you want to produce. If you mostly create images, then Instagram may be best for you. TikTok and YouTube both work well for those who love creating video content, and then Twitter is a great option for people who like to write and share their thoughts.
We suggest focusing on two social platforms to grow on because you don't want to put all your eggs in one basket. It also can be overwhelming trying to do it all so you want to be laser focused to ensure you are maximizing your time to grow your business. Also, it's a good idea to have repurposing your content for your original platform onto your secondary platform at the forefront of your strategy as you start building your content calendar and publishing posts and videos on social media.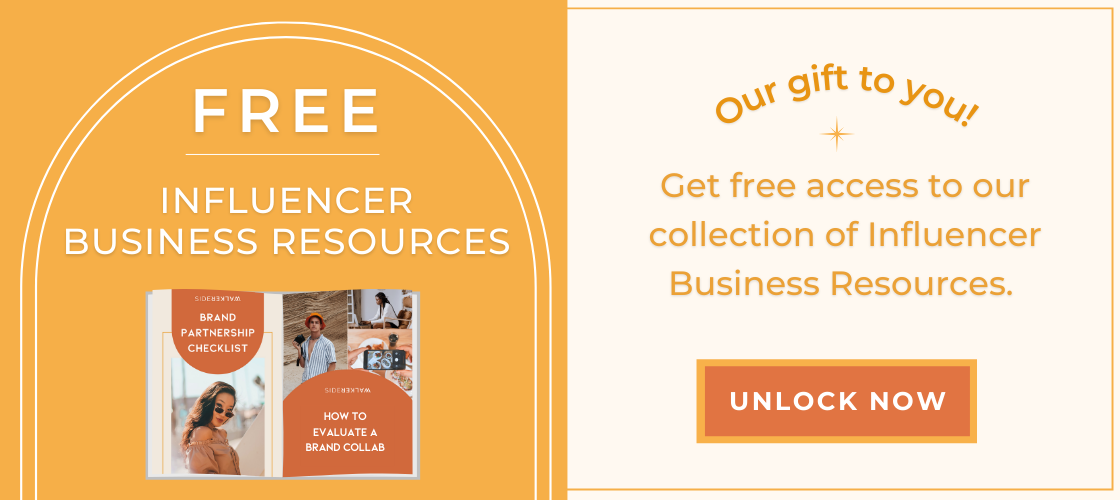 2) Create A Business Strategy
When you commit to becoming an Influencer, you're making it your business and not just your hobby. You can't learn how to become an Influencer overnight! This means you need to think strategically about the types of content that you're producing and have a plan for posting. Think about what your end goal is and what niche you want to be known for and create content around. Defining your niche from the beginning of your influencer journey can give you clarity and help you grow faster.
Being an Influencer as your main job is not about growing followers for the sake of growing followers, it's about cultivating the right audience and community that will at some point help you reach your monetization goals as a business, whether it be working with brands, launching merch, or even creating your own product line. To do this, you have to start putting your followers first when creating content and really focus on what they are looking for from you versus what you want to post. Implementing a follower first strategy and really getting to know your community will set you up to have a sustainable business moving forward.
3) Focus On Your Engagement
Everybody who visits your social accounts wants to feel seen and heard. Take the time to respond to direct messages and comments. Write captions that are engaging and help you relate to your audience on a deeper level. When people engage with you on your platform, you want to acknowledge them so they will continue to engage in the future.
It's also important that you learn proven tactics and strategies that encourage engagement so you can accelerate your growth on social media. Then, develop a balance between retention and acquisition, which is a fancy way to say stay engaged with your current followers while also figuring out ways to get new followers to join your community. It's better to have a thousand followers who take action than to have hundreds of thousands who don't engage with you or particularly value what you have to say. The followers who engage with you are the ones who matter most for your business and will be there to support you every step of the way on your Influencer journey.
4) Test Your Influence
Even though many people aim for reaching a high level of followers, it's not always the most important metric. Size of following doesn't necessarily correlate with influence. Companies want to work with Influencers with high levels of engagement, so you'll need to have an idea of how much influence you actually have. If you recommend a product or service, do people buy it? If you suggest a place to travel to or a hotel, do people book based off of your recommendations? This is important to know especially if you want to pitch to brands and land paid partnerships.
To find out how much influence you have, you can test it! Try hosting a giveaway, or see how many people swipe up or click on what you're asking them to do. Refer to the metrics and analytics after you've given your audience a call to action. Review how many people you're reaching versus how many people follow through. If you find you aren't getting the conversions you want, you can look to change and tweak things from there. Brands have specific goals for their purchases and conversion rates, so you need to know how influential you are when you pitch to them.
5) Treat Yourself Like a Business
Top Influencers who find the most success treat themselves like a brand and business. They know the value they can provide a brand partner, know how to position themselves when pitching to brands and also have the business materials such as a media kit to provide when asked. Successful influencers even go so far as providing brands with proof of their influence using a case study, so the brand can see the results of their work and what they did for a past project or campaign. This helps the brand actually see the results they are able to provide versus just hearing about it.
Also, a well-designed portfolio or website as an Influencer or Creator goes a long way. You can direct people to see your best work that's curated  on your official website or professional portfolio site. If you're not ready to invest in yourself just yet, another option is using your Instagram as your portfolio or if you are a videographer, you can upload your best work to TikTok or YouTube. Then you can direct potential brand clients to specific posts or playlists to be able to see examples of your work that are relevant to them.
Having the right business materials such as a media kit, proposal, case study etc. is one of the best tips we can give you for how to become an Influencer and make money with your creativity and content. You have to make it easy for brands to see and understand your Influence when you're pitching to them so they'll understand exactly what value you offer and why they should work with you.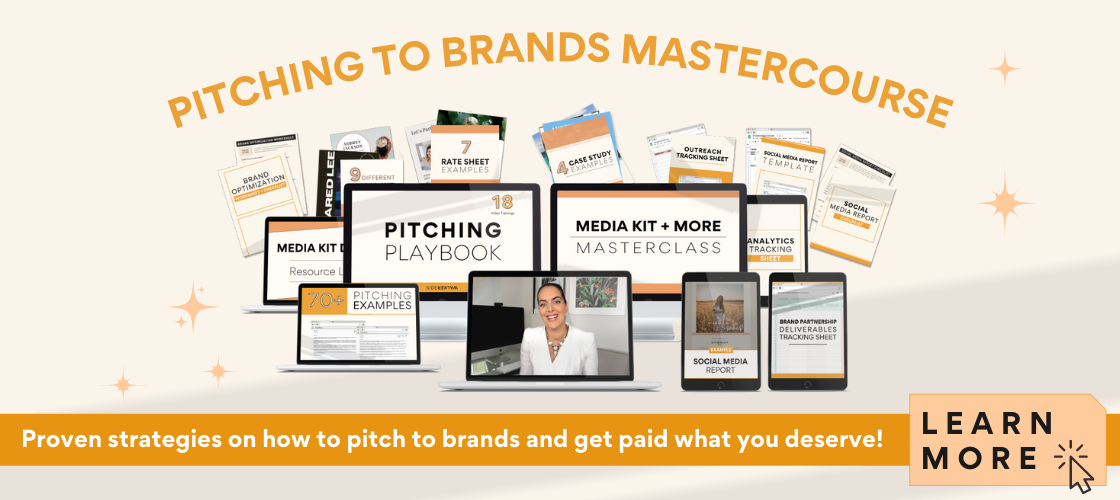 6) Sell Your Own Products
Another way Influencers utilize their influence is by creating a product that they can sell to their audience. When you have followers who appreciate your work or value the type of content you create, they will likely support what you're selling. This could be almost any type of product, whether it is a book, courses, beauty products, accessories, or anything else that people will associate with your brand. One trend many Influencers are jumping on is brand merch, which are designs that reflect your personal brand or account and are printed on t-shirts, sweatshirts, and even koozies. Selling your own brand merch is also a smart marketing tactic because when your followers wear or use your merchandise, they'll be advertising your brand to their friends and family. If you currently have enough influence to get your followers to buy your merch, this will promote a strong brand image, boost your followers' connection to your brand, and increase brand awareness.
7) Monetize Your Skills Behind The Scenes
An important tip that most people do not know when learning about how to become an influencer is that not all successful influencers make their money from brand deals. Monetizing your skills from behind the scenes is a great revenue stream because it makes you income and you don't need to promote it (or even tell your followers about it) if you do not want to.
For example, if you're amazing at creating content or an expert at social media now, then believe or not you have developed social media strategy skills that can also be monetized. You don't have to just make money on social media through pushing your personal brand, you can work as a social media marketer, social media manager, or social media consultant for other brands. Brands are willing to pay you whether you're a part of their team or if you're looking to freelance. Those are skills you can utilize as another stream of income without directly using your social media accounts.
Becoming A Successful Influencer
There are a lot of ways to grow your engagement and monetize your influence. In this post, we covered seven tips on how to become an Influencer, so let's recap:
1. Decide what platforms you want to use (we suggest picking two) and focus your efforts on growing them first before branching out to other platforms. 
2. Create a business strategy, because being a successful Influencer isn't a hobby. If you want to make money, you need a plan!
3. Work on building your engagement, because brands want to see that your audience likes engaging with you, no matter how many followers you have.
4. Test your influence by seeing how many of your followers respond to certain calls to action. This will help you determine where you have influence and what you need to work on to be able to reach your goals.
5. It's important to keep track of your work. Build a portfolio and note important statistics about your content creation so that you can show brands you know your stuff.
6. Using your influence to sell products is one great way to make money as an Influencer. There are so many things you can associate with your brand, from merch to courses and more.
7. Outside of your own social media accounts, you can use these skills to work with brands in other ways, such as a social media manager or a strategy consultant.
If you're in the process of learning how to be a successful Influencer, we really hope that these tips helped! If you need help with coming up with your strategy and want a tailored game plan to reach your goals, you can book a coaching session with one of our professional influencer or creator coaches here. 
If you enjoyed this article, we would love to hear what you think in the comments below!