How to Make Money on Social Media ASAP
There are so many different ways to grow your business online these days and social media is one of the main ways Influencers, Creators and Bloggers are earning a full-time income. The amazing thing about making money on social media is that there is not just one way to do it, and it really comes down to getting creative and having a solid strategy. 
At Sidewalker Daily, we work with Influencers, Creators and digital entrepreneurs to help them build out their monetization strategy, so the question of how to make money on social media is something we get asked all the time. While our Influencer and Creator clients are passionate about what they do, and love creating content for their audience, it's also important for them to start monetizing so they can keep doing what they love and earn a living. 
As this industry evolves, new monetization opportunities and strategies that make it possible to bring in money from social media are popping up all the time. If you're trying to figure out how to make money on social media, we're going to explain some of our favorite ways that we think you should know about to get you started ASAP!
How To Make Money On Social Media
When it comes to getting paid through social media, you want to figure out some ways you can do it quickly and efficiently, without it taking too much time away from the work you actually want to be doing, aka creating content and connecting with your audience! It's easy to get caught up in setting up all of the different ways to make money and it can sometimes become overwhelming. This happens to influencers, creators and bloggers all the time so you are not alone!
If you've already started learning how to monetize your social media and you're feeling stuck, or even if you're just starting out and don't want to hit any roadblocks when you press go, these tips will prepare you to start making money using your social accounts in no time.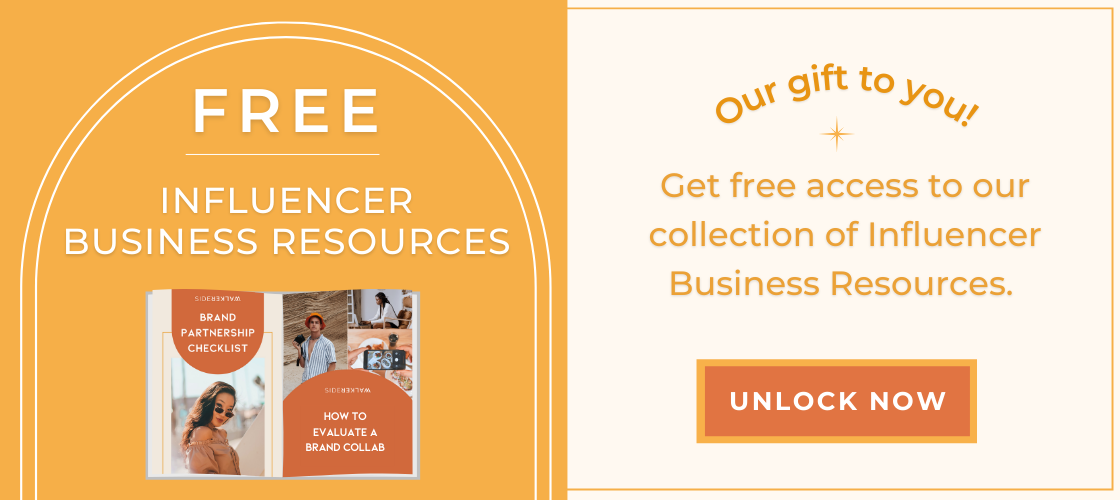 1) Make Your Social Media Posts Interactive
Creating content that your audience loves and engages with certainly feels good, but being able to turn this support into a viable revenue stream probably sounds even better! While you can use platforms like YouTube and TikTok as social earning sites to make money directly from the platform, not all social media apps have these features.
Instagram, for example, is a really great place to grow your business and connect with your audience, but making money directly through your posts can sometimes be a challenge. So creating interactive posts with tools like Koji, is one of our favorite ways to get paid for social media posts that you can set up really quickly and easily.
What having interactive posts means is that instead of having to go to an external site to purchase a product, service or send you a "tip," your followers can make the transaction directly through the post in social media.
With Koji, you can create different types of interactive posts that sell anything you want to offer. For example, if you have an e-book, a digital course, or even want to sell access to view behind the scenes photos or blog posts, Koji helps you get this content in front of your audience and gives them an easy way to purchase it from you. With Koji, you can even make money from setting up a virtual tip jar or even give your followers the chance to purchase a video response from you. The options are really endless!
2) Register As An Affiliate For Brands You Love
A huge part of social media these days is recommending products that you love or giving people ideas for products and services that they might want to try. Because of this, numerous affiliate programs have popped up over the years that you can quickly register for when you want to make some money off of these recommendations (that you're giving out anyway)!
Essentially, being an affiliate means that you are selling on behalf of another brand. And what's in it for you? Well, every time someone chooses to make a purchase using your unique link or special code you make a commission! Affiliates are also a really great way to expand your revenue stream because as you might have already figured out, every bit adds up. Even though most commissions from affiliate purchases are relatively small amounts, you're already sharing the products you use and love so you should be compensated for it!
Setting up affiliate accounts is pretty easy, so we always recommend that our blogger, creator and influencer clients register for affiliates to make money online even when just starting out. 
3) Drive Followers To Your Email List And Earn Money Directly
Any successful influencer or blogger will tell you about the power of the email list when it comes to making money in their business. When someone makes the decision to subscribe to your email list, they're basically confirming that they're interested in what you have to say and that they want to hear more. This list becomes a place completely filled with the people most interested in the products or services that you want to sell and it even helps to have a solid email list when pitching to brands for paid brand partnerships. 
So you might be wondering why your email list has anything to do with your social media. Basically, what you can do is drive the followers that you have on social media to your email list, turning them into a longer term connection to your brand and business. Instead of trying to sell to them directly and immediately on social media, you're able to foster a relationship with them, build trust and will be able to sell to them time after time through promotions, new product offerings, affiliate links etc. So essentially you're using social media to make money but just not directly on the platform.
4) Use Social Media To Run Ads
If you offer a service or a product through your business, you should be looking into running ads on your social media platforms. Influencers are turning to this method more and more, especially if they're launching a new product or are offering a course using their expertise. This allows you to reach some social media users who aren't already following you on your social channels and who may be interested in your content and also purchasing a product or service from you. 
There are tons of ways to use ads when you're a creator looking to monetize. You can run ads on Facebook, Instagram, YouTube, TikTok, Google and you may be able to see a really good return on your investment. If you're a creator or influencer looking to monetize, running ads is a great opportunity to jumpstart making money on social media. 
5) Use Social Earning Sites For Easy Monetization 
As we mentioned earlier in the list, some social networking sites that make money for Influencers through built in monetization opportunities exist online and creators can use them to increase their income from social media content. For example, setting up YouTube ads lets you monetize from your YouTube videos immediately and continuously because you're allowing YouTube to display ads directly within the content that you create. The opportunity is built right into the platform, so we definitely recommend setting this up when you meet the requirements to monetize your channel.
Also, what's really exciting for creators and influencers is that IGTV is beginning to do something similar so creators can earn money from Instagram ads on the platform as well! Similar to YouTube, Instagram announced they will allow some creators to monetize by putting ads within the videos on IGTV to give them another opportunity to collect revenue via social media. 
If you have the opportunity to monetize your content through a social media platform, we suggest looking into it sooner than later because you're creating content anyway. Even being able to make a small amount on the views you get will add up. 
6) In-App Shops Are A Great Way To Monetize
In-App shopping features are a great way to monetize through social media because people that view the content have the ability to buy the product directly through the app which increases the chance of them completing the purchase. Instagram and TikTok both offer the ability for certain accounts to set up shops and offer in-app shopping on the platform for users to make more sales.
Whether you're an Influencer, Creator or entrepreneur, if you have a tangible product to sell and you haven't put it on Instagram shops, you're missing out. With this Instagram feature, you can directly tag your products in Stories, Reels and posts so that people can shop the product right away after seeing the content. Promoting your products will be so much easier and you can start making money immediately.
What if one of your Reels that promotes your product goes viral? That's a huge opportunity to get visibility bit now you want to make it as easy as possible for anyone watching that Reel to buy that product right away. All they have to do is click on the Reel to see the product offer and visit it in your shop. Being able to shop in-app limits the steps it takes someone to go from seeing the product to making the purchase, which makes it more likely you'll land the sale. If you have physical products to sell, then setting up a shop is a great way to use social media to make money.
A Solid Strategy Will Help You Make Money With Social
Getting paid with your social media posts can be an amazing way to add additional streams of income to your brand or business. If you're an influencer or a creator, one of the most popular ways to make money from social media is working with brands. In fact, clients who have taken our Pitching To Brands Mastercourse have landed 4 figure and 5 figure deals from their brand partnerships even with a small following. Having a solid strategy and roadmap is key to making money on social media.
To recap the tips in this post on how to make money on social media:
1) Make your posts interactive using tools like Koji, which allows you to make sales and have other offers directly on social media, instead of taking your followers off the app.
2) Register as an affiliate to make commission when you share brand's products and services that you already know and love.
3) Drive your social media followers to your email list so you can create a longer lasting relationship with them and sell to them time and time again. 
4) Use social media to run ads, especially if you offer services or products as a part of your Influencer strategy. Instagram and Facebook ads will get your content in front of more eyes.
5) Some social media platforms are inherently social earning sites, like YouTube. They allow you to monetize off of views! More apps are integrating this type of earning through their platform such as TikTok and Instagram so keep an eye out for opportunities you can take advantage of as soon as they are available to you. 
6) If you have a tangible product to sell, consider using In-App shops like Instagram or TikTok to drive your audience towards purchases that are easy to make. 
We understand that figuring out ways to monetize that are specific to you and your business can be a challenge. If you're still feeling stuck or you're looking to take your monetization plan to the next level, we can work to figure it out together with our one on one coaching services. You can speak with one of our experts to develop a monetization strategy that's unique to you and create a plan of action so you can start making money and being profitable in no time.
If you found this article helpful, we'd love to hear your thoughts below!