How To Get TikTok Brand Deals
If you're an Influencer, Content Creator, or entrepreneur that has a TikTok audience—big or small—you might be starting to look into ways to monetize your content. As brands' Influencer marketing budgets continue to grow, TikTok brand deals have entered the scene as a great way to monetize on TikTok as a Creator. 
At Sidewalker Daily, we teach Influencers and Creators how to work with brands and get paid brand deals. We also consult with brands on their Influencer campaigns, so we see what goes into these partnerships on both sides. More and more brands are getting excited about TikTok, and Creators on the platform are finding partnership opportunities to be able to get paid for doing what they love. Now is the time to figure out what this means for you as a Creator and learn how to get brand deals on TikTok!
Why Brands Are Turning To TikTok
Before you start trying to get TikTok brand deals, we think it's really important to think about why brands are adding TikTok to their marketing plans. In the fast-moving Influencer Industry, you need to keep up with what's going on and understand the landscape as a whole. Understanding why brands want to use TikTok to grow their business can help you better position yourself when pitching to brands!
Here are some of the top reasons why brands are finding TikTok to be a great platform for working with Influencers and Content Creators to reach their target customer on social media:
TikTok users grew at an extremely high rate after 2020, meaning a large variety of audiences now use the platform.
Many brands have had success on TikTok—quickly selling out their products after posting on the platform.
Brands have noticed how TikTok videos have an immense power to go viral to hundreds of thousands of users, sometimes seemingly out of nowhere.
Production costs for TikTok are very low compared to other methods—especially because quick videos can be pushed out to large audiences.
Many Creators and Influencers have started posting on the platform, drumming up very large follower counts, and their audiences are looking to see what they recommend.   
So what does all of this mean for you as a Creator? It means that if you're interested in getting brand deals on TikTok then there is absolutely a space for you to do so! To get you started we're sharing our best tips for how to partner with brands on TikTok and overall get more TikTok brand deals. 
Let's dive in!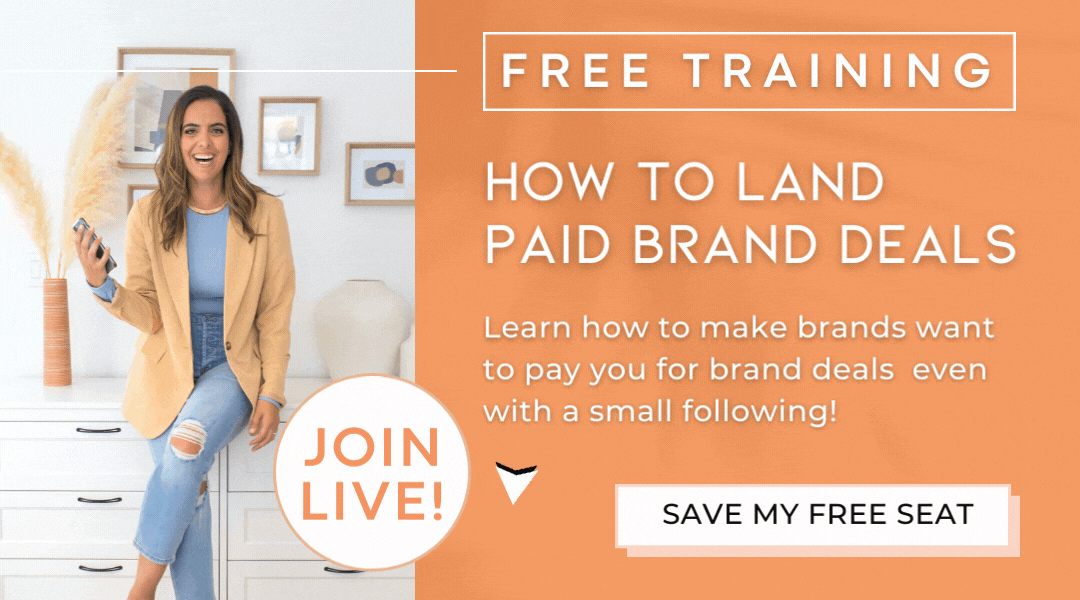 Tips To Actively Pitch TikTok Brand Deals
The first thing to consider with TikTok brand deals is that you're going to need to actively pitch. This is pretty much the same as it would be for getting paid partnerships on Instagram. No matter how much great content you create, brands aren't always going to come to you. Don't be afraid to put yourself out there!
Things to think about when you're creating your pitch to work with brands on TikTok:
Focus on your TikTok success specifically: As great as your success has been elsewhere, brands want to see that you know how to use TikTok and create quality videos that engage audiences.
Show your analytics: Build the brand's confidence in working with you by proving that you have the ability to produce good results. Maybe this means you build a case study from a previous brand partnership. If you don't have any TikTok brand partnerships yet, create a mini case study that highlights your work and engagement on TikTok.
Pitch with specifics: When you reach out to a brand, you should pitch them ideas not just send a general email asking if they want to collaborate. It's helpful to show them past examples of TikToks that you've created and why you think that type of content matches their goals and campaigns. If you pitch an idea, the brand will be able to visualize your TikTok concept and how they fit into it, making them more likely to want to work with you.
Get the brand excited about working with you by being specific! Pitching with ideas and results is the way to go for starting to land TikTok brand deals.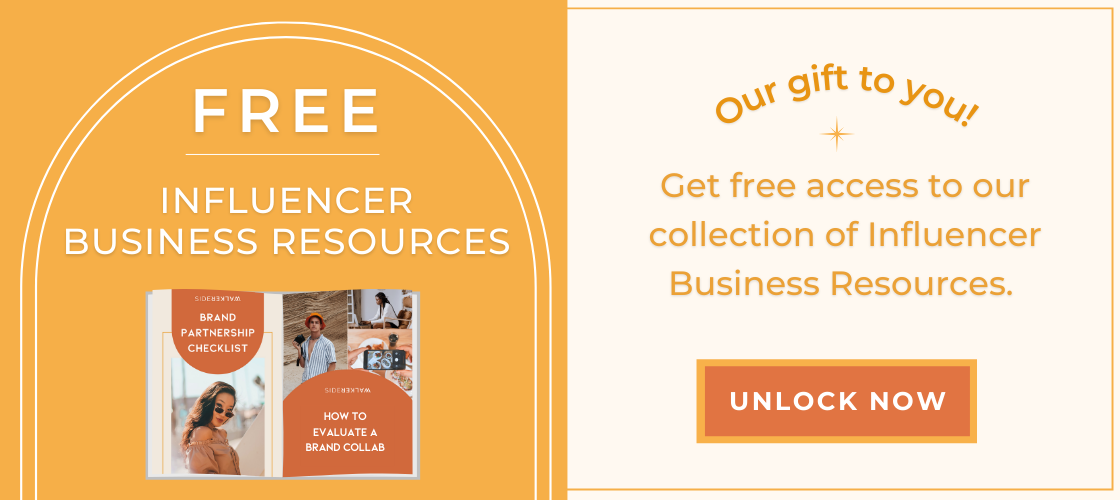 Upsell Your Current Brand Partners With TikTok
Many Influencers and Creators who are already working with brands on other platforms are looking for ways to build TikTok brand deals into their current strategy. If this is you, the key is to try and work TikTok brand deals into the conversation when you're discussing an upcoming partnership with a brand no matter if it's on Instagram, YouTube, Pinterest, your website etc.
If a brand is asking for a post on Instagram or to be sponsored in your next YouTube video, throw out the idea of adding a few TikTok videos into the partnership package. Bundling your offers is already one of the best ways to increase your rates as an Influencer or Creator, so why not open this strategy up to include TikTok?
Brands are often really willing to hear these ideas, especially if they're already interested in working with you. You as the Creator know what type of content performs well and what doesn't. It's literally your job! So it's up to you to come to brands with these ideas and recommendations. If you think that incorporating TikTok is really going to help their goals, then don't be afraid to tell them that!
Let's say for example that you're discussing a YouTube partnership with a brand. Simply say, "Yes let's do the YouTube campaign, but why not post a few TikToks in addition and see if it does well?" Back up the ask with a few ideas based on your expertise and other successes. Some brands might have specific campaign goals and a strict plan to follow, but some might not. You'll never know unless you ask!
This is a great way to get your foot in the door with TikTok brand deals—and when it goes well you can come back to them with an even bigger proposal to increase your rates.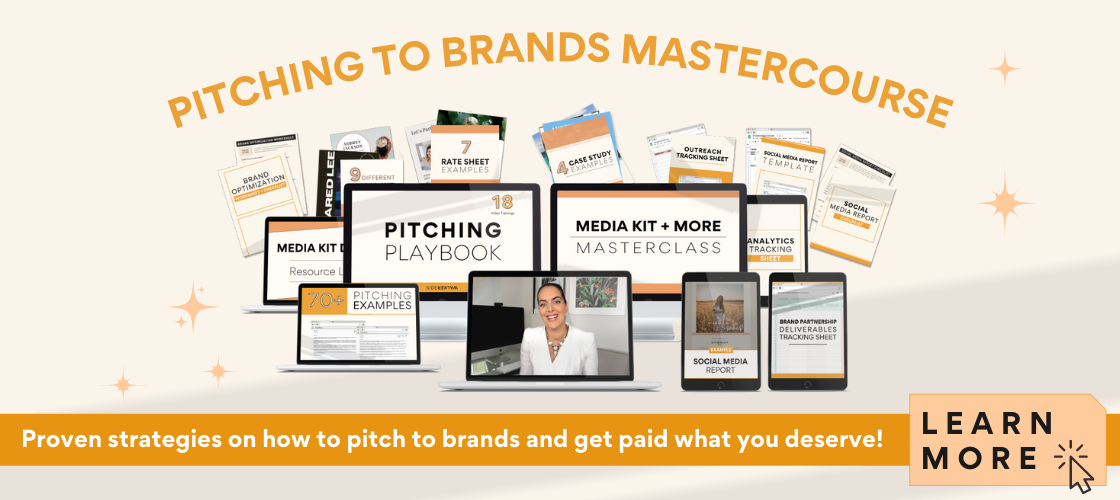 Turning Existing Content Into Paid Deals
Are you going to post a TikTok about a brand anyway? Many Influencers and Creators share products that they genuinely believe that their audience will find beneficial. And sometimes brand's products end up in your content even if it's not being specifically called out.
If you've posted a TikTok with a brand's product in it and it performs really well, you now have this in your favor. Reach out to the brand and let them know that you created a piece of content that touched on their product or service and share the results you had. Did a bunch of your followers reach out and ask about the product or say thanks for sharing?
This is all really valuable data to share with a brand and can turn into a TikTok brand deal before you know it!
Position Yourself As A Content Creator
The terms Influencer and Content Creator usually go hand in hand because a lot of people are both at the same time. But when you actually break down the definition of the two roles, they're very different.
As an Influencer, you're creating content for brands so that the brand can get access to your specific audience and your influence. On the other hand, a content Creator creates content regardless of their own influence, with the end goal being content for the brand's page, not their own.
Everyone in this industry is familiar with "content overwhelm," or having to constantly post content on multiple platforms every single day. Brands are no exception! And with the TikTok algorithm favoring consistency, TikTok users who want to grow on the platform are putting out multiple videos everyday. So if you're able to position yourself as a content Creator, this is a huge value to a brand.
Brands don't always have the capacity to create content on their own at such a high level and this is where Content Creators have really stepped in to save the day. So when you're contemplating how to partner with brands on TikTok, don't just think about posting on your own channel, consider pitching a series of TikToks for a brand to use over time on their own page.
TikTok Creator Marketplace
We have to give credit to TikTok for this one because they pretty quickly caught onto the need for Creators and Influencers to get paid for their work by setting up the TikTok Creator Marketplace. They knew that Creators on their platorm would quickly want to learn how to partner with brands on TikTok. So creating the TikTok Creator Marketplace, their official platform to help brands and Influencers connect, was a smart move.
To get into the TikTok Creator Marketplace, you do have to be invited or go through an application process. All this really means is that there is some eligibility criteria for being part of the Marketplace. So if you feel like you are a good fit for this program, you need to plan for this and know what the requirements are at the time to get into the program.
Make Money On TikTok
There are so many ways to make money on TikTok—seeking out brand partnerships is a great option for TikTok Creators! While pitching to brands for TikTok partnerships will be similar to doing so for other platforms, there are some things we hope you'll consider as you starting thinking about your strategy. Here is a quick recap of our some key pieces of advice for how to get brand deals on TikTok:
1. Learn why brands are turning to TikTok and take time to understand the landscape of TikTok brand deals as a whole.
2. Start actively pitching yourself to brands, focusing on your TikTok specific achievements and sharing your ideas to help them envision the project (and potential results).
3. Add TikTok videos into your current conversations with brands when partnering with them to create content on other platforms. Suggest bundling in a few TikTok videos in addition to your Instagram post or other deliverables.
4. Turn existing content into paid brand deals by reaching out to brands whose products were somehow featured in your high-performing videos already. Let them know about your success and use that to convince them to work with you.
5. Position yourself as a content Creator—not just an Influencer—because brands experience content overwhelm too and need content for their TikTok channel.
6. Join the TikTok Creator Marketplace when you can to connect with brands who are looking for Influencers and Content Creators like you.
Need help pitching to brands? Our Pitching To Brands Mastercourse goes over absolutely everything you need to create your strategy, create pitches that impress brands, build your Media Kit, and get brands to say yes to working with you! 
Did you find this article helpful? We'd love to hear your thoughts below in the comments!