When To Say No To A Brand Deal
Many Influencers and Creators want to work with brands so badly that they end up saying yes to a brand partnership offer…when they probably should have said no. As a Creator, you're an entrepreneur with a business to run, and that means occasionally you'll have to make some really tough decisions. Making decisions to decline offers and say no to brand deals is one of them! 
At Sidewalker Daily we help Influencers and Creators work with brands and monetize their businesses. We also consult with brands on their Influencer marketing campaigns. Because we have a deep understanding of how brand partnerships work from both sides of the deal, we've picked up on some red flags that indicate that accepting a brand partnership might not be the best idea for you and your business.   
In this article, we're going to share what we know about evaluating brand partnerships to help you decide when to accept and when to reject a proposal from a brand. Read on to learn why and when you may need to say no to a brand deal! 
Of course all business situations are case by case so it depends on the facts of the deal so you as a business owner will need to make the judgement call.  If you every need help evaluating a brand deal, you can book a private coaching session with one of our experts and they will be able to help you out. 
1) SAY NO TO BRAND DEALS WHEN The Value EXCHANGE Doesn't Match
We're not listing these pieces of advice in any order of importance, but this is a pretty big one to remember.
A brand partnership is a value exchange – you are providing value to the brand and the brand is providing some type of value to you (compensation, money, products, services etc.) Basically, working with a brand should be mutually beneficial. If an Influencer and a brand want to partner, and the value the brand is offering isn't fair for what they are requesting in return then you will likely feel taken advantage of by the brand. The best partnerships are win-win!
Here's a say no to brand deal example for you. We once worked with a Creator who was offered a three-night hotel stay in exchange for many deliverables, all to be posted to his TikTok account which has an audience of hundreds of thousands of followers. When we broke it down, the monetary value of their stay really didn't match the content value and exposure that the brand would be getting in return.
This is why it's important to have an understanding of what your time and content is worth and learn how to say no to unpaid collaborations that don't benefit you. There can be a time and a place for those, but it definitely depends on factors like what the brand is offering, deliverables requested, and if you can leverage the deal to help your business grow in the future. 
In this case, the content the brand wanted was worth thousands of dollars more than the hotel stay. We understood this value and were able to ultimately decide that it wasn't really a fair brand deal that the Creator should complete. They were not offering financial compensation in addition to the hotel stay and the deliverables were so burdensome that the Creator would have not even been able to enjoy the stay at the hotel during the time he would be there – since he would have to work non-stop in order to meet the brand's deliverable requirements for the partnership to be secured. 
Value means something different to everyone. With logical reasoning for evaluating the value exchange and figuring out if moving forward with the partnership is worth your time and energy will help you come to the decision that's best for you and your business.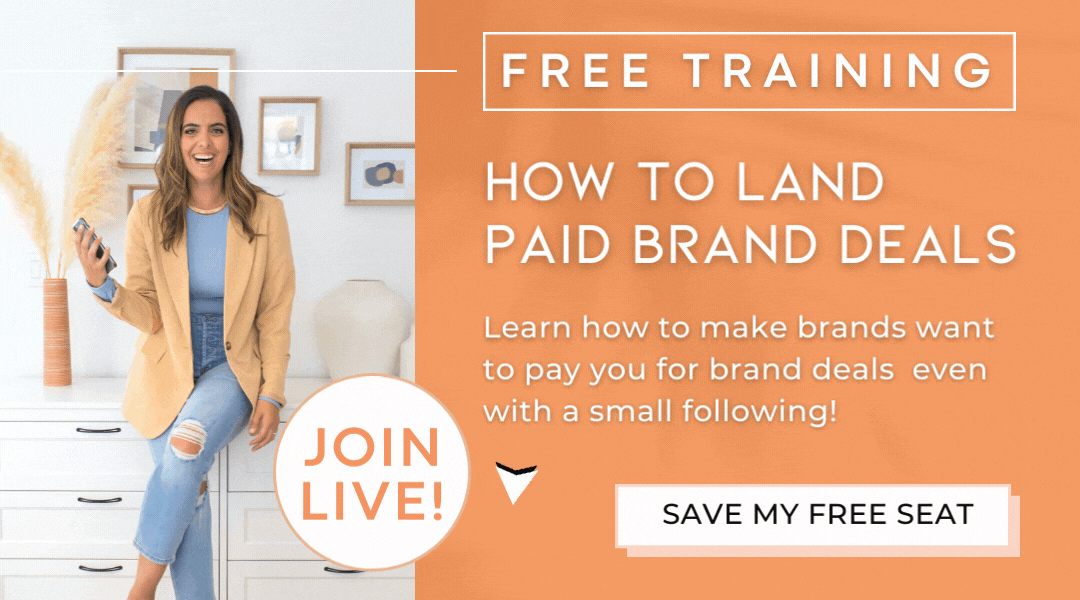 2) Avoid Brand Deals That Don't Make Sense For Your Currecnt Goals
If you think that the purpose of a brand deal is to make easy money or look cool to your audience, think again. Sure, maybe these factors play a role in your decision to do a brand partnership, but they should definitely not be the only factors you consider. 
The brand partnership needs to "make sense" for you and your business. Let's look at what we mean by that.
Does the brand partnership match and/or advance your current goals?
Will your audience find the partnership valuable?
Does this partnership fit within your niche?
Would you truthfully use this product or service and recommend it to friends even if you were not getting paid?
The audience you build as an Influencer comes to you because they trust you, find value in your content, and want to hear your advice. They are your number one client because without them, brands would not want to work with you as an Influencer because you would have no one to share their products and services with that would make sense for their marketing and sales goals. Providing value through your content for your audience is a must for growing your influence—and keeping it. 
You need your audience to trust that you're leading them down the right path. You don't want to work with brands that you don't personally believe in or wouldn't actually recommend to your friends and followers. 
This doesn't mean that you should avoid pitching to brands outside of your niche entirely. You can work with a lot of brands that aren't necessarily directly in your niche, because there's probably an angle that you and your audience would find beneficial.
But if there's no way that it makes sense for you, it in the end may only detract from your goals and won't be worth it in the long run. When evaluating a brand partnership, do your research on the brand, and if the missions and goals align with yours, that's a great sign to consider saying "yes" to a brand offer.
3) AVOID THE DEAL IF The Brand Has Conflict Or Drama
Bad press happens sometimes. Many brands fix their mistakes and move forward doing better, but it's still a smart idea to do your research and see if a brand has any conflicts with your values or drama that you do not want to be associated with. 
In some cases a brand might have something going on in their business that might be strongly against your mission or what you stand for, and that can be a red flag. If you don't personally align with something a brand does or stands for, you might not want your name on projects associated with the brand because it could affect your relationship and trust with your audience.
Before you say yes to a brand partnership, do some basic research on a brand's long-term mission, values, and plans. This should be similar to you and your audience's values—-and if it's directly opposite of the values you project on your channels, that's a good enough reason to say no to brand deals with that company.
4) Saying No To Some Of The Fine Print
Just because you love a brand partnership up to a certain point, doesn't mean that you have to agree to the rest of it! We can't emphasize enough how important it is to thoroughly read a contract and make sure you're okay with everything in it before you say yes.
Most of the time, a brand isn't secretly adding clauses into a contract with bad intentions. However, accidents happen and maybe text from another contract ends up on the one with your name on it or the brand thought you agreed to something that you never really said you wanted to do.
You have to diligently read through the contract and if you come across anything that you're not sure about or don't want to do, it's ok to ask for revisions. For example, maybe the brand throws in that they will have the ability to use your content for whitelisting or a includes a period of exclusivity that is a bit longer than you think it should be. These could affect your business and finances long-term so you need to know when to say no to what they are asking for that is not in your best interest. 
Also, keep in mind that renegotiating a contract or revising its terms is standard practice—a professional brand should know this and have no problem talking it through. If neither of you can come to a place where you agree on the terms, you should say no to the brand partnership.
PS: This also means that if a brand has an extreme negative reaction to your concerns and doesn't treat you professionally when you bring it up…you should likely say no. This doesn't happen often, but you don't want to deal with a brand that doesn't treat you professionally (especially before the partnership even starts). 
5) Red Flag: When A Brand Doesn't Want You To Use Your Own Voice
When brands pay Influencers and Creators to promote their product or service on social media, they want to make sure the partnership meets their internal goals. It's important for them to see their brand represented in the best light during a partnership or throughout a campaign, so they'll often have campaign guidelines to help Influencers and Creators create on-brand content. 
While this is certainly helpful, Influencers need to be wary of instructions that are too controlling. If a brand doesn't want you to use your own voice or your own creative at all, this is a red flag.
Maybe the brand gives you a script and wants you to stick to it word for word, but you don't think it feels like your authentic self. You know yourself best, and your audience knows your voice too. If you do a brand partnership and start speaking completely differently than you normally would, it'll be pretty obvious and could affect your relationship and trust with your audience. 
We're not saying that a brand having input, offering guidelines, communicating key messages or even providing a script is bad as it can be helpful for you to know what they are looking for to create the best content for your audience. You just need to think critically and make sure whatever you are putting out for the partnership will help the brand reach their goals which sometimes requires changing things up to make sense for your specific audience. If a brand isn't flexible and won't work with your adjustments and recommendations, don't be afraid to say that you don't think this partnership is going to work out. 
As a Creator, you're the expert! If you feel upset that your creativity and vision are being hindered, and that you could ultimately affect your relationship with your audience then this is a valid reason to move on.
6) Saying No To A Brand Deal Might Get You A Budget
Saying no to a brand partnership that you don't think is a fair exchange of value can actually result in a brand opening up their budget for you. Keep in mind that this isn't a fool-proof strategy, you never truly know what's going on with a brand's campaign budget or behind the scenes.
But in situations where a brand wants to work with you in a gifted capacity and it's not worth it to you, then you can put together an awesome pitch that communicates value to the brand and requests payment. If they don't want to provide payment for your services and you say no to the brand deal, this is what might end up getting you paid! Hearing the "no" might push the brand to make one last attempt at working with you by offering you payment or even increasing how much they're able to pay you to ensure the deal goes through. 
Plus if they noticed you first and reached out, they're probably eager to work out a deal with you because they did their research on you and think you and your audience are a good fit for their brand campaign goals. 
If you're looking to land more paid brand deals or increase your income as a Creator working with brands, our signature Pitching To Brands Mastercourse has everything you need to be set up for success to reach your goals.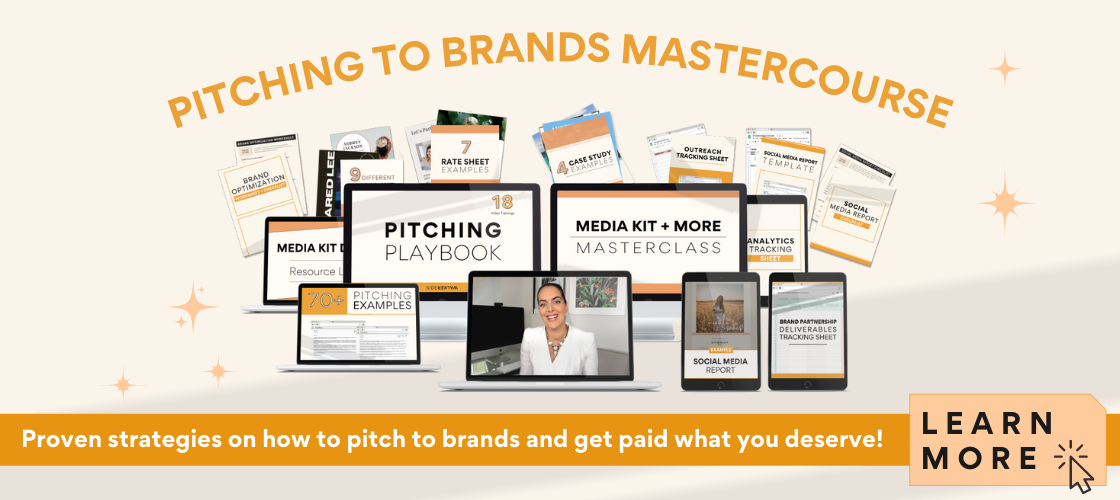 Saying No To A Brand Partnership
Pitching to brands and negotiating partnerships is more of an art than a science! All partnerships are not going to look the same, and that's okay. 
A lot of times it's going to come down to trusting your gut. If you simply don't have a good feeling about a potential brand partnership, we suggest walking away. Some of the biggest reasons to say no to brand deals that we covered in this article are:
1) If the value doesn't match, consider saying no. You want the partnership to be a win-win situation.
2) Know your current goals and avoid brand deals that don't make sense for reaching them.
3) Research a brand thoroughly prior to saying yes, and politely decline if you think something about their history of conflict or drama could negatively impact your Influencer business.
4) Negotiating is one the most important skills to have as an Influencer or Creator. Don't be afraid to put them to use and say no the parts of a brand deal that don't work for you.
5) It's a red flag when a brand doesn't want you to use your own voice at all; it's smart to say no in these situations as doing something inauthentic could affect your relationship with your audience.
6) It's not guaranteed, but saying no could increase your chances of getting paid by a brand who really wants to work with you.
Are you finally ready to work with brands or increase how much brands are paying you? If you need help with your business or brand partnership strategy, you can book a one-on-one call with one of our Influencer experts and they'll work with you every step of the way to develop a game plan and personalized strategy to help you take your Influencer or content Creator business to the next level.
Did you find this article helpful? If so, leave a comment and let us know so that we can keep creating content to help you in your Creator business.