Creating A Media Kit For
Micro Influencers
Creating a media kit is one of the most important steps towards getting paid brand deals as an Influencer or Creator. Not only does it show that you're serious about your business, it's an extremely valuable tool that showcases your work and your influence to brands. Even if you have a smaller following, a media kit for micro influencers done right can wow brands and make it easier for you to go from gifted collabs to paid deals!
At Sidewalker Daily we teach Influencers and Creators how to work with brands and we also consult with brands on their Influencer campaigns. This means that we've seen hundreds of media kits over the years and we know exactly what should go into one. In this article, we are sharing some advice for those who are just starting out and will be going over some things to consider when creating a media kit for micro Influencers.
Do You Need A Media Kit As A Micro Influencer?
A media kit for micro Influencers might look a little different than a media kit for a mega Influencer or celebrity Influencer. But even if you're just starting out or your account falls into the micro Influencer category, you need to have a media kit.
At this point in the Influencer industry, having a media kit is not an option, it's expected and that's exactly why we help Influencers and Creators design their media kits and focus so much on media kits in our Influencer trainings.
So why do you need a media kit? Because it acts as your visual resume! It is so hard to tell or show a brand how amazing you are and all that you have to offer in a few seconds, and a quick email isn't going to cut it. To be honest, no one wants to read a long email listing out your statistics and the work that you've done—a media kit doesn't just tell them it shows them, which is normally what seals the deal.
When someone on the brand side clicks to open your media kit and it looks amazing, with images showcasing the type of content you create and sharing insights into your audience, they can get a much better picture of why they'd want to work with you. A media kit that impresses brands is one that is designed well and is easy for a brand to quickly go through to learn everything they need to know about you and what value you have to offer them.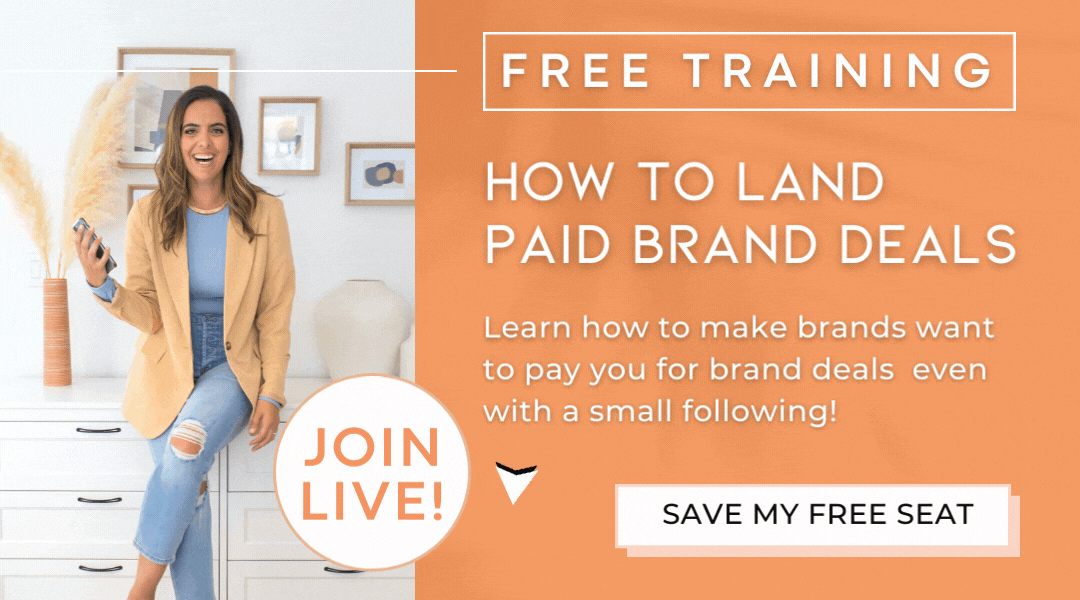 5 Pieces Of Advice: Media Kit For Influencers
Not all media kits are created equal! As we've worked with brands over the years, we've seen many different media kits and some of them have us dying to work with the Influencer, while others don't give us quite the right information and their pitch email goes in the "no pile." When it's down to two Creators with similar skillsets and audiences pitching their services, we're almost always going to go with the one that better showcases the Influencer's work and audience, capabilities and presents in a professional manner!
We want you have a perfected media kit when you pitch to brands, so here are 5 of our top pieces of advice for creating a media kit for micro Influencers: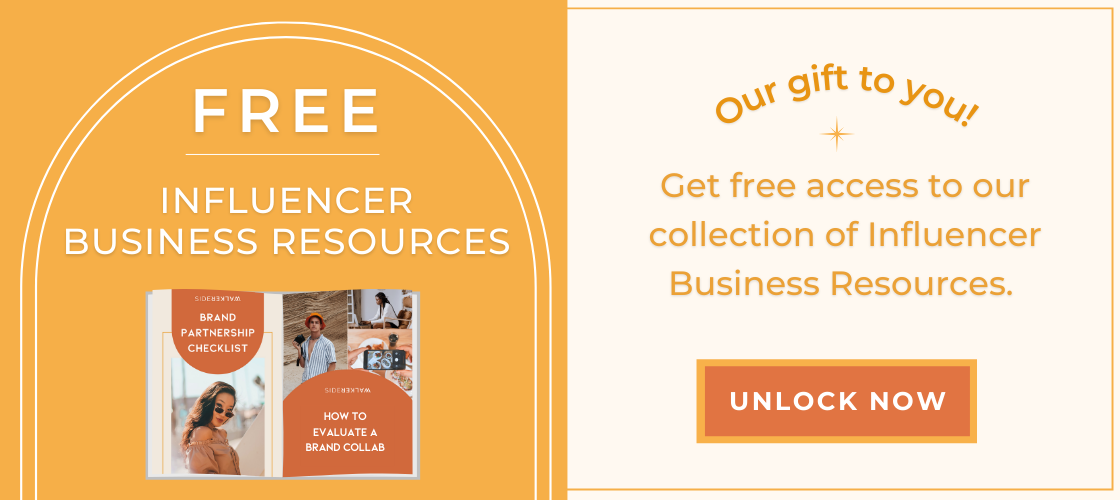 TIP ONe: Make It Look Good
We are all visual creatures—you have to focus on making your media kit look good! Brands want to feel confident in the influencers and creators they hire and the way you present yourself with your media kit and treat your brand can reflect on the quality of work the brand perceives you to provide (which also can affect the rate they are willing to pay for your services). 
We don't recommend simply copying your information into a pre- made micro Influencer media kit template because you are dynamic and need to be able to showcase everything about you and what makes you unique. In our Pitching To Brands Mastercourse, we have an entire section on how to create a Media Kit and even have over 11 examples of Media Kits for you to see inside of them. We walk you through resources to design your media kit, all of the sections and how to put one together that you will be proud of and confident to send to brands. 
Putting a little bit of design effort into your media kit shows any brand that you reach out to that you're treating yourself professionally. It lets the brand know that you take your Influencer or Creator business seriously—sending a signal to them that you're probably going to take your work with them very seriously too. 
Brands are looking for Influencers and Creators to work with that they can trust to create quality content for them. Put your best foot forward by starting off with a media kit that's designed to impress.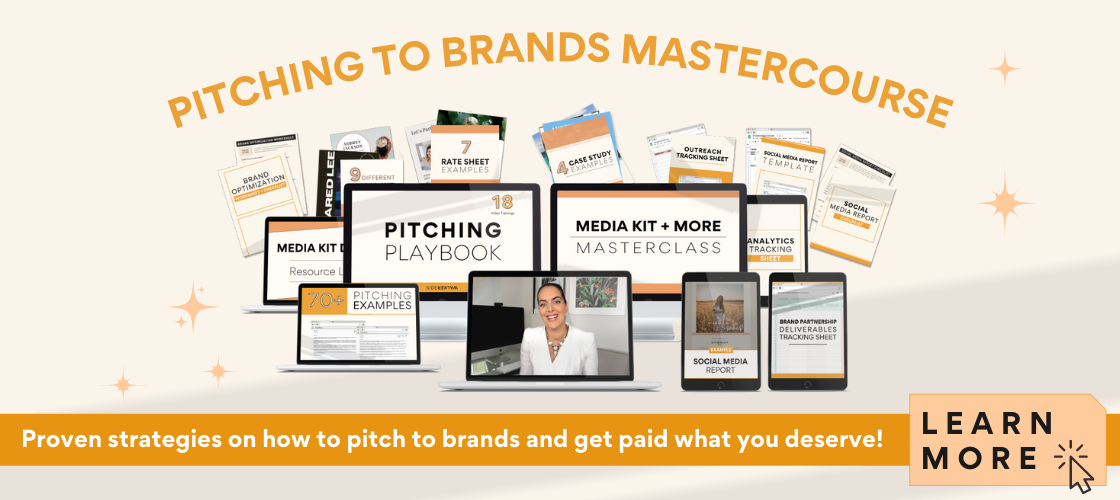 2) Remove Random Facts From Your Media Kit
Your media kit isn't about you, it's about what you want a brand to know about you. So it's important to pay close attention to the details that you put on your micro Influencer media kit—especially in your About Me section—because trust us, they don't need to know every single thing about you.
For example, the brand doesn't need to know about your past work or the things that you do in your day job unless of course it's relevant to the content you create. Instead, focus on the aspects of you and your brand that will help them understand quickly why working with you make sense for their company and goals. 
Also, it's important to remember that the person reading your media kit isn't the same person as your follower. What the brand should know about you isn't the same as what your audience would like to know about you because you're trying to connect with them in very different ways.  
You also don't need to share details about every platform that you're creating content on…especially if the numbers aren't that strong. Including your Twitter account that has 20 followers or your TripAdvisor account (more so for our travel Influencers) just makes your media kit look cluttered and detracts from the important pieces that will impress the brand. Focus on the analytics that matter!
3) Include Testimonials
Even when you're just starting out, it's a really good idea to include testimonials in your media kit. Testimonials are crucial for getting people to trust you and providing the potential brand client with testimonials from your past partnerships can help give the brand confidence to want to work with you. 
If you have testimonials from past brand collaborations, you're definitely going to want to include those in your media kit. But what do you do if you don't really have any? You can also include comments from your audience! 
If you're sharing products or advice on your social media accounts, there's a good chance that you've received comments from people saying that you influenced them to try it out. Maybe they asked questions about the product or thanked you for your advice. These all can work as the goal is to show the brand that you're able to drive engagement and that your audience trusts you with your recommendations and advice.
4) Show Examples Of The Content You Make
It's important to show brands your capabilities and you can do that by including examples of the different types of content you make. If you create short-form video or have a YouTube channel you can make your Influencer media kit pdf a clickable document so brands can easily click through to watch your content examples! While your media kit should be a visual document with photos throughout, we understand photos might not be the only type of content that you're creating which is why you have to show all of the types that you can since you never know what type of content a brand will be interested in from you. 
For example, if you're a blogger, it's a smart idea to link out to article examples so that the brand can quickly check out your work. If you create amazing content on TikTok or Instagram Reels, you can't just expect the brand to go to your profiles and hunt down your best videos. Link to your best samples directly in your media kit document, making it super easy for a brand to see what you do. 
When you're writing your pitch email you can touch on your content, but the best way to explain what you do is by showing it. That's where having a well-designed media kit that shows examples of the content you make an incredible asset to help you with your pitch. That example content could be just what a brand needs to fully understand the concept that you're pitching and realize that your idea is awesome and you're the perfect creator for the job!
5) Focus On Your Audience
As a micro Influencer building out your media kit, highlighting your audience is very important. If a brand wants to work with you, it could be because of the location that you're in or the niche that you post about the most. 
No matter who your community is—whether it's Seattle-based moms or people who live in Houston—there are brands out there who are trying to access that exact audience. Even if you're in a smaller area, there are certainly some small businesses that would love to tap into your audience and get their products in front of those who 1) trust you as an Influencer and 2) would be interested in buying from that brand. 
Also, highlighting the location of your audience in a media kit for micro Influencers (not just the countries, but the cities too if relevant) lets a brand know where they are based which can be helpful if they are looking to target a certain location in the world. If you are focusing on working with brands based on your influence, don't be afraid to really lean into showcasing your audience as that is what they are going to be most concerned about when figuring out the value that you can provide. 
Making A Media Kit As A Micro Influencer
Creating the perfect media kit might seem like a daunting task, but we promise you that a good media kit can help you land more brand partnerships than you ever imagined and get paid your worth. As a micro Influencer, it's so important to take the time to build out your media kit with the right statistics and information that showcase your value. If you want to learn how to create the perfect media kit, check out our signature Pitching To Brands Mastercourse which includes a comprehensive video guide that walks you through how to make one every step of the way.
Here's a a quick recap of our tips for creating a media kit as a micro Influencer:
Use best design practices to make your media kit look good, which means attractive colors and a layout that's easy to navigate.
Remove random facts and focus on what the brand actually needs to know about.
Include testimonials to give a brand a reason to trust you.
Show examples of the content you make, even if that means linking out to videos and blog articles.
Focus on your audience, especially location, because there are brands out there who want to tap into your exact audience market. 
Still need some media kit inspiration? In our Pitching To Brands Mastercourse, we share a ton of Instagram Influencer media kit examples so that you can start building a media kit that wows brands and helps brands understand your worth and value as a creator. The last tip we'll leave you with in this post is to not rely on a micro Influencer media kit template because there is no other Influencer or Creator out there just like you and if you want to stand out, you need a media kit that stands out too.
If you're not design savvy, don't worry! Our design studio can create a custom media kit for you that you will love. You can learn more about our custom media kit design services here. 
Did you find this article helpful? If so, we'd love to hear from you! Leave a comment below.