THE 37 BEST PLACES TO TAKE PICTURES IN PALM SPRINGS
If you're looking for the best places to take pictures in Palm Springs then you're in luck because we've got 37 locations around the iconic town you won't want to miss!
Palm Springs is everyone's perfect getaway, from colorful hotels to cactus filled botanical gardens, to one of the most famous music festivals in the world, Coachella, there are so many amazing places in Palm Springs to snap photos that you'll be booking your next trip before you know it!
PLEASE READ BEFORE USING OUR PHOTOGUIDE: 
We know this is common sense, but we have to say it anyway – please keep in mind that our Photoguides include some of the coolest photo-opps in a city, some of which may be at a hotel, business, restaurant or even near a private home. If that's the case then you may need to book a hotel room, order something at a restaurant or even arrange a shoot in advance to be able to take photos in that location. If it's near a private home please be respectful and treat the situation like you would want to be treated if your house was an Instagrammer's dream.
We also sometimes include locations that are museums or art installations, which keep in mind can change at their discretion – but usually they'll replace it with something along the same vibe so you'll still get the shot. Like any good traveler, it's always a good idea to double check if a location, monument, or museum is open before heading there. One time we traveled to Fez, Morocco to see the ancient leather tanneries only to find out it was closed…for the first time in close to 1000 years LOL! So trust us, if you don't want to take the risk just double check before making the trek.  We hope you enjoy using our Photoguides and if you love them as much as we do, please leave a comment at the end to let us know! Safe travels xx
Address: 4200 E Palm Canyon Dr, Palm Springs, CA 92264
Coordinates: 33.79486, -116.50016
Sidewalkers: Jenn Lake | @jenniferlake + Jordan Jones | @packedparty + Julia Engel | @juliahengel + Hannah Hagler | @hannahhagler + Meg | @meg_legs
Coachella Valley Music & Arts Festival
Address: Empire Polo Club, 81-800 51st Ave, Indio, CA 92201, USA
Coordinates: 33.67836, -116.23718
Sidewalkers: Tezza | @tezzamb + Laurie Ferraro | @laurie_ferraro + Rebecca Laurey | @rebeccalaurey + Michelle | @cremedemichelle + Cathie Rattanakone | @darkmintdaisy
If you're heading to Coachella this year and want to get your photo game on, you're in the right place. When it comes to the best places to take pictures in Palm Springs, our photoguides are just what you need in your life.
The Coachella music festival starts off one of the best times of the year, as LA natives (and those traveling Sidewalkers) migrate to the desert for two weekends in the Coachella sun. Between the colorful festival grounds and day parties at the numerous pools around Palm Springs, there is an unbelievable amount of fun (and a multitude of cute Insta snaps), to be had at Coachella. 
Coachella is known for their amazing lineup and colorful art installations within the festival grounds. Although the installations change yearly, they will always make for fun backgrounds so you can get new shots each time you go!
And of course, don't forget to snap a pic with the iconic ferris wheel which is by far everyone's favorite shot! 
Coachella City Limit Sign
Address: Grapefruit Blvd & Avenue 54, Thermal, CA 92236
Coordinates: 33.65659, -116.15354
Sidewalker: Gabby Epstein | @gabbyepstein
Palm Spring photo-opps trivia time! Did you know that the Coachella city limits sign was actually made famous by Nicki Minaj and Beyoncé's music video, 'Feelin' Myself', which they reportedly filmed during the 2015 Coachella festival weekend? This just goes to show that touring the area's Instagram spots could actually lead to your seeing some of the stars themselves! 
You May Find Some Of The Most Instagrammable Places In Palm Springs At Your Hotel!
There is no denying that Palm Springs has its own architectural and design vibe. No wonder there are so many photography spots in Palm Springs! Between the mid-century modern buildings, the stark contrast between whites and bright colors, and the beautiful hotels (and pools), Palm Springs makes the perfect weekend getaway for all Southern Californians and anyone looking for a relaxing vacation!
The number of adorable hotels to choose from may make it difficult to decide where to stay, and don't forget about the amazing homes to rent too! It seems that every place to stay offers its own set of perks, interesting corners and delicious restaurants. Lounge by the pool with a cocktail or ride your bike through the various neighborhoods in search of the perfect colorful doorway for your next Instagram shot.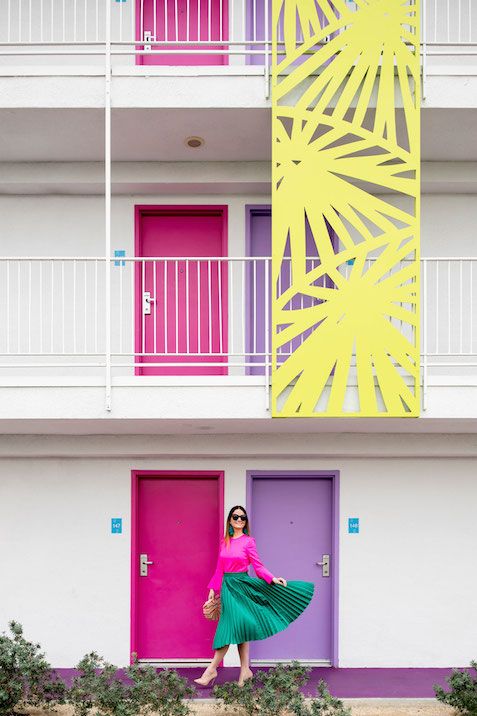 Address: 1800 E Palm Canyon Dr, Palm Springs, CA 92264
Coordinates: 33.80187, -116.52757
Sidewalkers: Whitney | @blonde_atlas + Kat | @kathleen_barnes + Jenn Lake | @jenniferlake
Indian Canyons Neighborhood
Location: Around Palm Springs.
Sidewalker: Leonie Hanne | @ohhcouture + Molly Long | @molllified
Location: Around Palm Springs
Sidewalkers: Leonie Hanne | @ohhcouture + Coco Tran | @darlingcoco + Ruslana Gee | @ruslanagee
Getting lost in the neighborhoods of Palm Springs is an Instagram goldmine. Between the super cute houses and iconic palm trees, you'll always be able to find some amazing shots to share!
Address: 701 E Palm Canyon Dr, Palm Springs, CA 92264
Coordinates: 33.80093, -116.54041
Sidewalkers: Coy Aune | @rcoya  + Juliana Aragon & Nicki Kukis | @julianaaragonphoto & @nicki_face + Mckenna Bleu | @mckennableu
Address: 1701 S Palm Canyon Dr, Palm Springs, CA 92264
Coordinates: 33.80022, -116.54616
Sidewalkers: Geneva Vanderzeil | @apairandaspare + Ravayna Coe | @ravayna